What makes a morning breakfast better then waffles? Not much. But I was not making them quite regularly. My waffle weapon was a waffle maker I bought in a church sale for 5$ maybe 20 years ago. It was not non stick and it was a pain to wash. Needles to say in between uses it accumulated a healthy film of dust.
So when the opportunity came up for me to review a brand new and modern waffle maker, I just could not refuse. The wonderful people at Chef`s Choice sent me the Classic WafflePro model 852 to try out. I was more then happy to test this waffle maker as I have a great knife sharpener I received some years back that I just adore. It is a company that I truly believe offers great products (not paid to say that).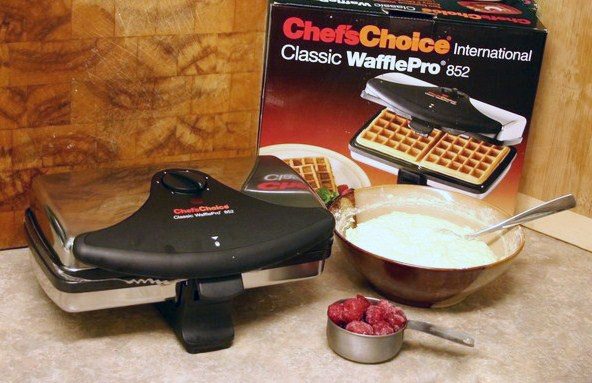 The Classic WafflePro model 852 makes 2 thin waffles in 2-3 minutes and once done can you make the next batch right away. The waffle iron is made with a floating hinge to ensure even thickness when baking. The look is very sleek, light and it seems very well made. I really enjoy the safety feature on the opening tab: you have to hold to click it for the iron to open.
The non-stick is fabulous. I never had a single waffle sitck at all. Never ever put oil on a non stick appliance as the build up over time can ruin it. And you just do not need it. I read somewhere if your waffles are sticking it is because there is not enough fat in the waffle batter.
Just remember to let it cool before touching after you have plugged in the waffle maker. It gets very hot everywhere. You won't be able to move it with your hands once it has heated up. To clean just wipe well with a paper towel once the iron has cooled. See it like a seasoned pan. No need to clean with soap and water. And a great feature for someone with a small kitchen like me, you can store it standing up.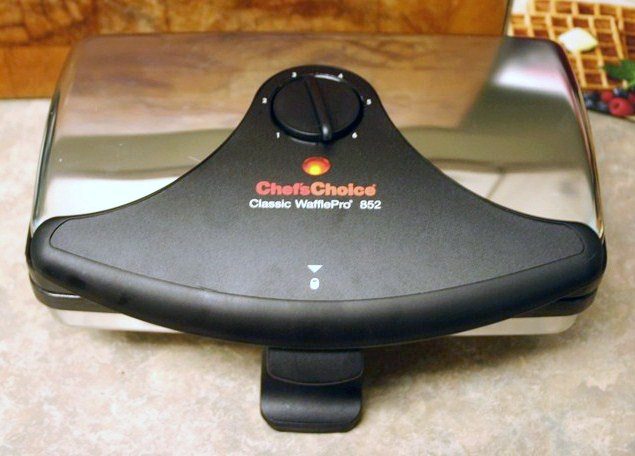 This waffle maker has a tendency to make crisp waffles so I have been sticking to setting 3. I have not experiemented higher or lower yet (1 to 6). I also find a third cup is not enough to make a full filled waffle so I will set it for 30 seconds and then I go back and spoon in the empty spaces. I have had this issue with every waffle maker I have ever used so I think it is a general thing.
Here are 2 of the many delicious recipes that were included in the booklet. Of course I did not leave the recipes untouched. In the cormeal one I added sour cherries and I turned the normal waffle bronies into coconut enhanced ones.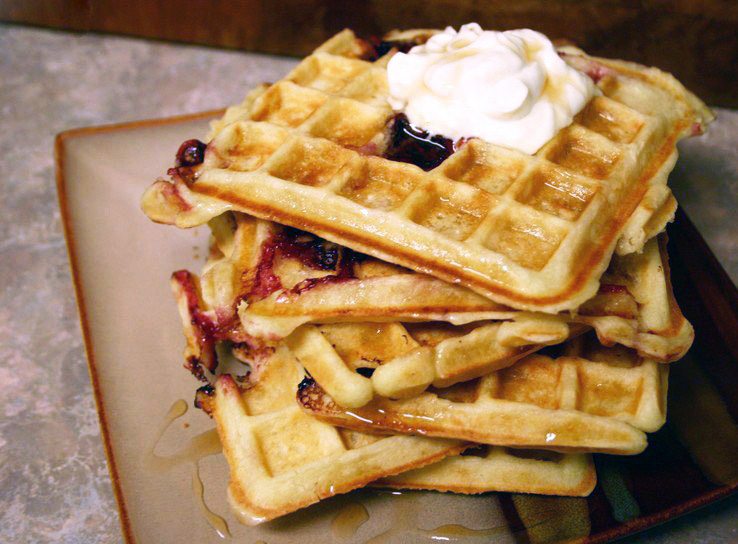 Cornmeal Waffles and Sour Cherries

1 1/2 cups all-purpose flour
1/2 cups yellow cornmeal
1 tablespoon baking powder
2 tablespoon sugar
1 teaspoon salt
1/2 teaspoon baking soda
2 large eggs, slightly beaten
5 tablespoons vegetable oil
1 cups milk
1/2 sour cherries
Preheat waffle iron according to manufacturer's instructions.
In a large bowl, combine flour, cornmeal, baking powder, sugar, salt and baking soda. Make a well in the center. Add oil and eggs, then slowly poor in milk. Stir in sour cherries gently until smooth.
Pour 1/3 cup batter onto hot waffle iron and bake for 3 minutes in batches. Set aside and keep warm. Makes 6 to 8 waffles.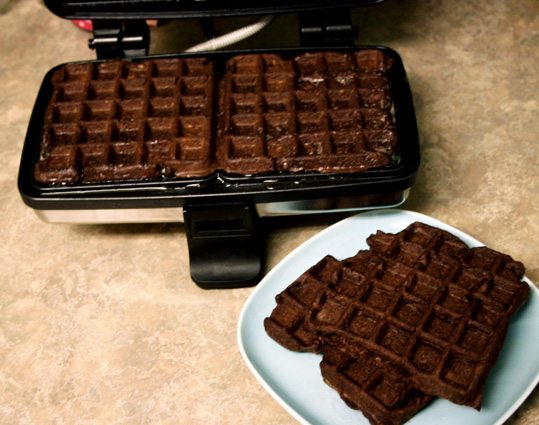 Coconut Waffle Brownies
3 ounces unsweetened chocolate, melted
1/2 cup coconut oil*
3 eggs
2/3 cup sugar
1 teaspoon vanilla
1 1/2 cups all-purpose flour
3/4 cup desiccated coconut*
3/4 cups milk
Preheat waffle iron according to manufacturer's instructions.
Melt on low heat in a small pan the chocolate and oil. Set aside to cool.
In a bowl, beat the eggs until light in color. Add the sugar and vanilla. Fold in chocolate mixture. Stir in flour and coconut. Add and mix in enough milk to make a spoonable thick batter.
Pour 1/3 cup batter onto hot waffle iron and bake for 3 minutes in batches. Set aside and keep warm. Makes 8 waffles.
* original recipe calls for 1/2 butter, 1/2 cup semi-sweet chocolate chips and 1/2 cup chopped walnuts instead of coconut oil and desiccated coconut.