The Behind the Curtain Dessert Challenge which is all about baking and making sweets. Every month we are given two required ingredients to work with. This month it is Lime and Coconut. So summery and tropical! With the amazing and unusual summer temperatures we have had I wanted something light and healthy so I went with a modified version of my tofu pudding recipe.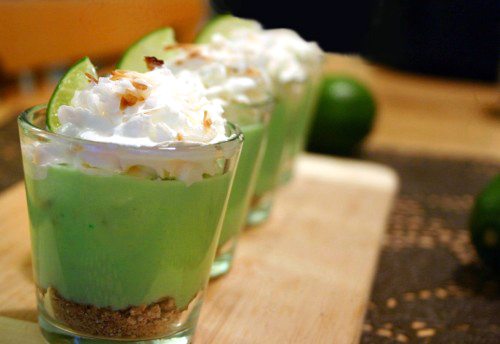 Yes I said tofu pudding, I have an awesome chocolate version here.  You have to get the silken tofu, the softest one. It is very creamy once you whisk it. I just so happen to find one at the store that was coconut flavored. Since it is already a bit sweetened I did not find a need to add sugar. But basically the recipe is silken tofu, sugar and your flavor. In this case if you skip the whip cream you will have a great dairy free dessert.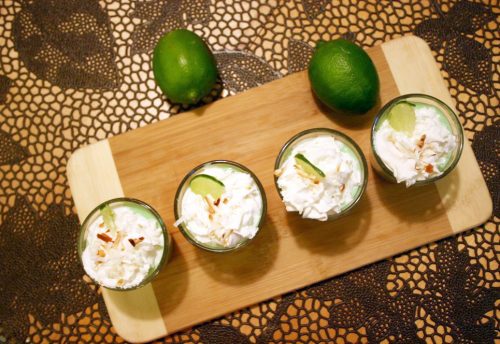 I was so inspired by Lauren's Latest coconut lime shots. I am inspired by any dessert in a shot glass or verrine. I already had a coconut flavored tofu but I also added a bit of toasted coconut. Add a little lime juice and zest and you have a light and healthy lime and coconut treat!
One note on the tofu pudding. If you add coca powder or anything solid the texture will be fine. In my case I only added liquid so the result was a bit too fluid. That is why I added rice flour as a thickening agent. Its a nice trick to know. And always let the pudding set for a good hour before you eat it.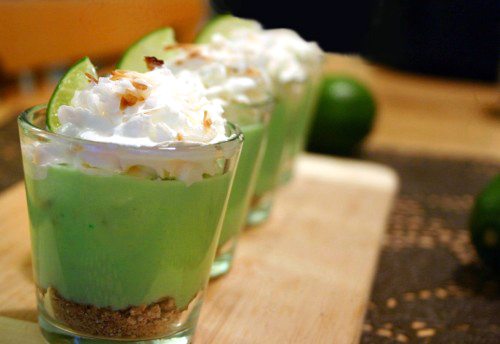 Coconut Lime Tofu Pudding Verrines
The Coconut Lime Tofu Pudding Verrines is a refreshing and light dessert with a hint of the exotic and tropical flavors.
Ingredients  
4

graham crackers

ground

10

oz

300 gr silken coconut tofu

2

teaspoons

lime juice

1 to 3

tablespoon

rice flour

as need to thicken

3/4

teaspoon

lime zest

1/3

cup

toasted coconut

green food coloring

optional

whipped cream
Instructions 
Divide graham cracker crumbs evenly between 4 verrines.

In a small food processor, blend tofu with lemon juice and rice flour until smooth.

Stir in lime zest, coconut and food coloring.

Refrigerate for 1 hour or until thickened.

Spoon evenly between verrines. Top with cream and toasted coconut.