Want to celebrate with a great guilt-free dessert? Let me suggest the following recipe: a healthy chocolate pudding. It is so simple, I know the recipe by heart and so do not remember the source except that it was from a vegetarian cookbook. So yes this recipe is vegetarian and dairy free. The base of the pudding is silken tofu. Unless you are an ultra fussy eater you will not even taste the tofu plus the texture will delightful.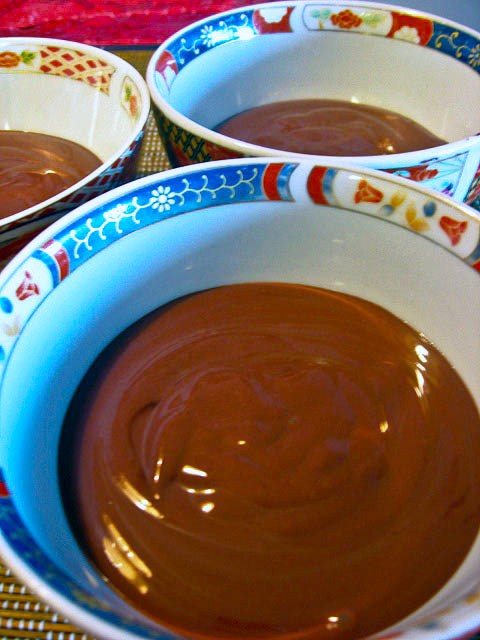 Ξ Guilt Free Chocolate Pudding Ξ
1 block of silken tofu (300 gr)
1/4 cocoa powder
1/4 sugar
1 ground cardamom pod (other substitutes 1/4 tsp cinnamon, a pinch of cayenne, etc)
Put all the ingredients in a food processor or blender. Blend until the mixture is smooth. Spoon into 3 dessert dishes and refrigerate at least an hour before serving.  Makes 3 servings.
I've tried to skip the blending part once and just mix by hand….not the same and lumpy, do blend it for top results.
Each serving is a mere 128 calories, 4 gr of fat, 21 gr of carbs and 7 gr of protein.
And let me tell you I will really need a guilt free dessert after I finish all the leftovers in the fridge, especially the pies, from the CEE Food Film Marathon I hosted the Saturday at my place.
It was declared a success by all that attended and lots of non perishable food was donated plus I raised a bit of money from the raffle too.
The prizes were set
The screen was set
And there were a many guests brewing in the kitchen.
The lights were off for the presentations
The table was set, so much food this is a fraction of what was there
The people were hungry between films – small mob attacking pot-luck table
One more big thank you to my sponsors: My Cookbook Addiction, NDG Food Depot and Pierre Black. I can't wait to host the 2nd one next year. I definitely learned a lot and some thing will change but I definitely see this becoming a yearly event. Will you come next year?
——————————————————–
Got a simple recipe up your sleeve? Enter it and thousands of people could be cooking your recipe from a special cookbook that will be in youth hostel kitchens all over the world. To submit a recipe check out how to enter.