Welcome to the second Creative Cooking Crew challenge. The theme of our first round was vegan, so when it was announced that this month's theme was meat and potatoes…I thought that was a bit of a sarcastic choice. Opposites attract right? Well I have to say it left me really uninspired at first. I spent a lot of time trying to come up with a concept.
Nothing was appealing until I came across this clever way of serving potatoes. Originally it was going to be a bigger serving with the potatoes serving as a crust for an exotic pizza-like dish. But an energy took over me: an artsy-farsty, 1960s style on a plate. The result looks both cool and silly to me but I decided to just go with the flow. After the photo shoot I could not help myself from laughing at how certain pictures looks like objects or animals. I had a little fun with those pics and photoshop, you will see below. I had fun like a child with crayons and paper, the time in my life I associate the most with meat and potatoes.
Is it a bird?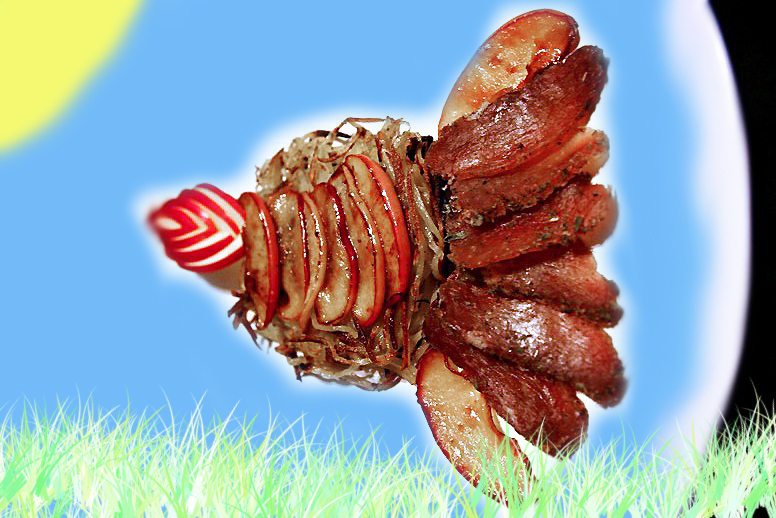 Is it a candle?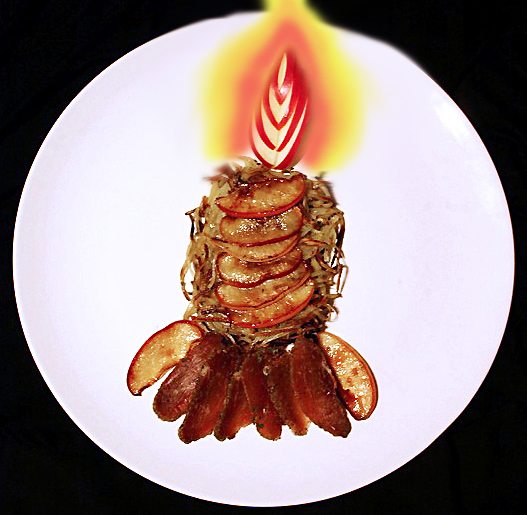 Is it a fish?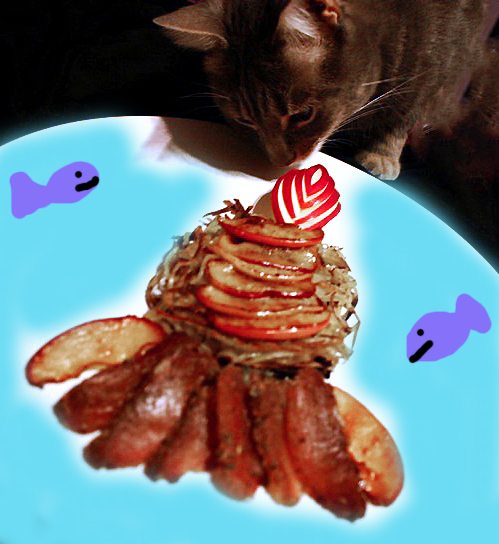 No it's Cured Pork with Caramelized Apples on a bead of Potato Paillasson of course!
Paillasson is a French word that means straw mat, just like a Welcome mat that you place at your front door. The grated potatoes imitates the straw.  The recipes for the potato and apple below will make one portion in total. If you want to make more just multiply. You may remember this cured pork recipe which was seasoned with Parmesan, Garlic and Basil. This is a new version with a change and flavor.
Ξ Pommes paillasson Ξ
1 yellow gold potato
2 tbs unsalted butter
salt
freshly ground black pepper
Peel, wash and dry the potato, then grate coarsely using a mandoline or a grater. Gather grated potato in a clean kitchen towel and wring out as much liquid as possible.
In a large skillet, melt the butter over a moderately high heat and then reduce to moderate. Add the grated potatoes in a pile about 3/4 inch thick, salt and pepper. Cook until bottom of cake is golden brown and crisp, pressing down with a spatula once in a while, about 10 minutes. Flip the cake back into the skillet, adding a little bit more butter in the skillet if necessary. Cook until bottom is golden brown and crisp, about 10 minutes more.

Check out the
Creative Cooking Crew
Pinterest board to see the other participant's creations on the 
Meat and Potatoes
theme.
Ξ Caramelized Apples Ξ
1/2 apple, cored and sliced thin
1 tablespoon Butter
1/2 tablespoon Sugar
In a large skillet over medium-high heat melt the butter and reduce to moderate. Sprinkle the sugar over the melted butter. Cook the butter and sugar for 1 minute or so.
Add the sliced apples to the skillet. Cook until they are golden and tender but not soft, 3 to 5 minutes.
Ξ Cured Pork Tenderloin with Garlic, Black Pepper and Oregano Ξ
1 small slim pork tenderloin
4 tbsp salt
1 tsp garlic powder
1 tsp ground black pepper
1 tbsp dried oregano
Prepare the pork by removing any fat or membrane. In a flat dish mix salt, garlic powder, pepper and oregano. Roll the pork tenderloin in the mixture, pressing hard and ensuring the the meat is well encrusted. Lay out a thick cotton cloth (or other natural material), spread any mixture left on the cloth and wrap the meat carefully and fairly tight half way, fold in the ends and continue wrapping , secure both ends with a rubber band. Put the wrapped tenderloin in the fridge and leave it for at least 5 days (maybe a little more if the tenderloin is thick). Slice thinly and serve chilled.