A belated Happy Thanksgiving to my fellow Canadians! I celebrated quietly with friends and it was nice to say "I thank you for being in my life". So now I will say the same to all my readers: Thank you for reading and sharing my food adventures with me.
We went to Chinatown for our meal so I have no Thanksgiving dinner to share. But I did recently go back to the Cabane à sucre Au Pied de Cochon sugar shack for a worthy meal of gluttony focused around the apple season.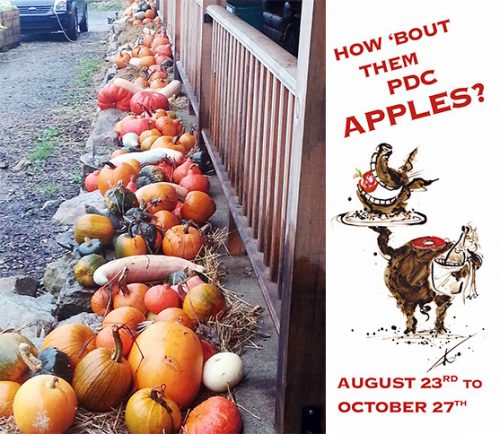 This sugar shack is run by the infamous chef Martin Picard, known worldwide for his ever popular restaurant in Montreal. He is not known for fancy delicate presentations, nor is he interested in haute cuisine creations. Martin Picard is known for rich, crazy and in-your-face plates filled with luscious calories such as his iconic Foie Gras Poutine.
I have gone twice in the past to the maple season event but this was my first time for the apple season, only the second year it has been offered. For a mere $50 (plus tax, tip, or drinks) you can gorge yourself on 9 insane offerings. If you want to go for this season well just forget about it. I jumped to get in line for a reservation in March for September.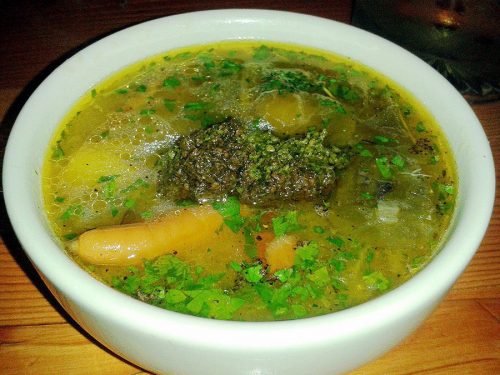 OK I have made you wait long enough, let's go through this year's 2013 apple menu. The one big fault at the sugar shack: horrible lighting for food photography. First off we were served a vegetable stew with a broth made of pork, duck, and chicken. Inside the soup were nice carrots with   pieces of chicken and sturgeon. Make sure to add a dollop of the fresh pesto on top before tasting. Yeah Picard is know for crazy combinations.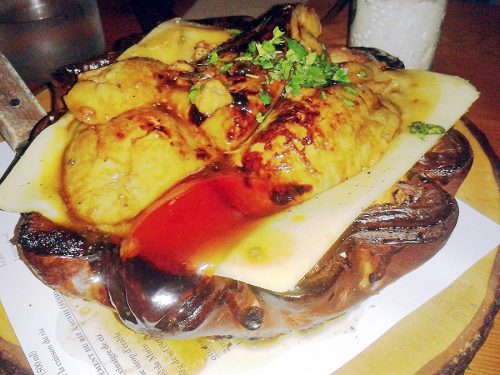 Next was probably the WOW dish of the meal for most people. This massive apple and caramelized onion pie is topped with a huge slice of cheddar marinated in apple cider and topped with whole foie gras. Looks at that beauty. The tastes really worked and it was amazing…and goes right to the hips for sure.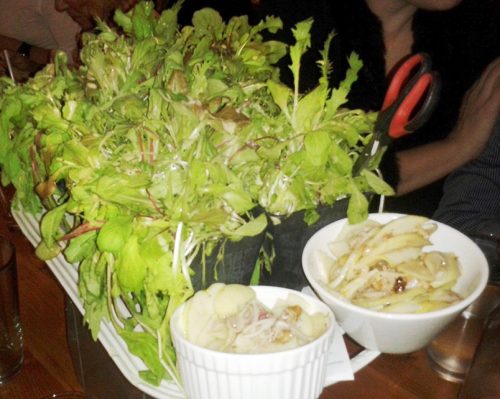 On the lighter side, the mesclun salad was served still planted in black pots and arrived drizzled in apple cider vinegar. Just grab the kitchen shears to cut yourself a portion and top with the side apple, pear and walnut salad.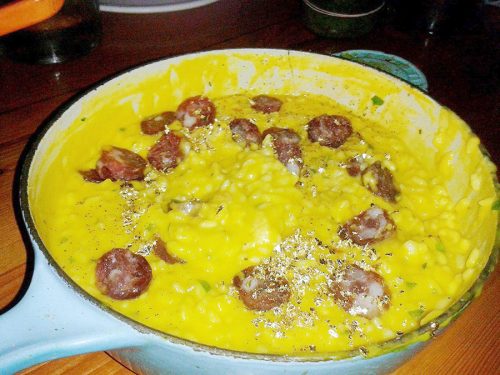 Finishing up the first round of dishes was a white wine risotto with sauteed apples and onions, cream of squash and Sopressata sausage. Just prior to plating the risotto is tossed around in a hollowed Parmesan wheel and the final touch for presentation: a sprinkling of gold leaf. Shiny!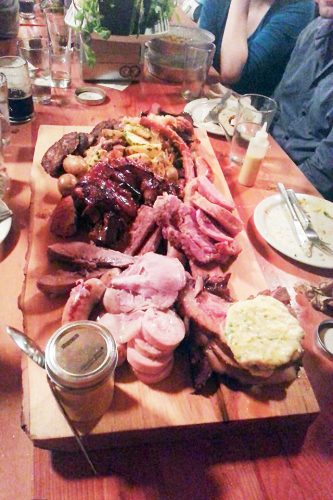 Now that the appetizer portion of the meal is done it's time for the main meal. Named The Monster, a gigantic wood plank arrives with a mountain of pork in just about all its forms: smoked meat, ham, homemade bacon, pig's foot, marinated tongue, garlic sausage, pork chops, pork liver patties, foie gras and apple stuffed sausage, mortadella, pork shoulder and pepperettes. To keep the meal balanced there is also a huge pile of sauerkraut which was fermented for 6 weeks topped with apple wedges and potatoes.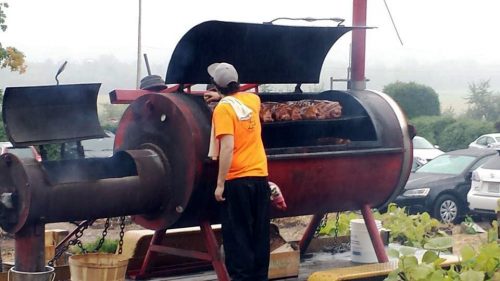 They cook the meat in their pig shaped BBQ which is right outside the front porch.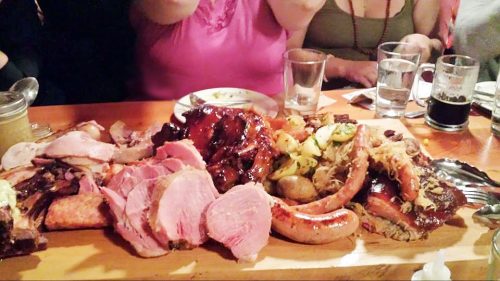 One more gratuitous meat shot.
Served at the same time as the meat is six cheeses in total with a crusty baguette, onion rolls, and dried fruits and nuts crackers.
Starting with front left cheese and going clockwise: a mild blue cheese, a camembert, a Hercule de Charlevoix and a goat cheese.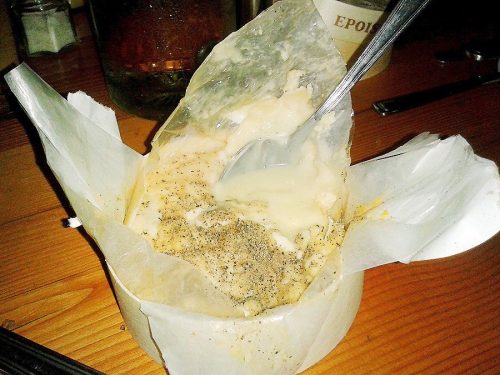 This triple crème was made at St Joseph du Lac and aged for 2 months in apple juice. Served also in a round wood box was probably the most pungent yet delicious cheese I have ever tasted, an Époisse de Bourgogne.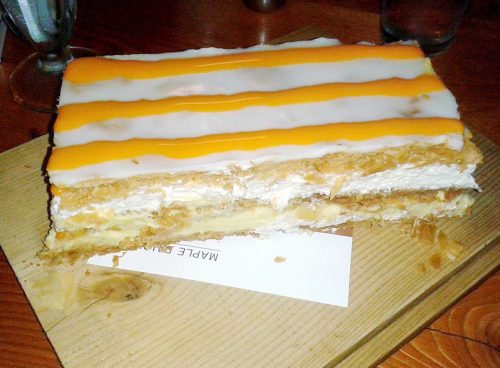 At this time you are ready to die and go into a food coma but wait, here comes the desserts! The first one was a mille feuille with pastry cream and squash cream. So seasonal!
Next we had an unusual soft serve ice cream with 2 flavors: squash and St-Ambroise stout beer. Sounds weird but it worked. At least for me, opinions were 50-50.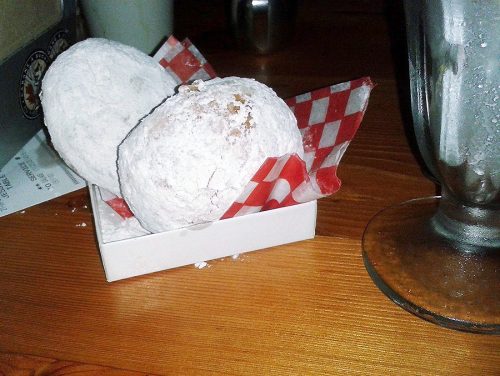 And finally we each had a puffy and light cinnamon apple sauce filled doughnut. So good, probably the best dessert.
And here we are, my group of 10, resting after the meal on the front porch with our doggie bags, trying to catch a breath and let the stomach settle (or not explode) before going back into town. Thank you to Michele and Jean-Marc who let me use some of their photos.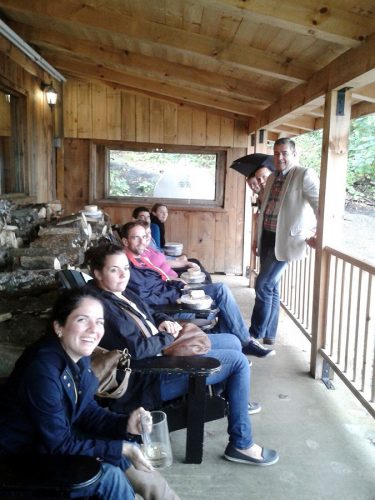 If you want to go to the maple season be prepared to send out your email on December 01st at midnight to be on the call back list. If you send you email later…forget it you won't get called.
Pied de Cochon cabane à sucre
11382 Rang de la Fresnière
St-Benoît de Mirabe