Oh Lord I have like 4 restaurant reviews I want to do…not enough time…argghhhh.
OK let's start with the biggest…..I FINALLY went to Pied de Cochon for the first time. I have been wanting to go here for ever! And it would probably have been much longer before it happened to if I had not discussed it with a foodie who told me one can be reasonable and do PDC cheap enough. Well there whole menu is online with prices. So after close inspection she was right! So I declared October PDC month on Cheap Ethnic Eatz…the dinner group. With help from Johanne and Olivier I set up 3 outings as reservations were capped at 10 places. My turn was this Tuesday. OMG, OMG, OMG!
You know how some movies are like so good but you also can't stop thinking and analyzing for a while after the movie and you realize the movie is even better then you first thought. That is what my dinner there was like. i have tones of pics to show…all taken by Bernard Reischl…thank you Berny!
Ok let me make a quick comment about he decor. The local is a longggggggg rectangle with a long bar at the center and the open kitchen behind the bar.  The floor and half the walls are a warm golden rich wood. The other half of the walls is mirror. The table are all massive solid pieces of wood about he same color as the walls. The efefct is french bistro meet Canadiana. its really something. There is only one drawback to it, my only real complaint of the evening…this makes conversation resonate so it is not a place to have a quiet romantic dinner. Its lively and its loud.
Ok now I'll shut up about the decor and stick to the FOOD! First thing that struck me is don't go thinking it is Fine Cuisine. Oh no, it is Cuisine Cochone Fine (cochone means pig like cuisine,  glutonous). Yes you can leave there spending a small fortune but you can go cheap. I went sorta in the middle. I did not order a main entré but instead a bunch of smaller dishes. I ordered the Foie Gras Cromesquis, the Tomato Tartlet, the Poutine side dish (no foie gras), a pint of Pied de Cochon beer and Dark Chocolate 'Pot de crème'. That is separate 5 items…5!. how much was my total with tax and tip? Only 38$ That is pretty damn good. Here are some pics of my meal.
The Foie Gras Cromesquis is a unique experience. Breaded then fried, this cube of Foie gras turn liquid inside. The waiter warns you to keep your lips well sealed when you bite or it will squirt out…which I can vouch for cause everyone was staring at me when I ate it and I giggled and a tiny bit did projectile out of my mouth. A unique explosive experience!
Never in my life did I think I would stop in mid sentence over the taste of of a tomato pie…but it did…OMG.
The side dish Poutine, for a poutine, is fantastic. The fries are excellent, the homemade venison gravy is sublime in taste but not served hot enough as the classic cheese curds,  better then any I ever had, were no where near melted. However I am not a big poutine fan so not my favorite part of the meal, yet very good. And its HUGE.
Here are other pictures of various dishes enjoyed by my dinner companions:
The most beautiful heart attack on a plate: puff pastry crust, potatoes, cheese, blood sausage, foie rgas…God knows what else. I got to taste it…WOW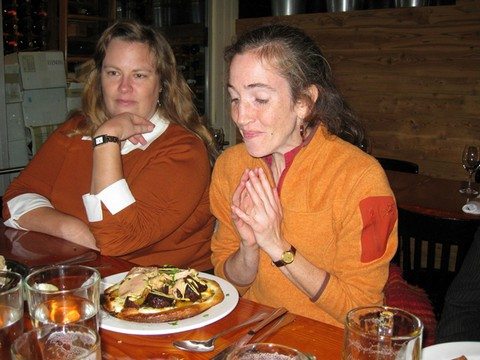 This is Rebecca getting her PDC Pizza…look at her excitement!
And now…dessert. Other took the Lemon Meringue Pie and the Chocolate Molten Cake and said both were divine. I had the Dark Chocolate 'Pot de crème'. Somewhere in between a ganache and a mousse, it was served in a glass jar with a topping of crème fraiche and cookie crumbs. it was big enough for 2 and so, so, so good.
This was the 2nd of 3 organized PDC events for the Month October. Based on the reviews on Meetup I only saw amazing comments. I did hear privately from 1 person who did not enjoy their experience. What can I say…it can't please everyone and that person made valid points too. but overall it was a great set of events.
AU PIED DE COCHON
536 Duluth Est
Montréal (Québec)
H2L 1A9
Tél: 514.281.1114
Hugs and Biscuits
Evelyne