The past week has was like a surreal dream for everyone on the guest list. Was our coveted reservation at the Cabane à sucre Pied de Cochon really less then 7 days away? Finally? For real? After all we sent out a request to be on the wait list in August and only got a confirmation in January. We were all insanely ecstatic.
And many of my friends and colleagues regarded me with envy and jealousy. It was delicious lol. One friend even texted me while I was there: "Eat your heart out, you B…… xoxox".
Yes, the day had actually arrived: 23 of us, members and spouses of the Montreal Foodie Blogger group, met at the Cabane à sucre Pied de Cochon for a $49 brunch meal we will not soon forget. It was a momentous event also because about half the guest were new members. I was so happy to meet everyone and put a face to names I knew so well from online. It was as well our first meeting with a healthy mix of French and English bloggers, bridging cultural gaps.
OK, enough with the emotional gushing! Bring on the food!
After driving past a scary stretch of commercial non traditional sugar shacks on the main road and being convinced we were lost a few times we finally drove up a dirt road that ended with a rather large but crude shack. In other words it was what I picture a traditional sugar shack should look like.
We were quickly seated inside this shack on large wooden table and benches. A refreshment service was offered (by the way coffee and tea are not included…grrr) and we settled in with a good cup of coffee while waiting for the last of our group to arrive.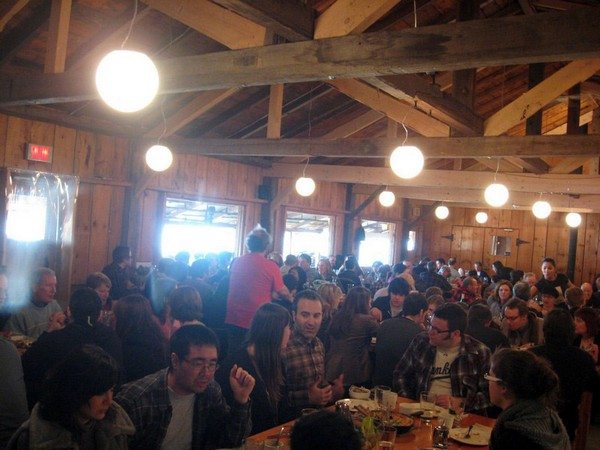 On with the first service….. 6 items (yes…6!)
A split pea soup with cubes of foie gras was a rich and hearty start to what was to come. It was quite good, nice texture, chunks of salty ham…a little bland looking though.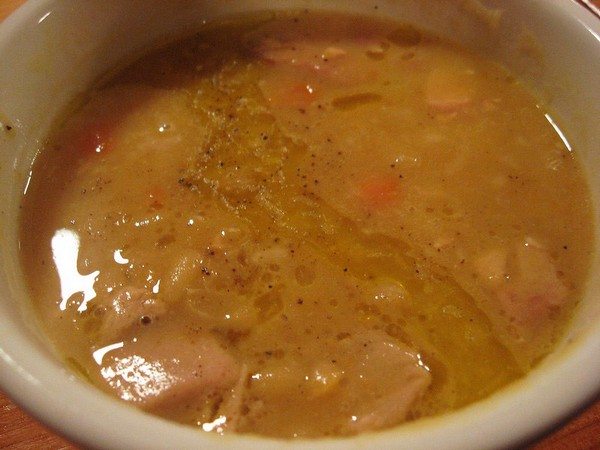 Next up was a tourtière, an extra that is not included, that was touched by culinary angels. May lightning strike me if anyone says otherwise….it is the best tourtière I have ever eaten in my entire life. A pâte feuilleté crust and huge chunks of meat. Just divine.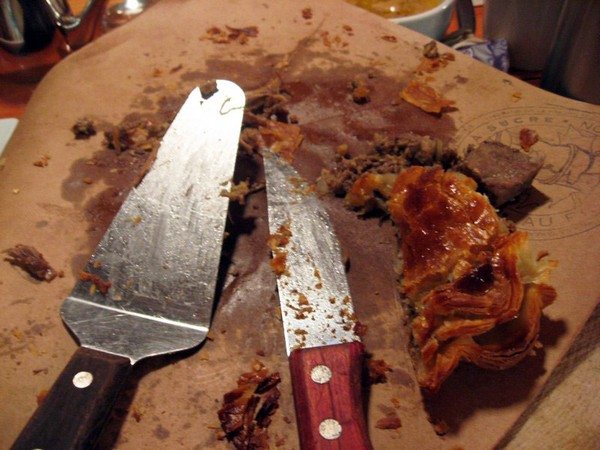 For a lighter tasting we were served a salad with inconspicuous ham, cheese, nuts and non inconspicuous oreilles de crisse like we have never seen before. They were light and bubbly. I have never liked oreilles de crisse much but these were tolerable for me.
This was followed by a yummy homemade creton (imagine a loose and chunkier paté) with melt in your mouth fatty gravlax as well as small, delicate and delicious buckwheat pancakes.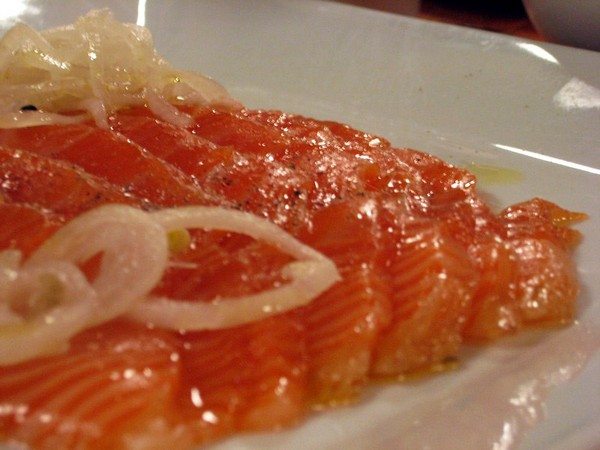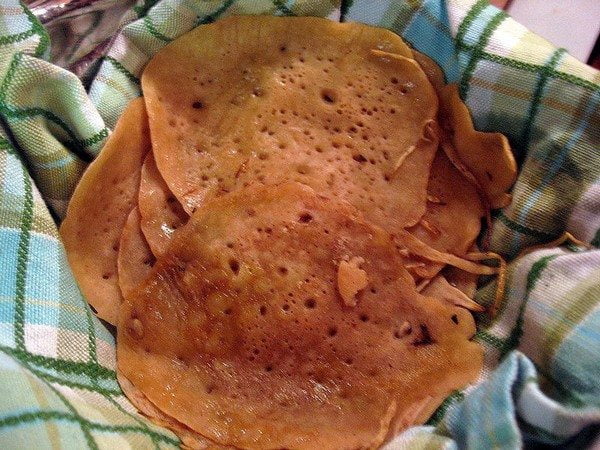 Now not everything was a success. This is the first dish I was not crazy about: fried chicken feet in a bbq sauce. I have never eaten feet before so I forced myself to give it a shot. The bbq sauce was amazing but I bit one little piece of fried skin off the leg and, well, no thank you not for me.
The last dish of the first service was a hit or miss depending on whom you asked. Imagine a smoked sturgeon puffy omelet with sturgeon gizzards (yep) topped with pulled pork (for a moment I thought I was back in North Carolina) and shallots. The pork was a hit, the omelet very good, the smoked sturgeon….not so much. I found it really intense in flavor and was not fond of it.
Appetizers are done. On to the main dishes of the second service! Can we take a little stomach break first? Let do a little socializing. Left pic: Aimée of Simples Bites and myself. Right: Kim Vallée of At Home with KimVallée, Line Atallah of Telegraphe and Aimée again. Sorry its the only good shots I have besides bad table shots. Also present 2capricieux, cheeseandolive, chocolateshavings, cocobeanandme, cookbookfixation, culinaryescapade, kitchenexperiments, laderoutee, montrealbreakfastreview, okwithandrea, pretextes, victor-recipe.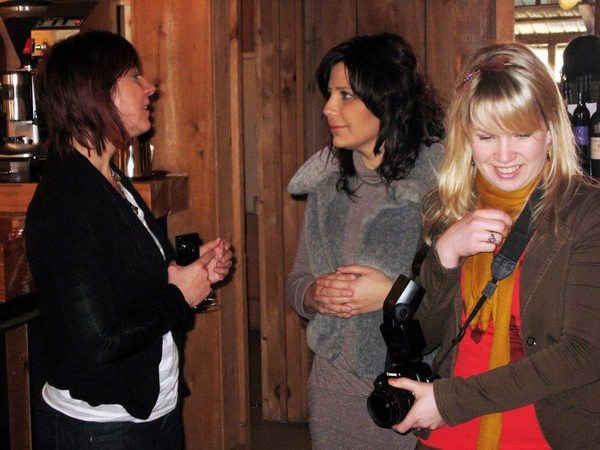 The first main dish was again not a big hit, possibly because of what it consisted of: beef tongue served with a celeriac rémoulade. Again I forced myself to at least taste it but I have issues with most organs. I had two bites and that was plenty enough for me thank you. The celeriac salad was absolutely wonderful though, I love celeriac.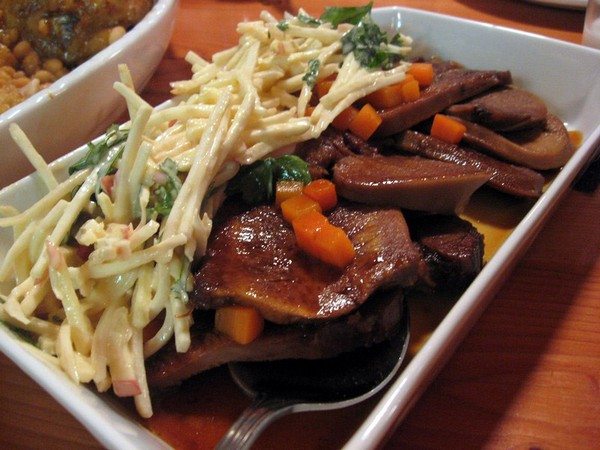 Next was a more conventional dish made up of a maple lacquered roasted chicken with beans. Its was quite bland and does not require more mentioning. Pretty though.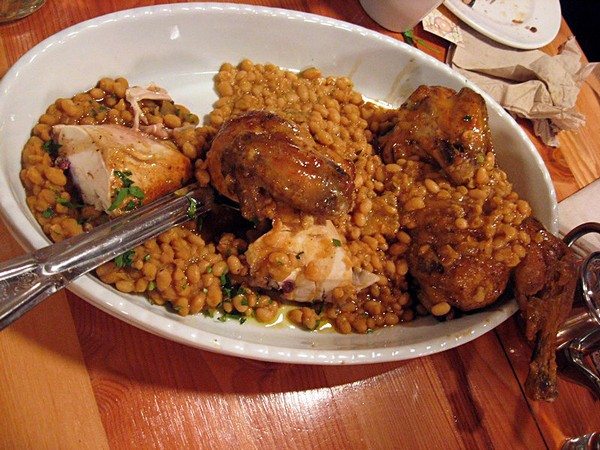 Now the last main dish was the crowning moment of the first two services. Three words: O…M….G! I don't think I ever had a dish so decadent as this one in my life. This was a cabbage head stuffed with porc, foie gras AND lobster. The whole was served with creamy lentils. The presentation was exquisite and I cannot even begin to describe the taste but everyone should try it once in a life time at minimum. Again…OMG!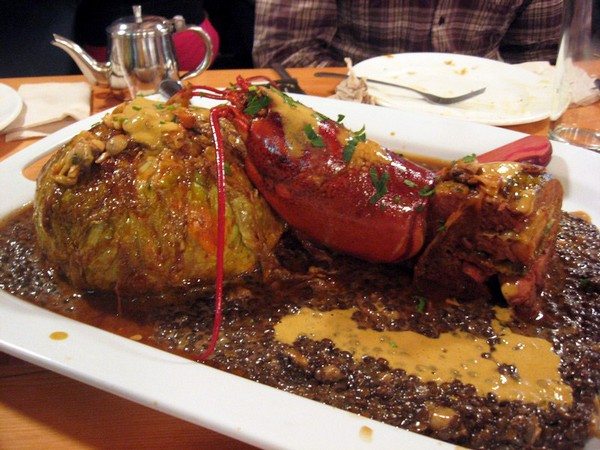 All three main dishes served on my plate…..so unusual a combination but gorgeous.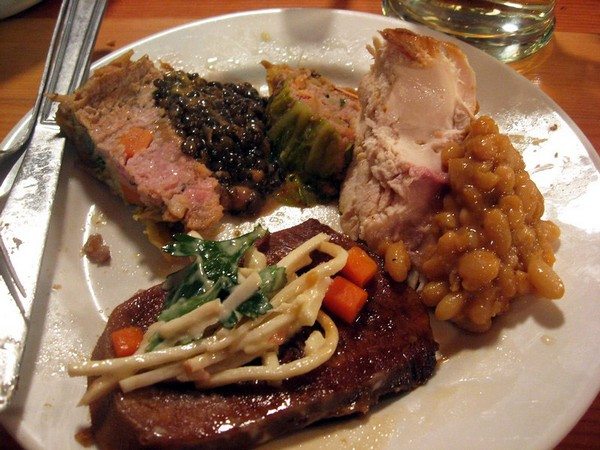 OK, time for another break. Let's take a look at some of the little packages you can buy and take home with you. Of course there were many more items then I am showing. I did not get anything and was content with my photography diary at the time. Now I wish I had gotten a tourtière.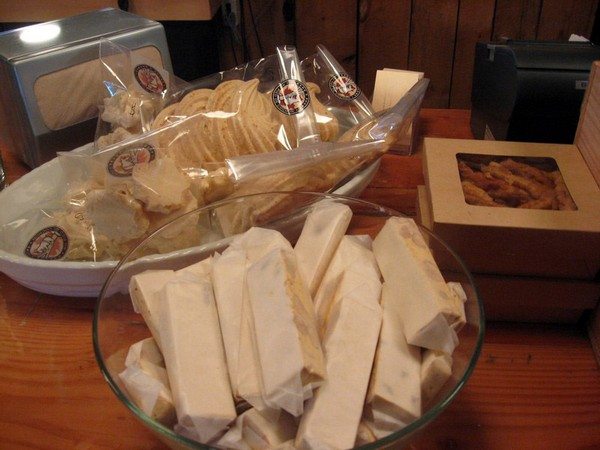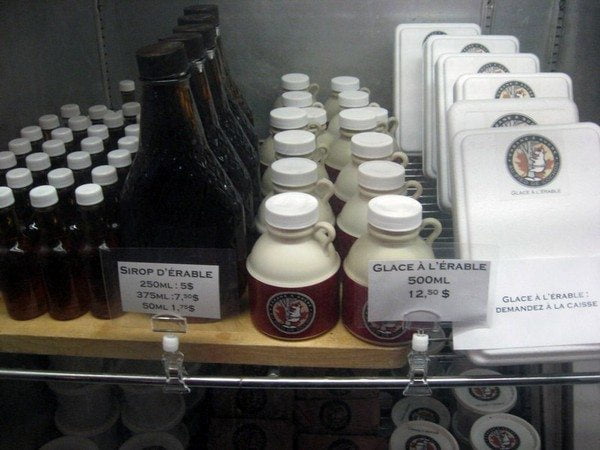 Phew, OK, we are in the home stretch now. It's dessert time!
The first of 4 sweets was crêpes. Now we are at the Pied de Cochon, so normal pancakes with maple syrup would hardly do…of course not…they had to go ahead and fry the pancakes first before serving it in a dish filled with maple syrup. Yes it is just as bad and good as you are imagining it.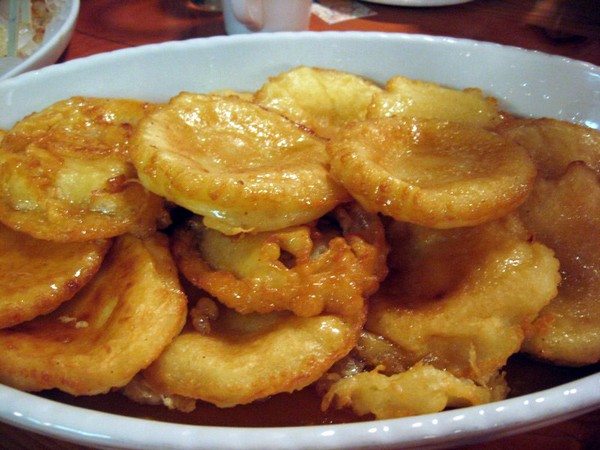 How about a lighter ice cream dish? Like this maple banana split made of bananas, homemade marshmallows, chocolate sauce, maple glazed nuts and the whole thing topped with maple syrup cotton candy. I apparently did not try the marshmallows and I wish I had…kicking myself.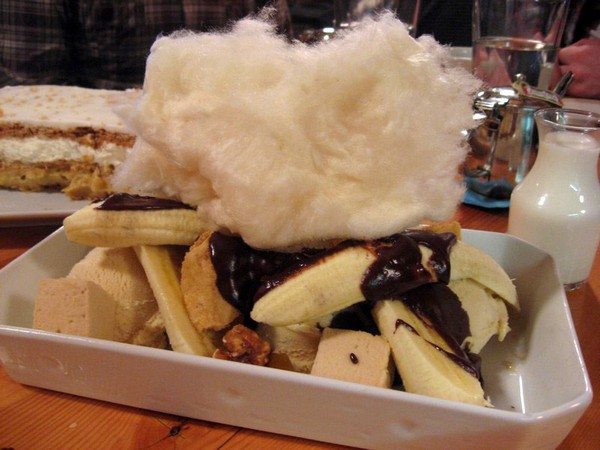 A personal favorite of mine, this was again the best maple mille-feuilles I have ever had in my life. This dessert reminds me always of my maternal grandmother. I am not sure if its because she loved them too or I have a memory fragment of her making some, but mille-feuilles are nostalgic for me.
And how can a sugar shack visit be complete without some tire à  l'érable, or maple taffy. Served on a flat dish of crushed ice and Popsicle sticks we rolled up our taffy on our sticks in no time to melt the heavenly mass in our mouths.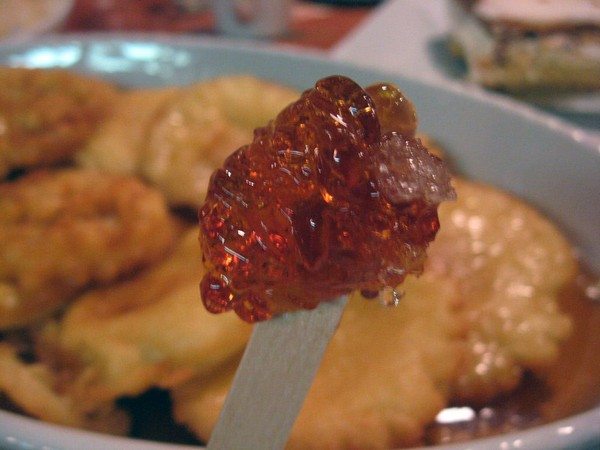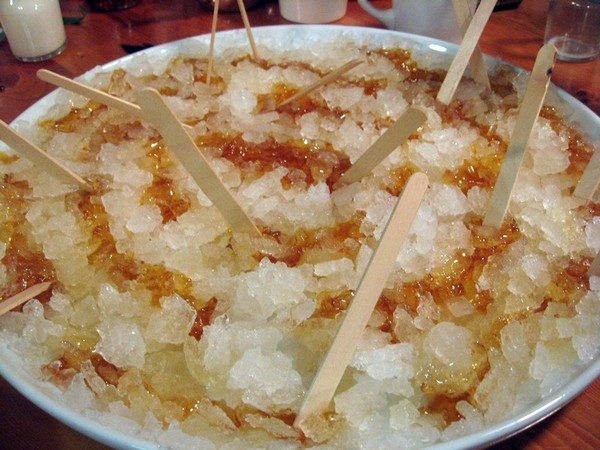 15 different dishes in all. And I tried every single one of them plus a pint of fabulous light cider, 2 coffees and lots of water. As I mentioned in my review of the restaurant Pied de Cochon, eating at a Martin Picard establishment is experiencing Cuisine Cochone Fine (cochone means pig-like cuisine) and its always a meal you will never forget. I was so full from our brunch on Saturday my first real next meal was breakfast on Sunday morning. Sooooooooo going back next year!