Ultra rich and calorically satisfying, these Brown Butter Shortbread with Butter Buttercream are melt in your mouth divine.
It's Food 'n Flix time again! In this monthly group a host picks a movie of their choice that pertains to food. Everyone watches the movie and then makes a recipe which the film inspired. It can be any recipe you want.
Now if you are a clever reader…you just may have picked up on a theme here. Perhaps BUTTER? I am the host this month and I picked a quirky film called Butter! I wanted as much butter possible in my contribution – in ingredients, taste and look. The result: this super rich Brown Butter Shortbread with Butter Buttercream.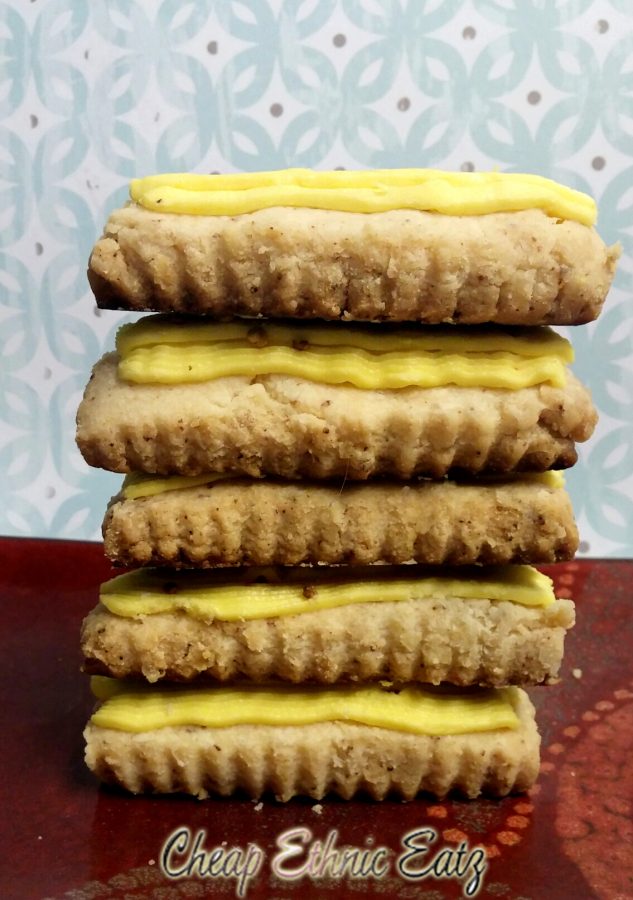 I just love hosting in this group and I am happy to say the film was overall pretty well received considering just how quirky it is. I first saw it in the fall as it was a selection from last year's annual Food Film Marathon, a little annual thing I host with friends. The idea of a movie centering around butter sculpture was just too funny. Plus there is a lot of unexpected societal, sexual, religious, racial and political commentary which is kind of unexpected since the movie is about…butter. I was on the fence the first time I saw and I am happy I enjoyed it a bit more at my second screening.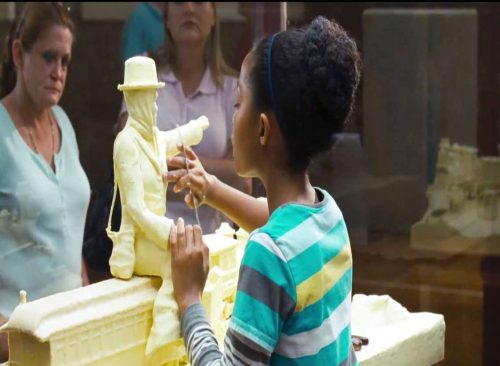 Butter is the story of the overly competitive and socially ambitious Laura (Jennifer Garner) who takes over the spatula to compete in the annual Iowa State Fair butter sculpture competition because her husband Bob (Ty Burrell), winner for 15 years in a row, was asked to no compete anymore. Her biggest competition is the butter sculpting prodigy Destiny (Yara Shahidi), a ten-year-old black foster child just placed with a nice white family. The rest of the contestants are the vengeful stripper/prostitute Brooke (Olivia Wilde) that Bob hired but did not pay and the goofy butter fan Carol Ann (Kristen Schaal) who is hilarious. For good measure throw in Hugh Jackman as Boyd the used car salesman manipulated by Laura to her advantage. Who will win and dominate the butter world? Watch the movie to find out!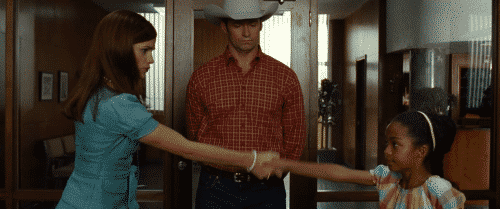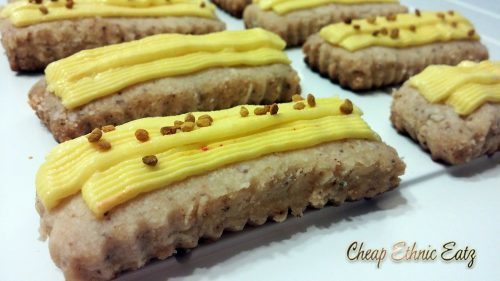 You probably think only Americans would even bother coming up with this art form. Well you would be wrong! Turns out the origins of butter carving are found in Tibetan Buddhism, where yak butter is mixed with flour and pigments, and then used to form intricate scenes and mandalas called tormas. These tormas are used in tantric rituals or as offerings.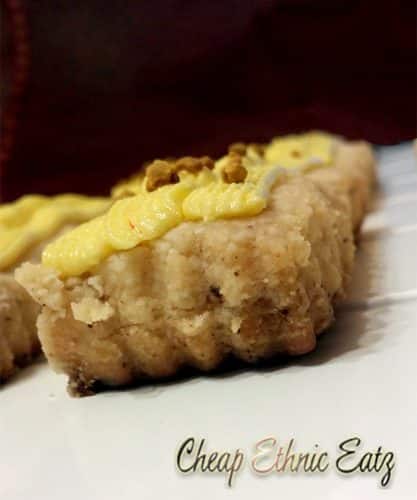 So I wanted to maximize my butter recipe as much as I could. I did it in 3 parts:
I decided on this American crumbly shortbread cookie from The Comfort of Cooking, which has only 3 ingredients in it: butter, flour and icing sugar. Basically there are just enough dry ingredients to make the butter solid enough to eat.
I also decided to brown my butter first. Brown butter is a butter that has been cooked on low heat long enough for the milk solids to separate and brown in the pan. This gives a distinctive nutty taste, adding depth to the flavor of my shortbread.
And I iced them with leftover Vanilla Buttercream Frosting from my lemon beach cupcakes. I added a few drops of yellow food coloring. I pipped it on the cookie to look like fancy restaurant butter. Yep I made butter look like butter!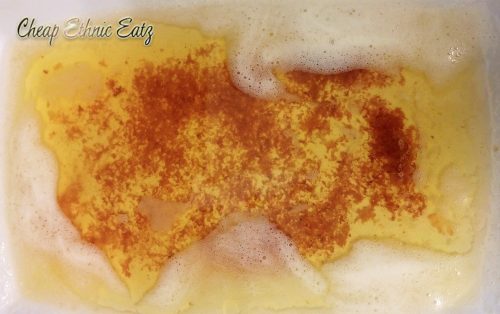 For decoration I topped half the cookies with bee pollen granules. The shortbread cookies turned out amazing and so delectable. No way could I stick to just eating one. This was terrible news for my 'eating better' new diet because these babies add up to about 190 calories PER COOKIE! But so good….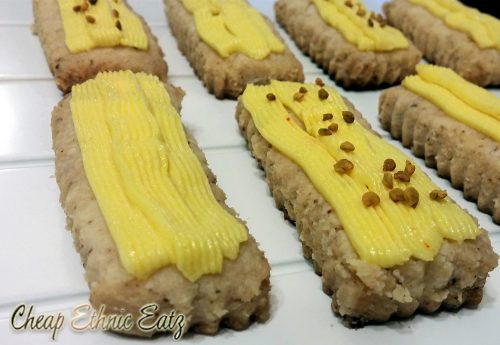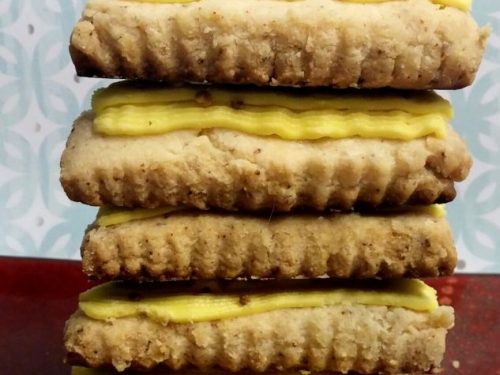 Brown Butter Shortbread with Butter Buttercream
Ingredients  
1

cup

brown butter

softened

1/2

cup

powdered sugar

2

cups

all-purpose flour

Buttercream

yellow food coloring
Instructions 
Preheat oven to 350 degrees F. Prepare two baking sheets lined with parchment paper.

In a large bowl, cream butter and sugar. Add flour and continue to mix until a soft dough ball forms (it's OK if it is a bit crumbly).

Roll dough 1/3-inch thick on a surface dusted with powdered sugar with a well-dusted rolling pin. Cut into rounds or any shape you want and place on prepared baking sheets.

Bake for 16-18 minutes, or until cookies are pale golden brown. Let cool on baking sheets. Ice with buttercream.
Notes
To make brown butter:
Place just over 1 cup of butter in a small and and set heat to medium. Cook until the solids turn a little brown and a nutty smell comes up. Remove from heat and stir in pan until the solids are a bit browner. Pour butter in a dish and cool in fridge or freezer.