These Baked Matcha mini donuts with chocolate glaze pack a lot of lovely matcha tea flavor in a small guilt free format.
Matcha is green tea from the Camellia sinensis, with the entire leaf transformed into a very fine powder. Unlike other teas derived from Camellia sinensis, matcha has not been fermented. This is not its only particularity, as true matcha is derived from tea leaves grown in the shade so that the leaves achieve a dark green color, which gives matcha its magnificent amino acids. A healthier recipe emerges: Matcha mini donuts.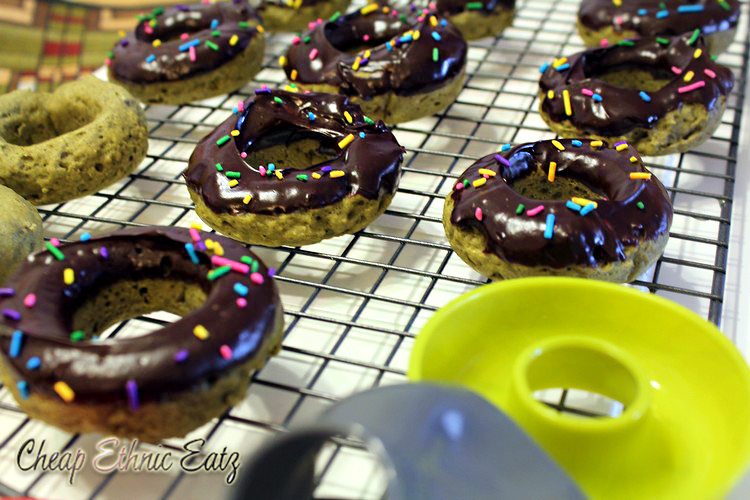 One glass of matcha green tea is equal to 10 glasses of regular green tea as far as antioxidants and nutrients are concerned. Some studies claim that matcha has fat burning properties, may give an energy boost, and also promote relaxation and well-being within the brain.
Did you you add can matcha powder to your recipes? It will add a pleasant small leafy bitter taste to your food. Look on the internet and you will find tons of recipes with matcha: from cocktails to beverages, smoothies, pizzas, vinaigrettes, pasta, chicken, cakes, muffins and candy. I personally enjoy sweet cake and pastries with Matcha.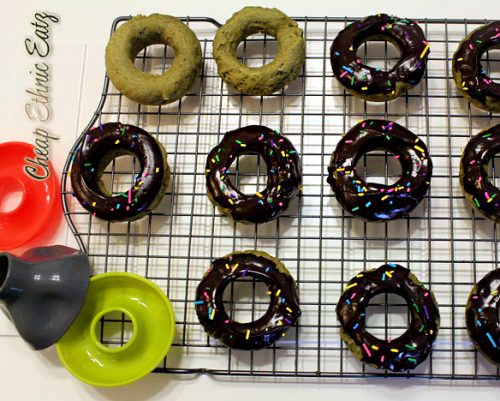 A few months back I purchased the most adorable individual silicone mini donut moulds. I bought them from a colleague though a fundraising campaign for her son's hockey team. Loved working with them and cleaning is a breeze: just flip them inside out to clean properly. Plus you stack them up into a small tower for storage.
It took a while to settle on a first recipe to test drive these mini donut molds. When I came across this Matcha & vanilla mini doughnuts recipe I was sold. Keep in mind these are baked so they have basically a cake texture, it's not like a real fried donut. The result was not too sweet donuts in a guilt free mini size. Well almost guilt free! Depend how much chocolate glaze you use.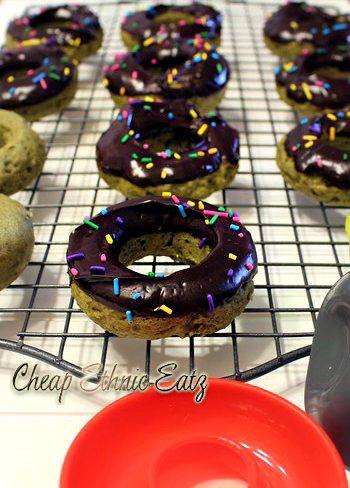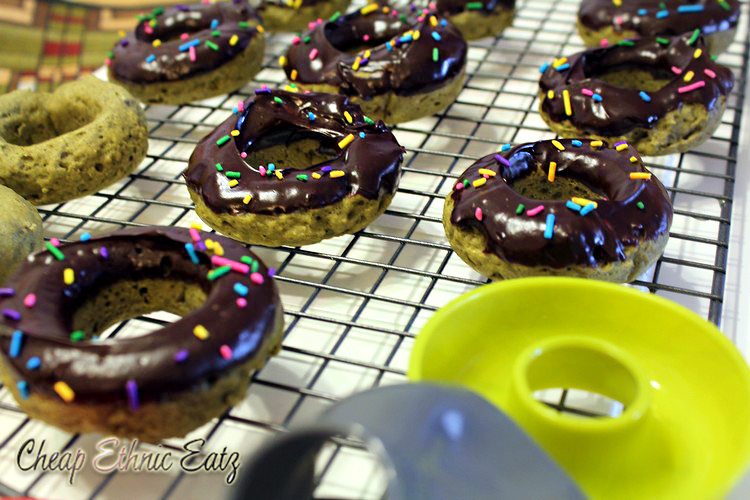 Sweet Matcha mini donuts with chocolate
Ingredients  
For the doughnuts:
1

cup

plain flour

1/4

cup

caster sugar

2

tbsp

matcha powder

1

tsp

baking powder

pinch

salt

1/2

cup

buttermilk

1

tsp

vanilla extract

1

egg

lightly beaten

1

tbsp

butter

melted and cooled
For the chocolate glaze:
100

g

milk or dark chocolate

broken into small pieces

sprinkles of your choice
Instructions 
Preheat oven to 400F. Oil your donuts mould. In a bowl, sift flour, sugar, matcha powder, baking powder and salt.

Beat in the buttermilk, egg, vanilla extract and butter on medium high speed until just combined.

Fill donut batter into a piping bag and pipe the dough into the moulds 3/4 of the way.

Bake for 5-8 minutes, until the top of the doughnuts spring back when touched with your finger. Let cool in pan for 2-3 minutes before removing for moulds. Cool on a wire rack.

Melt the chocolate in a double boiler or in the microwave and dip the donuts into the melted chocolate. Top with sprinkles.
I had extra chocolate at the end so I spread it out on a sheet of parchment paper. Sprinkle with nuts and candy confetti for a fun treat. Once refrigerated just break off a piece.