Who says education and a love of food cannot go hand in hand? I got my gluttons covered with a long list of back to school must haves for foodies of all ages.
When did the end of August arrive? I did not notice it, did you? And it is that both dreaded and anticipated time of year for parents: going back to school time. The reaction depends on the parents – and the back to school supplies list they need to shop for. Well, I am here to make things easier and more fun for the student/parent and foodie combos. Check out these 17 Back to School Must Haves for Foodies and Students of all Ages.
Yes, all ages! Babies, toddlers, kids, tweens, teens, and adults! We are always learning and we are always eating!
Keep an eye out for my Top 3 picks!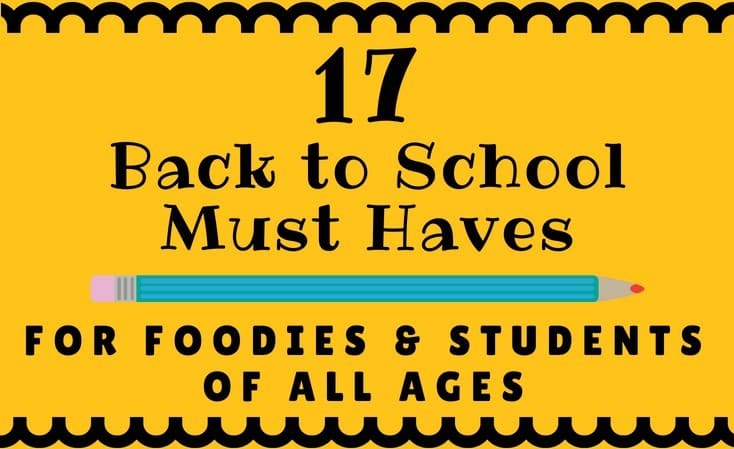 I still remember the back to school list my mom would carry as we headed out for the annual back to school shopping excursion. Lists were shorter then I think as far as basic school supplies but I always had a back to school clothes shopping session.  And don't forget to get cool snacks as a must of things you need for school.
17 Back to School Must Haves for Foodies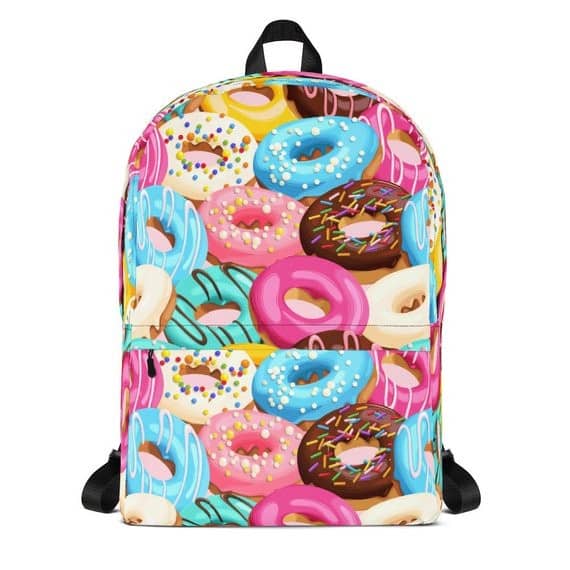 Donut Backpack or Bookbag
Back to school backpacks reveal a lot about a student's personality. This one screams FUN, colorful and sweet!
P.S. I have seen guys with this backpack too. A must to hold all trendy school supplies.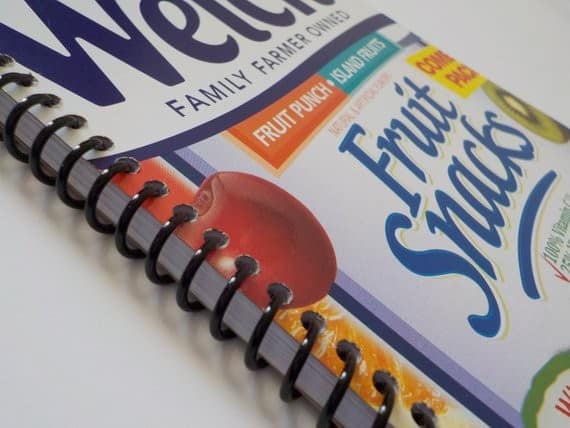 Food Box Notebook, 40 sheets, 5.5 x 8.25
Talk about an awesome upcycle idea. Food packing turned notebook cover. Love!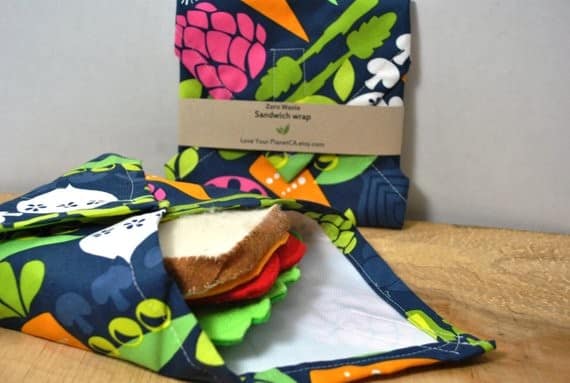 Zero waste sandwich or burrito sustainable wrap
Get eco for packed lunches. A great way to stop using sandwich baggies. Hold with velcro.

Cooking Charm Bracelet
I want this bracelet so bad! Great for teens and student chefs (or wannabes).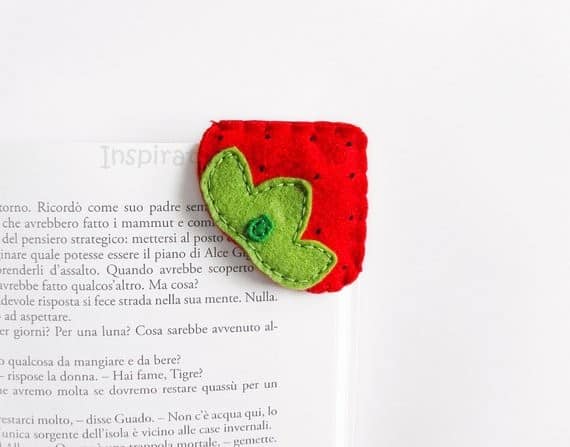 Strawberry felt corner bookmark
This is so cute and better than a piece of paper or a dog-eared page.
My Top Picks #1 and #2 below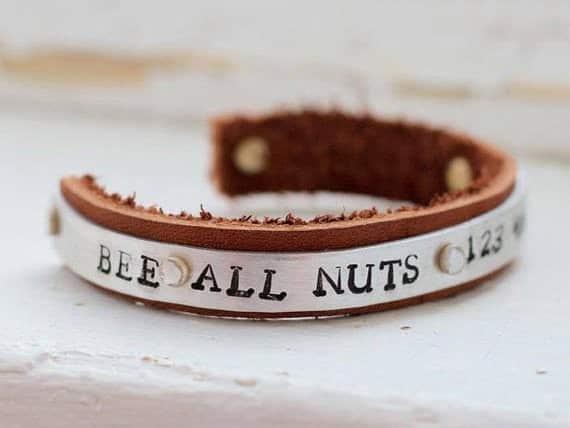 Allergy Alert Bracelet
Ok, I really love this one for kids and teens (and adults)!
You can have allergies listed and a phone number engraved – in a stylish bracelet.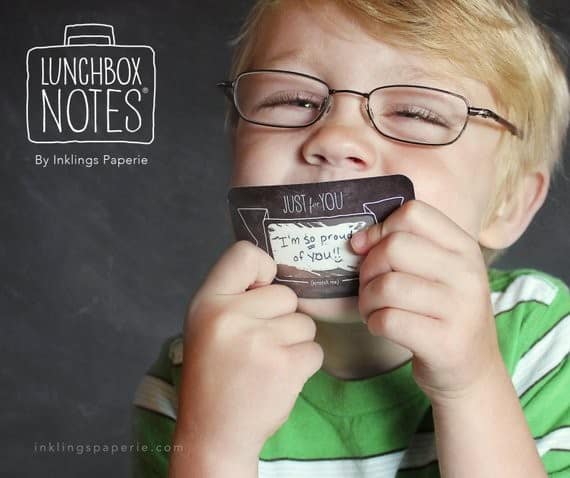 24 Scratch-off Lunchbox Notes
There are tons of lunch box note packs out there but now you can write your own message
AND your kids can scratch it off to reveal the message.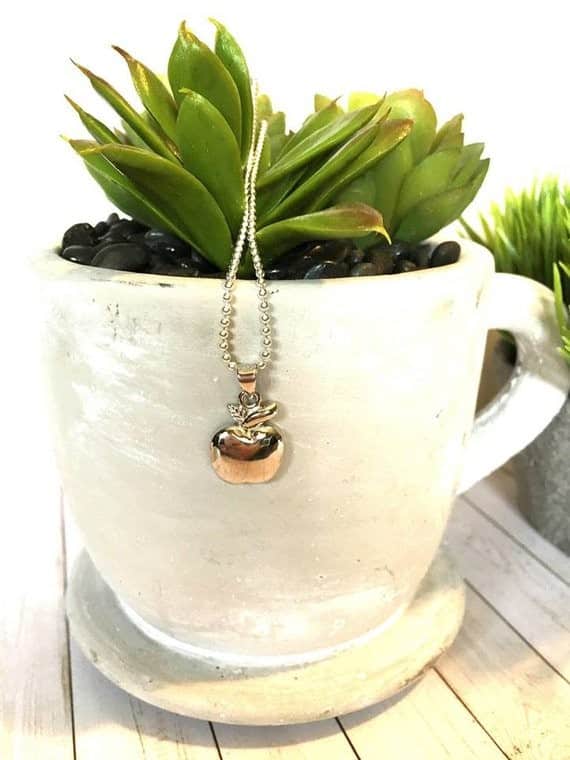 Sterling silver apple necklace
I bet teachers would much prefer this apple! Or whomever is the apple or your eye.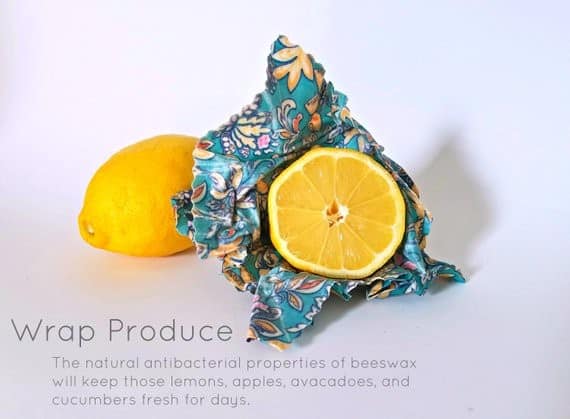 Beeswax Wraps- Reusable Produce Wraps and Food Storage
More eco lunch packing ideas for veggies or at home to cover containers instead of film wrap.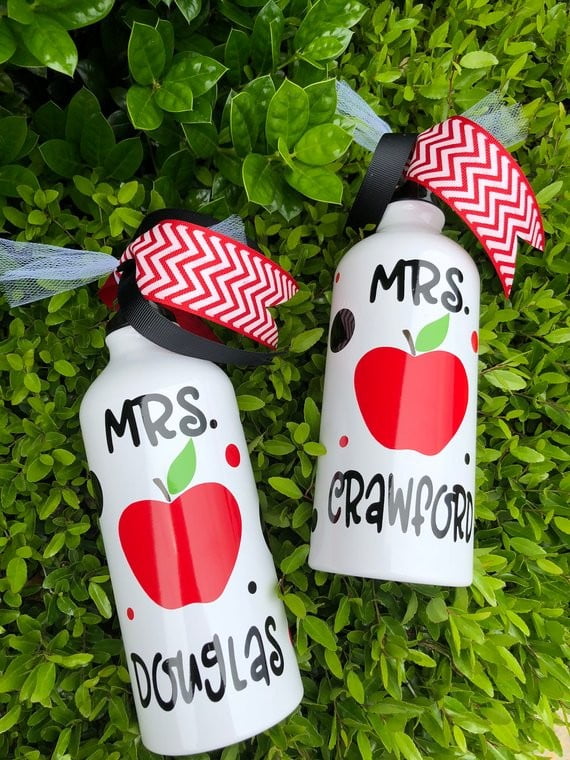 Personalized Water Bottle
This is a clever idea if you are shopping for back to school gifts for teachers or any apple loving student.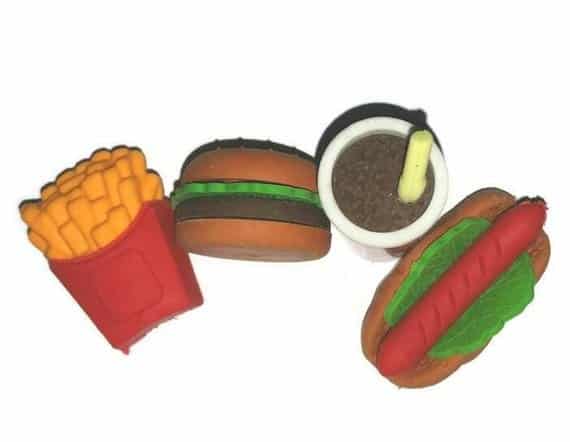 Junk Food Erasers School Supplies
Are these not the cutest erasers? Definitely a must for high school essentials.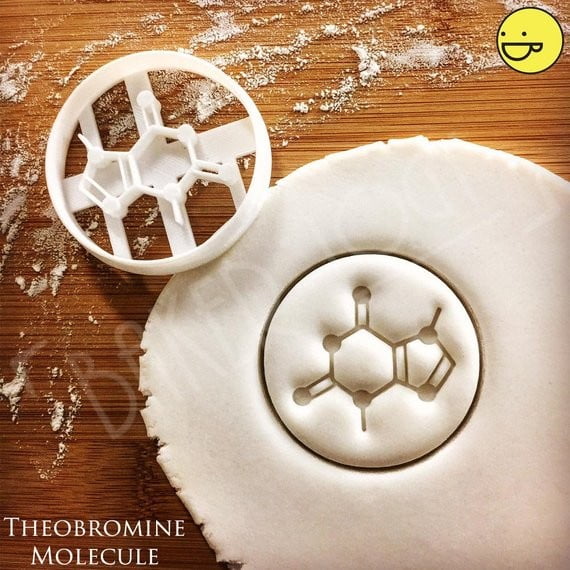 Theobromine Molecule cookie cutter – Chocolate Chemistry
Want to look like a smart cookie?
Add it to college must haves for chem majors, chocoholics, and caffeine lovers.
And insomniacs (it's the stimulant chemical in chocolate).
My Top Pick #3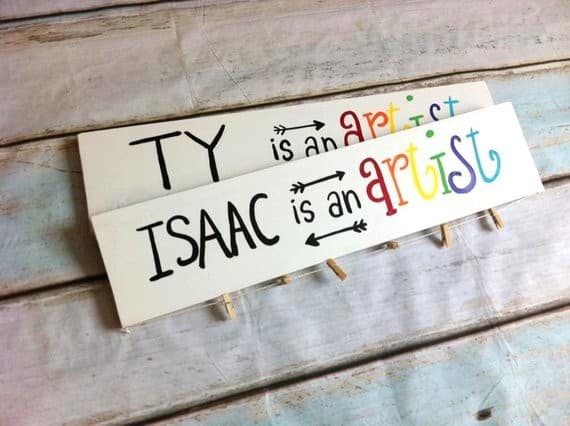 Personalized Every Child Is An Artist Art Display
Your kid would be so proud to have a special place to hang his or her back to school crafts.
And it is personalized with their name! Hang on a wall and attach art with the little clothespins.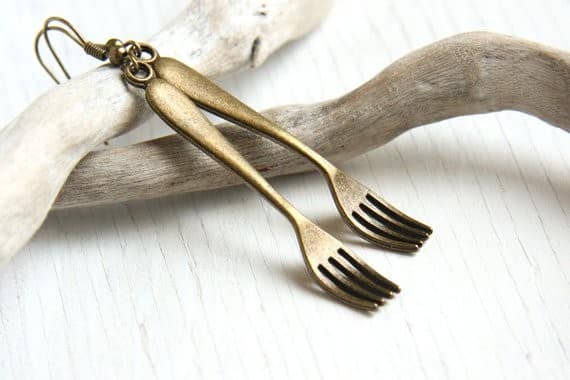 Vintage Style Earrings Antique Bronze Forks
These forks are not for eating, these forks are for ear-rings.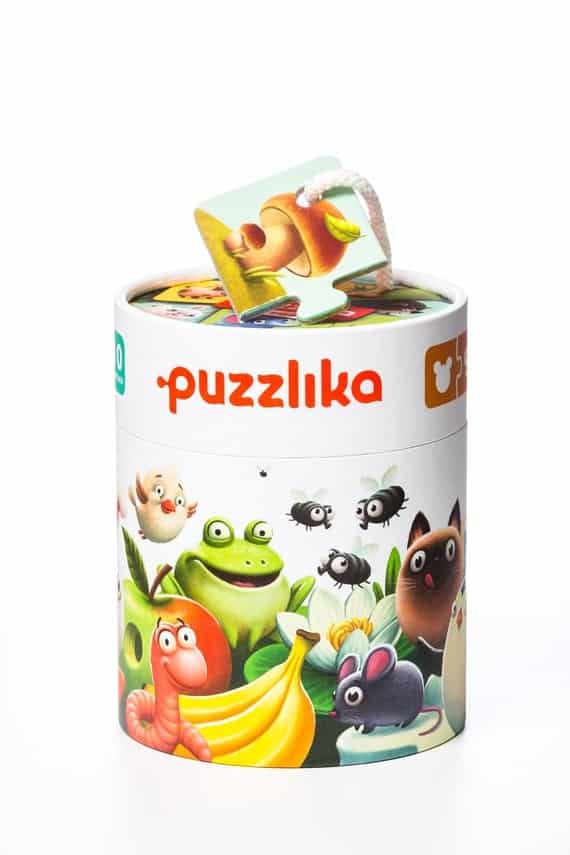 'My Food' Puzzle by Puzzlika for Toddlers
A cute puzzle for young ones to learn about food! Fun and educational.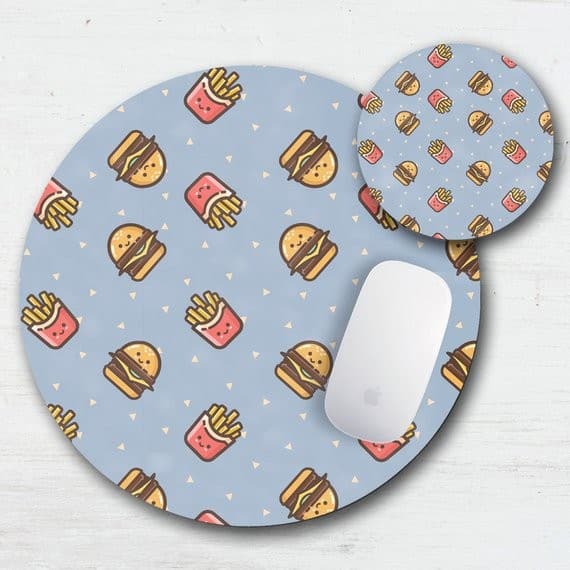 Burger And Fry Mouse Pad Coaster Set
A must-have for the cool student desk when doing homework (or procrastinating on Facebook instead).
Add it to your list of cool back to school supplies.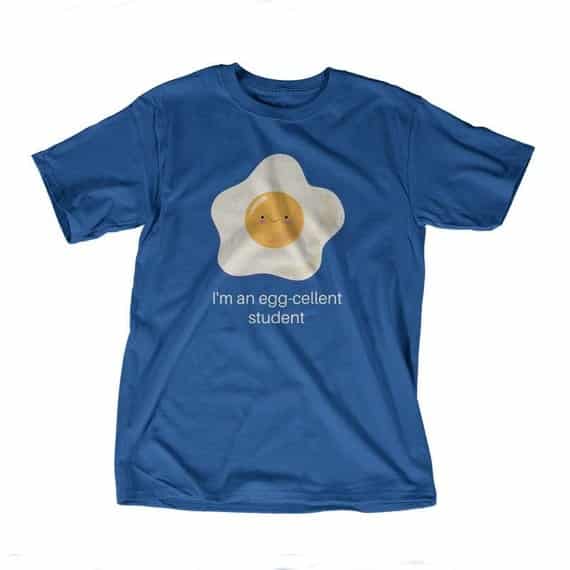 Food Pun Kids T-Shirt
Are you an egg-cellent student?
Love a good t-shirt pun and it will get top grades as fas as back to school fashion goes.
A delicious back school trendy list
I don't know about you but this is the first time a list of back to school supplies has even made me hungry? Are little ones at home, or maybe you, headed back to school this fall? Not having kids myself I don't know exactly when do kids go back to school. I know some have already but not all schools yet.
How long is your school supplies list? Got any other ideas I should add to the list? Or any great back to school tips to share?
PIN IT FOR LATER https://www.pinterest.ca/pin/266275396704020993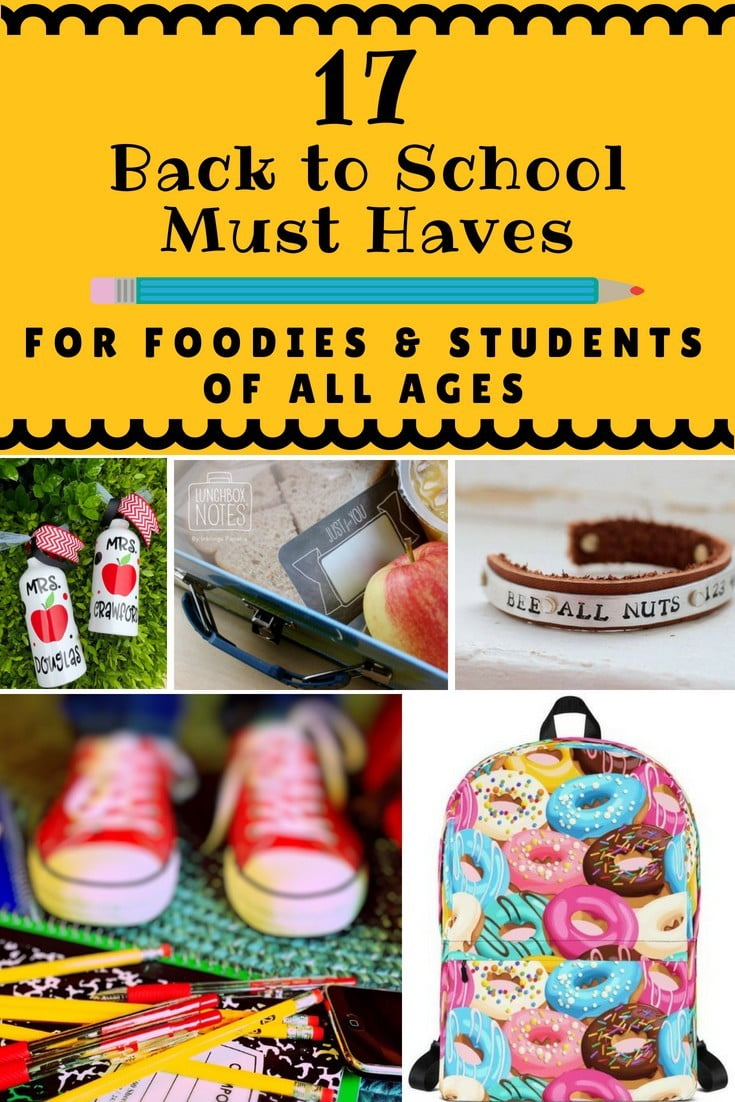 Looking for more awesome shopping guides: