I enjoying writing the occasional product review because it give me an chance to try foods or spices I would probably never discover otherwise. Often the items I get are not even available in Canada yet which is kind of funny. Most companies who contact me are located in the US even if the item is prepared on another continent. But this time it was an international company that sought me out directly…really cool. I received an email by the Ariosto company which is located in Italy. Ariosto seasonings, apparently one of the top selling spice brands in Italy, have been harnessing their craft for over 47 years.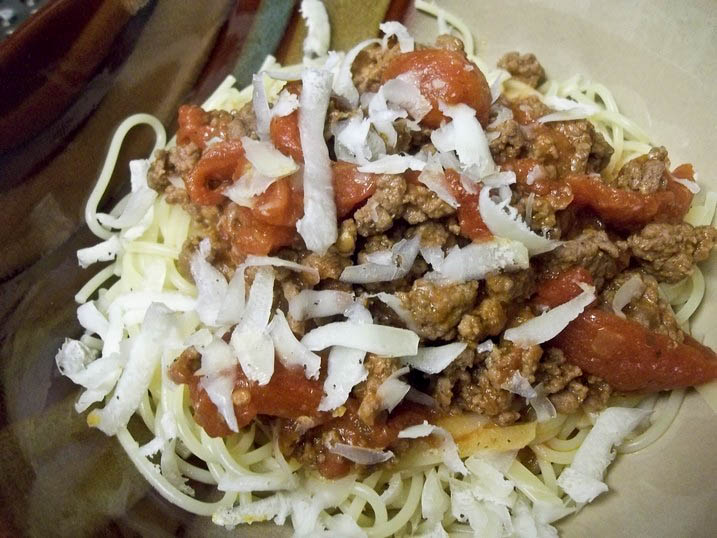 Ah Italy, it is one of those countries that influenced me the most in my travels. If I could just pick up and go I would be looking for the best holiday deals right now and fly off to to this enchanting country.
Ξ  Tomato and Meat sauce Ξ
7gr tomato based pasta sauces
1 tbsp olive oil
1 17oz can of tomatoes, whole
1 pd ground beef
In a skillet heat olive oil and spices together for a minute until fragrant. Add ground beef and brown meat well until there is no more pink. Add canned tomatoes, bring to a boil, lower heat and let simmer 20 min. Serve over pasta and sprinkle some freshly shaved Parmesan.
The flavor of the sauce was simple but good. I modified the suggested recipe of 1/4 pd of beef because I like my sauce meaty, and oh boy it was. Happy carnivore.
There are several mixes of the Italian seasoning spices to choose from. I tested the following:
Seasoning for tomato based pasta sauces: salt, garlic, basil, onion, carrot, parsley, leek, laurel, mint, caper.
Seasoning for roasted and fried potatoes: Salt, garlic, rosemary, sage, juniper, basil, marjoram, oregano, laurel, coriander, parsley.
Seasoning for roasted meats grilled chicken: Salt, rosemary, garlic, sage, juniper, laurel, oregano, thyme, marjoram, basil.
Also available seasoning for oven cooked or Barbequed Fish, Garlic and dry chilli, and for stewed Meat.
The potato seasoning was really excellent and flavorful. I par boiled the potatoes and fried them in a pan with lots of butter. The meat mix I used with a mild sausage that I removed from the casing and browned in a skillet with tons of sliced leeks. I found the sausage mix over salted but I may have used to much seasoning.