This past Wednesday I was invited to attend a phenomenal VIP event organized by Alsace au Menu. What turned out to be THE  high profile epicurien evening of the season was the brainchild of both the Le Conseil Interprofessionnel des Vins d'Alsace and l'Union européenne.
The lucky bloggers, journalists, columnists, TV people and the jet-set crowds of Montreal received a personal email invitation to this event. I somehow ended up on that list. This was an event to discover Alsatian wines set and paired with a fabulous Asian inspired meal prepared by Giovanni APOLLO, chef and owner of Restaurant Apollo. I love how the whole kitchen in the back is separated by a huge panel of glass, you can see the kitchen in action all the time.
I was truly a fantastic event with 75 attendees. Rumors say this is the first of 4 events all set to Alsatian wines and various food menus. I certainly hope to attend these future events. Besides the amazing food and wine I also got to meet so many other Montreal food bloggers, mostly the French ones were present. It was a strange reunion feeling as I knew most of them from their blogs, twitter conversations and fabebook comments already. But meeting and befriending them in person was a particular treat.
Now this is not so much a restaurant review, more a showcase (and yes show off) of this magical evening. I won't discuss the menu or the wines. It was mostly all fabulous, all 12 dishes and all 12 wines. Instead I will present you the menu and accompanying picture. IN RED you can spot my favorites of the evening. Enjoy!
A closer look at the menu
Aperitif – Crémant d'Alsace, Calixte rosé
—————————————
Canapés – First Port of Call in China
Tofu marinated in ginger, langoustine tartare in lemon balm
Pinot blanc, Arthur Metz 2008
Dim sum steamed in bamboo, customary dip
Gentil (Pinot gris, Riesling, Muscat and Sylvaner), Hugel 2008
—————————————
Once the entrées were served, the sparkling and spontaneous Aurelia de busurleweb enthusiastically shared her penchant for the Great White Wines, and especially for Pinot d'Alsace Métiss Domaine Bott Geyl 2006.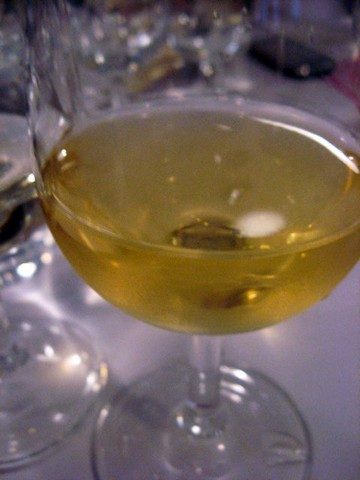 —————————————
Entrées – A Short Cruise to Japan
Tuna and mirin sushi, matcha tea, whipped wasabi and yuzu
Riesling "Les Écaillers", Léon Beyer 2004
Miso-shiitake soup, roasted scallop
Pinot blanc, Trimbach 2007
Lacquered pork in ginger and saké,  Wok of udon noodles, pear, sesame and daïkon radish
Pinot gris, Vignerons de Pfaffenheim 2008
—————————————
Main dishes- Expedition to Thailand
Shrimp sautéed in curry and lemon grass, Stir fry of Thai vegetables, kefir, soya and lemon
Crémant d'Alsace, Pinot blanc, Wolfberger
Stuffed chicken with Thai curry, pressed jasmine rice, satay sauce
Gewurztraminer, Hugel 2008
Loin of veal in coconut milk and cardamom, citrus salad
Andante (Gewurztraminer et Muscat), Cave de Ribeauvillé 2008
—————————————
Desserts – One Last Tour of Asia
Coconut cake, green lemon and pepper ice
Roasted pineapple cubes in vanilla and Chinese tea
Gewurztraminer, Arthur Metz 2008
Litchi beignet and lotus with honey
Mandarin cream
Gewurztraminer Vendanges Tardives, Léon Beyer 2000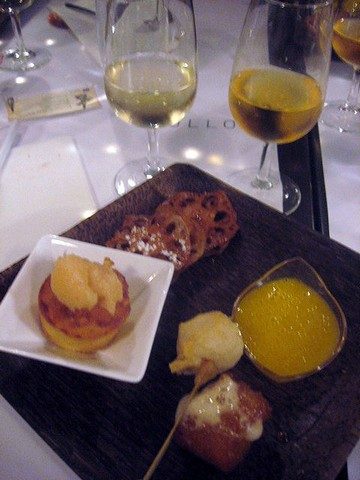 There were many, many, many, many glasses of wine everywhere on the tables. Except for designated drivers we were all happily tipsy. We barely noticed all the paparazzi videotaping us all night.
Here is a video of the evening. I made two minor hair and shoulder appearances lol.