A little while back I received an invitation to a Macaron book launch. The book was the work of my two favourite Macaron makers in Montreal…Gaëlle and Johan Crop of La Maison du Macaron in the Plateau. At the book launch I met the PR team which was kind enough to send me a copy and I also got a donated copy to put up as a prize for this year's Cheap Ethnic Eatz Kiva Campain Fund. And without further ado….I present you Macaron.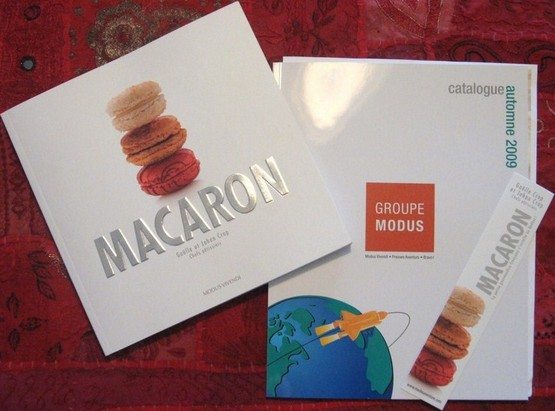 Titre: Macaron
Auteurs: Gaëlle et Johan Crop
Photographe: André Noël
Les Publications Modus Vivendi
www.modusaventure.com
Now first thing I want to mention is the book is only published in French. But if you know your way around a cookbook you can probably figure out the recipes…maybe not the hints.
Right away when you see and hold the book it's obvious the quality was not compromised when it came to printing. It's a nice heavy book with thick glossy pages. The pictures in the book are just all phenomenal. Hats off to the photographer.
The book starts off with an intro and each chef has a bio page. I really like how they have pics of themselves in their shop all over the book. Since I know them I can tell you that is really what they look like. Great couple. Next there is even a page about how the couple met, married, moved here and started their shop.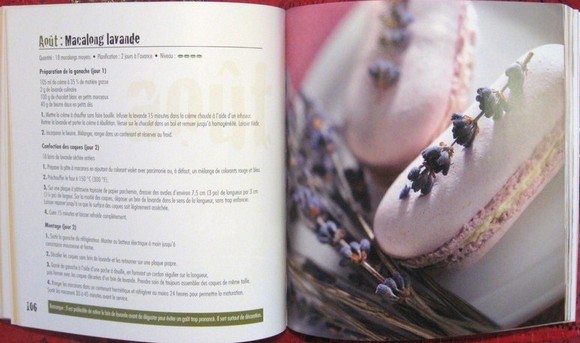 The next chapter, if you will, is dedicated to the shell, or coque, of the macaron. We are given a brief history and ingredient rundown, hints to making the perfect coque and finally the best way to savour them. Next is the word of encouragement: you will fail but it will get better with practice. not kidding…its politely written in French!
And finally we arrive at the coque recipes…yes plural because we are given the French version and the Italian version. Now really I have only one negative comment about the book. This section explains only up to the mixing of the meringues. To know how to pipe them or cook them…well you have to check the next section that explains the various steps to completing a full macaron AND the page of the recipe you picked. Probably once you are used to it, it works, but until then I was confused at first.
Next section is the actual recipes…in other words the various fillings and completion steps of the macaron per each recipe. I do like the difficulty scale attributed to each recipe though. There are about 60 recipes in total which is a lot considering its only variations of one item: a macaron.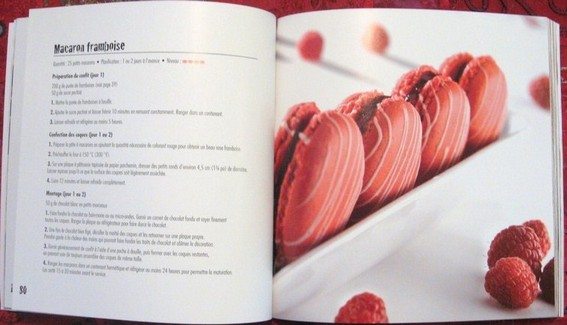 The first section of recipes is dedicated to traditional flavours like chocolate, raspberry, lemon, hazelnut, ect. There are 15 in total. The next section is quite clever. They call it the chef's challenge with a flavour of the month. Each month of the year has a dedicated flavour to try. An example is February is the rose macaron, an obvious ode to the month of love. So you have a total of 12 recipes here. Next is a section dedicated to Quebec flavours and I do believe this was a brilliant move. Did I mention this is the first Quebec macaron book too? Blueberry, cranberry and maple macarons are some of the macarons showcased here.
This is followed by the macaron glacées section, or frozen macarons. The fillings consist of sorbets and ice creams. There are really inventive flavours here too like beer, spicy chocolate, lime, honey and pepper. More sections, yes more sections…ouff its a macaron mouthful. Ok so next one is the desserts made of macarons, like macaron tartlettes and a Paris Brest version, profiteroles as well (and more). And finally, the last part of the book, is the sucrés-salés section, or sweet and salty macarons. Last year they showcased some of these during the Christmas season in their store and it was a huge hit. People have been asking for them all year. These may sound weird to some of you but keep an open mind. Some combinations are foie gras and figs, guacamole and prosciutto and melon.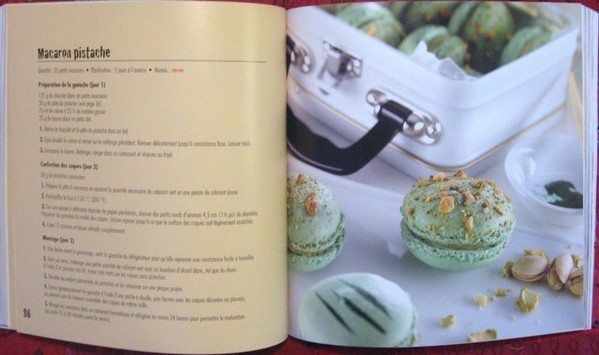 So the book is all pretty and shiny and mouth watering. But is it a good recipe book? What better way to test it then to complete a recipe. Now this was actually my second attempt at making macarons. My first time was the October Baker's Challenge on The Daring Kitchen. It was, if you remember, a flop. Now armed with a book dedicated to mararons I had to have some improvement. Macarons are notoriously difficult to make at first, even for well seasoned bakers. I chose the chocolate and orange recipe on page 74.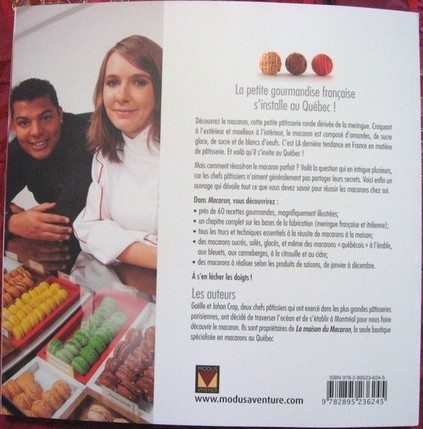 Here you see my eggs all nicely beaten and my almond flour. I chose to skip the major coque coloring and concentrate on the technique so I just added a couple of drops of food colouring. I piped them out and I found they were a bit to thick..like there was too much almond. But still considering my first attempt they were liquidy and flat this was a huge improvement. And I let them dry on the counter as specified.
Once cooked they definitely did not dome out smoothly as they should but there is a semblance of 'feet'…never got that the first time. So not perfect but much much better. The ganache is made of melted chocolate, orange juice and butter. OMG so good. I assembled my macarons and left them in the fridge for 24hours to infused (THE secret to a good macaron)
Left pic: So here you have a pic of my finished macaron (on the left) next to a macaron actually made at La Maison du Macaron (right). Oversized and bumpy but not bad, not bad at all if you compare it to my first try (right pic). The tasting? Very very good, they vanished. Definitely got enough confidence to give it a third try!
This would be a very welcomed gift wrapped under the Christmas tree for any true foodie. The book can be found in all good Quebec library shops, on and offline. It currently sells for $24,95 at the time of this post date.