Ever since the new year I was on the hunt for an Austrian recipe, a part of my ancestral roots. I had settled on Knödel and when I found out the theme for January's 5 Star Makeover was meatballs I knew it was more than a coincidence.
Knödel are large round potato or bread dumplings, typical of Austrian, German, Hungarian and Czech cuisine. Usually they are served as a side dish for meat, goulash or in soups. But they can also be served as a dessert, such as filled with plums. I have had this dish exactly only twice in my life. My dad is Austrian and does not cook so I never ate many Austrian dishes. My first time was at my cousin's place (my dad's nephew) for dinner and once was in a brauhaus in Austria.
So this could fall into the meatball category I chose a very typical Austrian knödel from the state of Tyrol where smoked bacon (Speck) or sausage are added to the dumpling dough. These are called Tirolerknödel, or Tyrolean Dumplings. A now gourmet dish found in Austrian menus, Tirolerknödel  was actually food for the poor prior to the ski industry and some say the recipe is about 3000 years old.
I decided to use small Fois Gras Sausage I discovered recently. They are make with pork, duck and foie gras. My meat ingredient definitely brought on the gourmet touch. My knödels were surprisingly flavorful and delicate, a real treat. They are so easy to make you should definitely try them out on your family for dinner, or even better after a day of skying.
Ξ Tirolerknödel with Foie Gras Sausages Ξ
8 oz stale bread or rolls, torn apart or cubed
3/4 cup milk, warmed
5 oz Foie Gras Sausage (or any sausage)
1 tbsp butter
1/2  large yellow onion, chopped
1/4 cup fresh parsley, chopped (I used coriander)
1/2 tsp salt
1/8 tsp ground pepper
1/8 tsp nutmeg
2 eggs
1/4 cup flour, give or take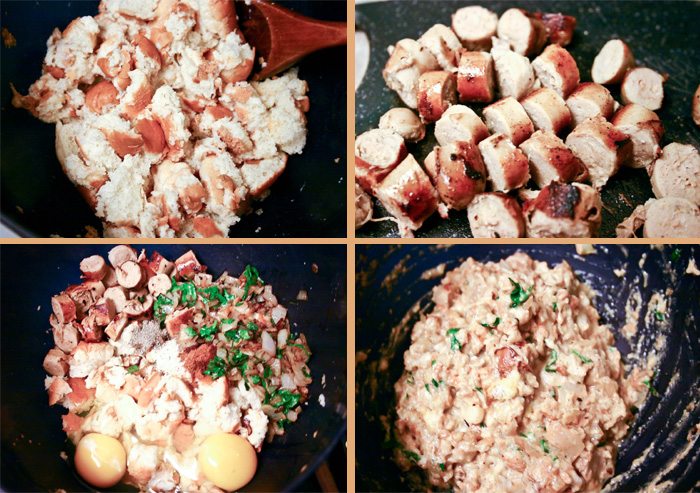 Directions:
Place the bread in a bowl and pour the milk evenly over it. Stir and set aside.
Place the Foie Gras Sausages in a skillet and fry until browned. Remove from skillet and cut into small pieces.
Add the butter and onions to skillet and fry until translucent and amber colored. Stir in the parsley and set aside to cool.
Add the salt, pepper, nutmeg and eggs to the bread mixture. Add the cooled onions and sausages.
Combine well with your  hands. Add 1 tablespoon of flour at a time until the mixture hold a bit better, it should feel like a very sticky dough. Allow to rest for 30 minutes.
Bring a pot of lightly salted water to boil. Form 10 small dumplings with wet hands and drop into the boiling water. Reduce the heat so the water simmers gently and cook for about 15 minutes. Dumplings are done when they float. Serve with a hot broth and garnish with parsley.
The knödels are very delicate when you take them out of the boiling water but will hold better after they cool down a bit. The inside is very moist, a bit like a savory bread pudding. If you have leftovers slice them up and frying them in a skillet for breakfast.
A note on the foie gras sausage:  Wish I took a pic of the package but it is long gone in the trash. But I bought them at my local's farmer's market this summer and kept them frozen. This is not a common product at all. Only hint I found online is this french website advertising the sausages.  They are cocktail sized, white and the first ingredients should read pock, duck and foie gras.
EDITOR'S NOTE: This post may contain affiliate links (disclosure policy). Please support CulturEatz by clicking on the links and purchasing through them so I can keep the kitchen well stocked. It does not alter the price you pay.