Tail what?  Tail gate was the clever theme our wonderful hosts Lazaro and Natasha settled on for this month's 5 Star Makeover. Clever and confusing! See I am not a sports fan at all. And I am not alone because the announcement of the theme caused a lot of reaction from my fellow challenge friends. OK so I knew the word but I had no clear concept of what a tail gate party was. I am sure some Canadian sport fans have them but not nearly to the extent of our friendly Southern neighbor.
After a bit of research I understood tail gate food revolved around a grill and pot luck like dishes. Lots of junk food in general too. What could I make that would have a certain Canadian flair, even better if it could have a Québecois touch? Of course! I would make our ultimate world famous fast food: poutine! Now even if the rest of the world thinks this is our national dish…it is not. Let me say it again: poutine by no means is considered fancy.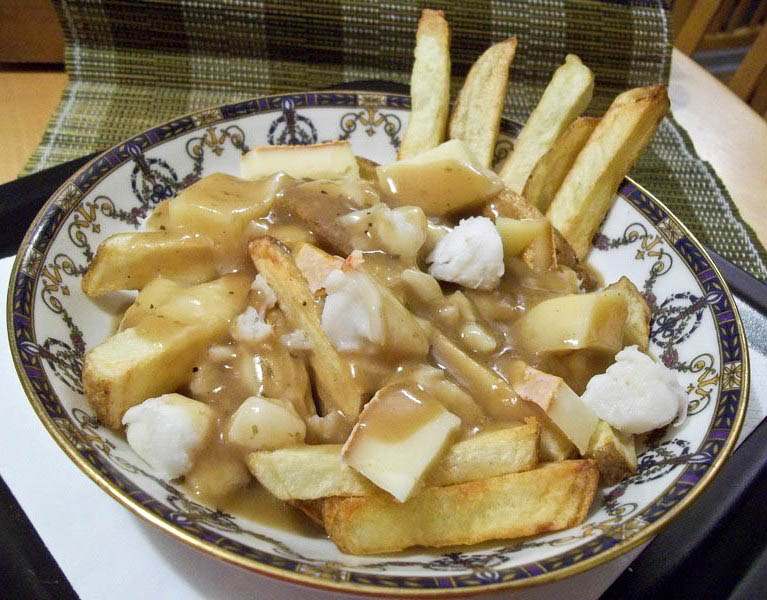 Yet this is suppose to be a gourmet challenge. Have no fear, Chuck is here! I based my poutine on the Lobster Poutine recipe by Montreal local super star chef Chuck Hughes. This is one of the recipes Chuck prepared on Iron Chef America that helped him kick Bobby Flays' ass (pardon my French Québecois). What can I say, French Canadian Chuck beating Bobby on Iron Chef America, it was a proud moment for Montrealers!
I made a few bold changes in Chuck's recipe – not by choice but by obligation. I got to the grocery store pretty late and the fish monger was gone. The young kid taking over the next door deli section was trying to be helpful, resigned himself to package a lobster for me but could not find the price scan and I eventually found canned crab meat. There was also no curd cheese left when I got to the store, which is THE poutine cheese to use. I did however find some Oka Cheese which I thought would make for a good substitute. Curd cheese is kind of bland but Oka packs a punch flavor wise, I just had a hunch it would work. It really did! Please take my word on it and try the recipe, poutine is not a photogenic dish so don't judge purely on appearance.
hosted by 5 Star Foodie & Lazaro Cooks!
On a funny note this was my first time ever do real French fries…as in deep frying. No one was hurt and nothing was damaged BUT I did manage to set the burner on fire. Half of me was trying not to laugh my head off and the other half was trying to remember how one puts out a fire in the kitchen again? Oh yeah put a lid on it or baking soda.
Ξ Lobster Sauce Crab Poutine with Oka Cheese Ξ
adapted from Chuck Hughes
Ingredients
250 gr crab meat (original recipe 2 large lobsters, 1 ½ lbs each)
4 cups of lobster base sauce
1 tsp cornstarch, dilute in water
2 tablespoons butter
6 Yukon Gold potatoes with skins on, washed and cut lengthwise into fries
1 lb Oka cheese, cut in cubes (original recipe cheese curds)
Salt and pepper to taste
Vegetable oil for frying
Directions
To make your own lobster base from scratch see my recipe here, I had some in the freezer already. If you prefer using lobster meat, cook your lobster, remove the meat and make base with the shells.
For the sauce, reduce the lobster base in half. Add a little bit of base to the cornstarch mixture the add it all to the pan and cook until it thickens and coats the back of a spoon. Next, whisk in butter and season with salt and pepper. Keep warm.
Preheat oil in deep fryer to 300F (148C) and blanch the fries for 2 to 3 minutes. Drain and let stand for several minutes.
Increase the temperature of the oil in the deep fryer and immerse the fries in the oil again for 2 to 3 minutes, or until golden brown and crispy. Place on a tray lined with paper towel to absorb excess oil.
Plate fries in a shallow bowl and garnish with the crab and Oka cheese . Pour the lobster sauce over top. Makes 4 servings.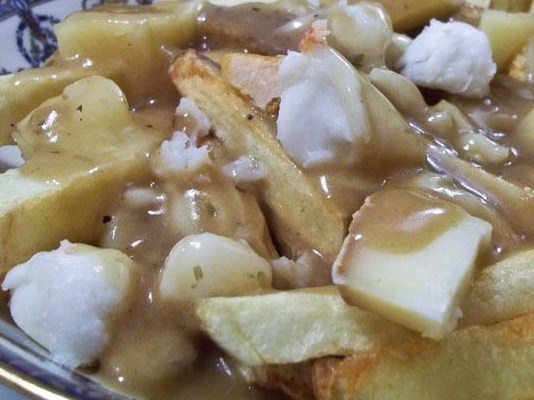 ——————————————————–
Got a simple recipe up your sleeve? Enter it and thousands of people could be cooking your recipe from the Backpackers Recipe Guide which will be shared with 20,000 hostel and hundreds of travel contacts. To submit a recipe check out how to enter.