This month's 5 Star Makeover could not be more seasonal: we are cooking or baking with any squash of our choice. My recipe lead me down an unusual path for a squash recipe, it actually took me to South Africa. I bet you would be surprised to learn that pumpkin and other squash are served as a side dish in almost every restaurant. The South Africans love this vegetable and some varieties are indigenous to South Africa.
South Africa is located at the southern tip of Africa. For me it feels like a whole world away, making it that much more intriguing. Although the country has had its fair share of historical turmoil, South Africa is the most stable country on the African continent, making it a great introduction gateway if you plan to explore Africa some day. The urban cities are quite developed and modern. Chances are any trip to Africa will have flights to Johannesburg in your itinerary so why not stop a bit and explore.
The culture is astoundingly varied. Did you know the country has 11 official languages? The big cities are getting closer and closer to our Western standards of living but it is a reality that the rural population is still considered of the poorest in Africa. Yet the rural inhabitants are also the people who hold on to tradition the strongest, such as the Zulu culture which is still very much alive; we are mostly familiar with their tribal dance and song.
There are so many wonderful sights to explore: the number one main attraction is the wildlife reserves where you can see elephants and rhinos. There are many unique things to see with strong political influences like the prison that held Nelson Mandela. The one attraction I am most curious about is the Cradle of Mankind, a large collection of caves rich in hominid and advanced ape fossils. And no trip here would be complete without a tour of the wonderful vineyards and tasting the local dishes…which brings us back to the Squash theme of the 5 Star Makeover for October.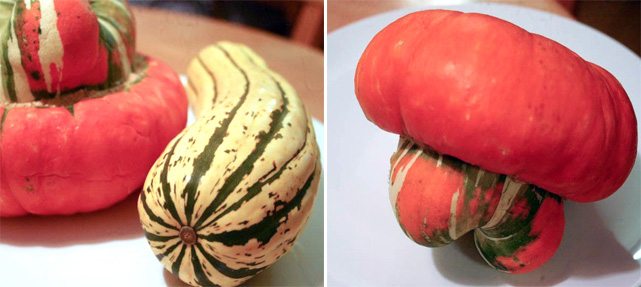 I wanted to cook with new squashes I had yet to explore. I could not resists these two beauties: the Turban and Delicata squash. The Turban has a unique shape that has earned it its name. The flesh has notes of hazelnut when ripe. If you pick it to soon it could be bitter. The Turban squash has been used more for decorative purposes in the past but it is now making an appearance in the kitchen. It is great for soups and desserts as the flesh is quite moist.
The Delicata squash has an elongated shape marked by yellow and green stripes. This is a heirloom variety. The flesh is an orange-yellow color. Taste wise it is the sweet potato of the squash world and the flesh is creamy while still holding its shape. This one is great for stuffing, in meat dishes or as a side dish.
hosted by 5 Star Foodie & Lazaro Cooks!
Pumpkin Fritters, or Pampoenkoekies, are a traditional South African meal that can be prepared as a savory or sweet dish. Of course you can substitute the pumpkin for another moist flesh squash like the Turban squash. If you want a sweet fritter reduce the salt a bit and add 2 tbsp of sugar, then dust with a cinnamon sugar.
I chose the savory version which pairs beautifully with a spicy mango salsa. And I just so happen to find a South African Mango Salsa recipe. It is kind of unique with some cucumber in there. The recipe asks for a super hot chilli of your choice. I actually changed it with a African Bird pepper powder I have. On the hot scale this pepper kicks ass so better to add a little bit at a time.
The Maple Glazed Delicata Rings have no relation to South Africa but they look cool and are wonderful to snack on in between fritters. It's like vegetable candy.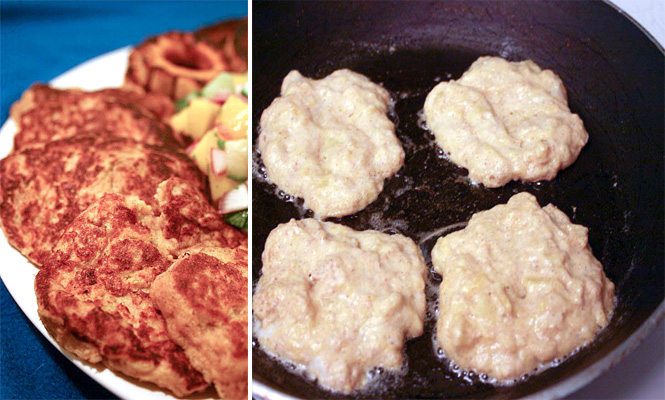 Ξ South African Pumpkin Fritters (Pampoenkoekies) Ξ
adapted from Weight Watchers
1/2 cup flour
2 tsp baking powder
1/4 tsp salt
1 tsp ground cinnamon
2 cups pumpkin or squash
2 large eggs, separated
olive oil
In a small bowl, sift together flour, baking powder, salt and cinnamon. In a large mixing bowl, combine pumpkin with egg yolks; mix until well-combined. In another small bowl, whip egg whites until soft peaks form. Alternating in batches, add flour mixture and egg whites to pumpkin mixture, stirring after each addition.
Coat a large skillet with oil; heat until oil shimmers. Drop 4 large spoonfuls of batter onto skillet to form four 3-inch fritters; cook until bubbles start to form along sides, about 1 1/2 to 2 minutes. Flip fritters and cook until lightly browned, about 1 1/2 to 2 minutes more; remove fritters to a serving plate and cover to keep warm. Repeat process two more times to make twelve fritters total. Yields 1 fritter per serving.
Ξ Maple Glazed Delicata Rings Ξ
adapted from Diana Rattray
1 medium Delicata squash
1tablespoons melted butter
1 tablespoons maple syrup
sea salt
Line a baking sheet with aluminum foil. Grease the foil or spray with nonstick cooking spray. Cut the squash in 1/2-inch thick rounds; scoop seeds out of each round. In a bowl, toss the squash with the melted butter and maple syrup. Arrange the squash on the foil-lined pan. Sprinkle lightly with salt. Bake at 400° for 35 to 45 minutes, turning once about halfway through the baking time.
Ξ South African Summer Mango Salsa Ξ
adapted from Ocado
1 mango
1/2 Red Onion
1/4 Cucumber
1/8 tsp African Bird pepper (or 1/2 Hot Chilli)
1/2 good handful Coriander
Dash of sea salt
1 pouring lime Juice
Dice mangoes in 1/2 inch cubes, shop red onion, and dice cucumber. Chop up the hottest chilli you can find  or add chilli powder. Chop coriander and add. Pour in lime juice and add salt. Mix well. Leave in fridge for an hour.