I have said it once, I will say it again: with the amount of various ethnic foods I eat it is rare that a place will tantalize my taste buds in a…ahum…foreign way. This Cheap Ethnic Eatz dinner was organized by one of my assistants, Olivier, and I applaud him for introducing me to one of those rare 'catch-me-off-guard' places. A side note, funny story, I went back to this place with a friend since the group dinner and whom did I bump into on the street corner…yes Olivier and Johanne, another assistant to the group lol.
Yuan Vegetarian is, obviously, an Asian vegetarian restaurant with a large selection of dishes including mockmeat. I would describe this place as unusual, granola, environmental and with 3 eating areas. The front on the left is normal table settings. On the right is tables set up on a long corridor which is a but weird. In the back it is perfect fro groups with sunken tables where you sit on cushions.
We got a great deal for the group and it is very reasonable normally as well. There is a table d'hôte that ranges in the $17 which includes either a miso soup or a sweet and sour soup…both very good…your meal, tea, and dessert.
All pictures taken by Bernard Reischl
Main meal are veggies, noodles or mockmeat traditional dishes. Someone had a plate of asparagus with lotus buds I think…I got to taste, very good like Jerusalem artichokes a bit. Most meals are served in Bento boxes. A traditional bento consists of rice, fish or meat or mockmeat lol, and one or more pickled or cooked vegetables, usually in a box-shaped container. Below you have on the left the veggie-chicken general Tao and on the left (what I had) the veggie-eel dish.
I like the purple rice and the dumplings or good, not spectacular. The rest is great and different. The veggie eel tasted indeed like eel…same for the chicken (that is what I had on my 2nd visit). But the texture is a bit different. During the diner everyone Ohed and Awed….it was a really different and original and good.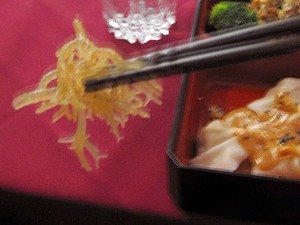 Anybody can tell me what this is exactly?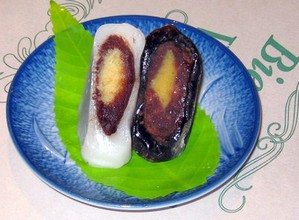 Dessert was very good too. They had the usual green tea ice cream (delish btw) but also an almond cake and what ever the thing on the left is. I know it helps to not have a name, it was glutinous, a little odd for first time taster but good.
If you really want to get a culinary culture shock I highly suggest you try this place. There is even a little grocery store attached.
Yuan
400 Sherbrooke E
Montréal, QC H2L 1J6
(514) 848-0513