My friend Melanie came over for dinner last night to celebrate her birthday. Well it was a week ago and we did the family thing already…now it was just us. Having her over is always a challenge as everything has to be gluten and dairy free and I don't want to serve the same thing all the time. So I happen to fall on a recipe of pumpkin gnocchi. I love the fact that potatoes were substituted by the vegetables of the season: pumpkin and squashes.
I modified it a lot after some research but I know nothing about flour substitutes. I ended up doing this recipe below with turns out to be Vegan, Gluten & Dairy Free! I like my gnocchi on the starchy side, not the pasta like side.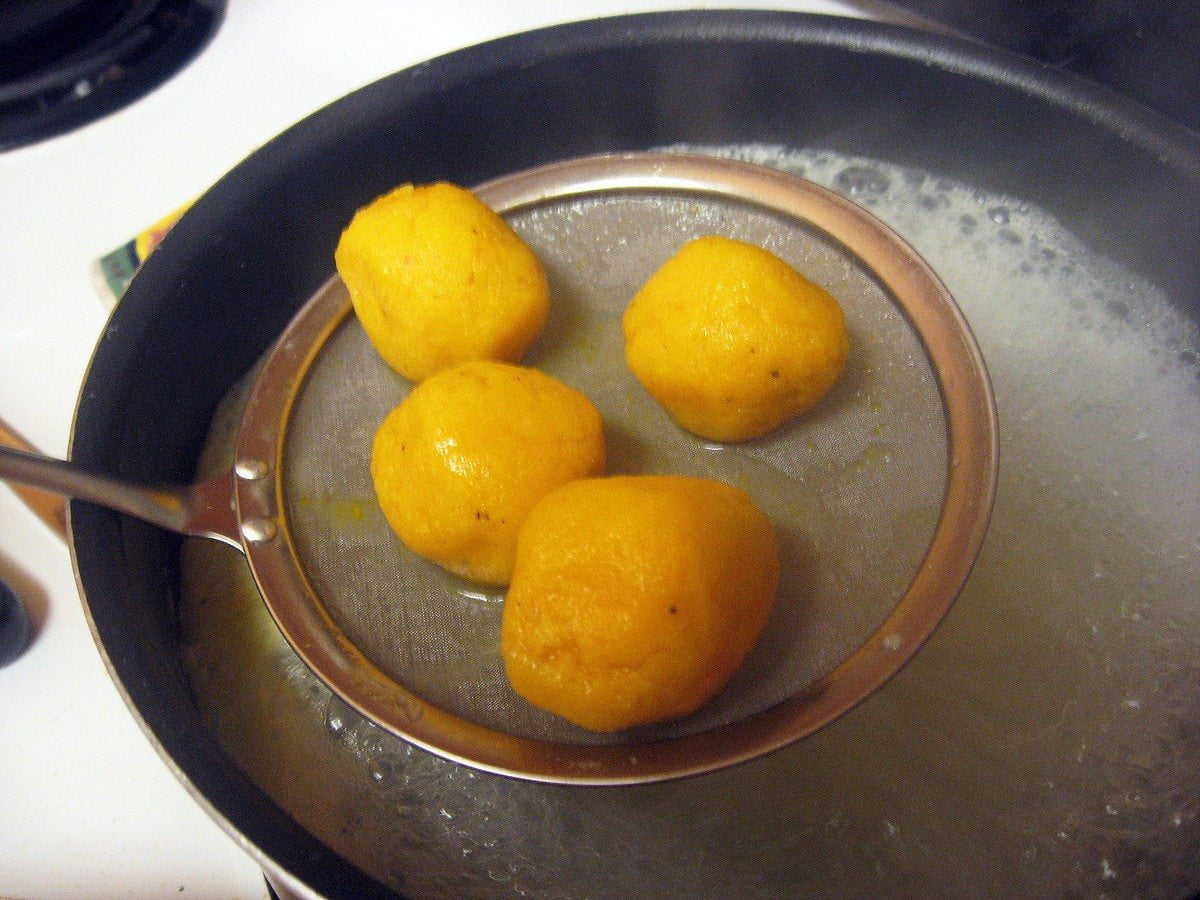 Although the taste and idea was good the just would not really cook and they were a bit grainy like cornmeal would but. This is not the ideal recipe but I am publishing it asking for your help in the gluten free department. Can you suggest how to make this recipe work.
Gluten Dairy Free Pumpkin Gnocchi
1 cup cooked pumpkin, pureed
1 1/4 cup rice flour
2  tablespoons cornstarch
2 tablespoons olive oil
1 teaspoon salt
Freshly ground pepper, to taste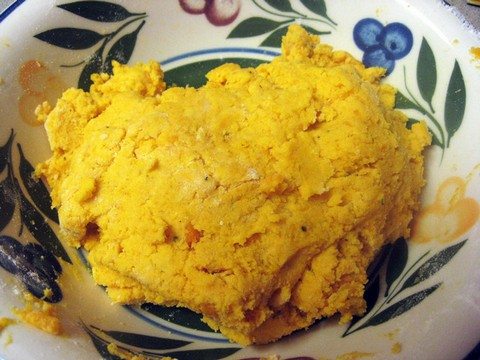 Direction
Add oil to pumpkin puree and cook over low heat, stirring frequently, until the pumpkin has thickened and dried, about 10 minutes.
Mix rice flour and cornstarch, salt and pepper together.
Add the dry ingredients to the pumpkin until you get a dough that holds together.
Roll with your hands into a cylinder and cut off bite size pieces with a knife.
Plunge into boiling water and remove them as they float back up to the surface.
Drain and serve with a sauce of your choice.
I served it with an organic tomato sauce and a pork tenderloin and roasted pumpkin seeds. OK I added grated parmesan to my dish he he. The plating was gorgeous, the texture and cookin…well I hope you can help. I did come across a good starter explanation on Yahoo answers for the naive like me who are starting from square zero. I do not have any food restrictions but I am curious. Here is a nice comprehensive alternative flour 101 class. But apparently trial and error makes perfect.
Amaranth flour: its milled from the seeds of the amaranth plant, this flour boasts a higher percentage of protein than most other grains, and has more fibre than wheat and rice. It is also higher in the amino acid lysine, which some food scientists believe makes it a more complete protein than flour made from other grains. Amaranth flour can be used in cookies, crackers, baking mixes, and cereals.
Arrowroot flour: The rootstalks of a tropical plant are the source of this flour, often used as a thickener for sauces and desserts; the finely powdered arrowroot turns completely clear when dissolved (giving gloss to sauces), and adds no starchy flavor. Because of its easy digestibility, it is also an used as an ingredient in cookies intended for infants and young children.
Barley flour: This mild-flavored flour made from barley grain contains some gluten.
Buckwheat flour: A common ingredient in pancake mixes, buckwheat flour is also used to make Japanese soba noodles. It is available in light, medium, and dark varieties (the dark flour boasts the strongest flavor), depending on the kind of buckwheat it is milled from. You can make your own buckwheat flour by processing whole white buckwheat groats in a blender or food processor.
Chestnut flour: This tan flour is made from chestnuts, the meaty, lowfat nuts that are often served as a vegetable. The flour is a little sweet and is traditionally used in Italian holiday desserts.
Chick-pea flour (also called chana, gram flour or besan): This protein-rich flour is made from dried chick-peas or chana dal. This flour is used commonly throughout India, and in parts of the Mediterranean as well, in pancakes, pizzas, dumplings, soups and stews.
Corn flour: This is made from whole cornmeal, ground to a floury consistency.
Cornstarch: This silky ingredient is made from only the endosperm (starchy part) of the corn kernel. Avoid wheaten cornflour. It is used to thicken sauces and to create baked goods with a particularly fine texture.
Gluten-free flour mix: Some health-food stores carry this three-grain mixture of rice flour, potato starch, and tapioca flour. It can be substituted for 100% of the wheat flour in many recipes.
Millet flour: This yellow flour is high in protein and easy to digest. It may make baked goods somewhat coarse-textured and dry. Substitute it for no more than one-fifth of the wheat flour in a recipe.
Oat flour: Milled from either the entire oat kernel or the endosperm only, oat flour is frequently used in ready-to-eat breakfast cereals. You can make your own to use in baking by grinding rolled oats in a food processor or blender (1-1/4 cups rolled oats will yield 1 cup oat flour).
Potato flour (potato starch): Steamed potatoes are dried and then ground to a powder to make this gluten-free flour, which is commonly used in baked goods for Jewish Passover (when wheat flour may not be used).
Quinoa flour: Higher in fat than wheat flour, quinoa flour makes baked goods more moist. You can make your own quinoa flour by processing whole quinoa in a blender; stop before the flour is too fine – it should be slightly coarse, like cornmeal.
Rice flour: White rice flour add lightness and texture to gluten free baked goods. Brown rice and wild rice flours add fiber and nutritional quality. They make dry, crumbly baked goods. Use rice flours in combination with other gluten free flours for better texture and nutritional quality.
Rye flour: In combination with wheat flour, rye flour, which contains some gluten, is most commonly used in breads. Rye can be used alone for a substantial-textured bread. Light, medium, and dark varieties (with dark having the strongest flavour) are available.
Sorghum flour: A staple grain in many parts of the world. Sorghum flour works well in breads when combined with bean flours.
Soy flour: Another useful alternative.
Tapioca flour: Milled from the dried starch of the cassava root, this flour thickens when heated with water and is often used to give body to puddings, fruit pie fillings, and soups. It can also be used in baking.
Water-chestnut flour (water-chestnut powder): This Asian ingredient is a fine, powdery starch that is used to thicken sauces (it can be substituted for cornstarch) and to coat foods before frying to give them a delicate, crisp coating.