Bring this Trinidadian corn pie recipe casserole to your next party and be the tropical hit of the evening.
Corn pie recipes are a common dish across the Caribbean islands, each one leaving its unique flavor signature. What makes the Trinidadian corn pie recipe from Trinidad and Tobago unique? The use of whole corn, cornmeal, bell peppers, and cheese. It may not be a pretty pie, but don't let its ugly look fool you. People will come back for seconds, guaranteed.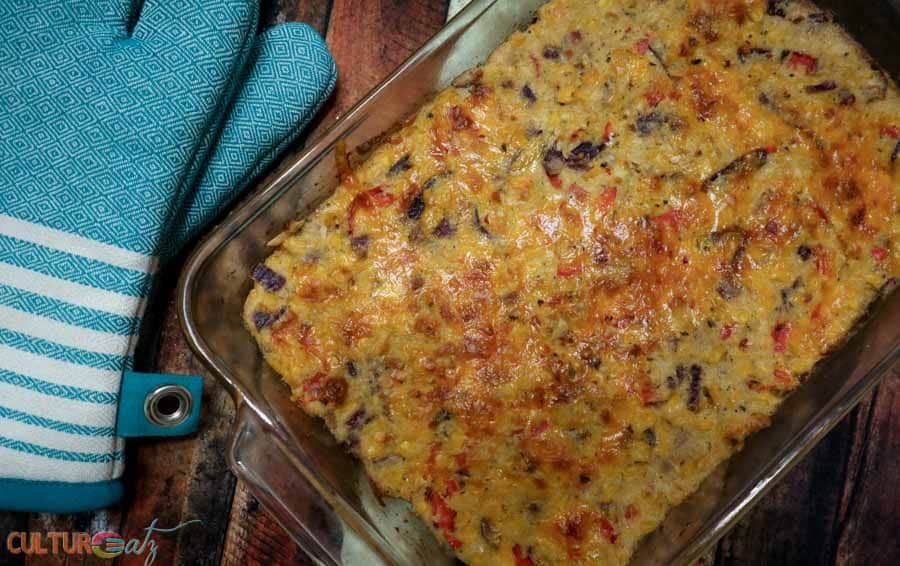 Trinidadian cuisine is actually not new to me. As a matter of fact, there is a Trinidadian restaurant a few blocks away from me. Years ago I took my dinner group to Jean's and the owner Valerie was fantastic, so friendly, and has the memory of an elephant. I drop in once in a while and she always calls me out by my name.
However, I am pretty sure she does not include this corn casserole on her menu. It may be a bit too homey for a restaurant, but this corn dish is the definition of Caribbean comfort food for sure.
I would say think mac & cheese but there is a very popular Trini macaroni pie recipe. I would say this is closer to grits or cream of wheat, but with a kick to it.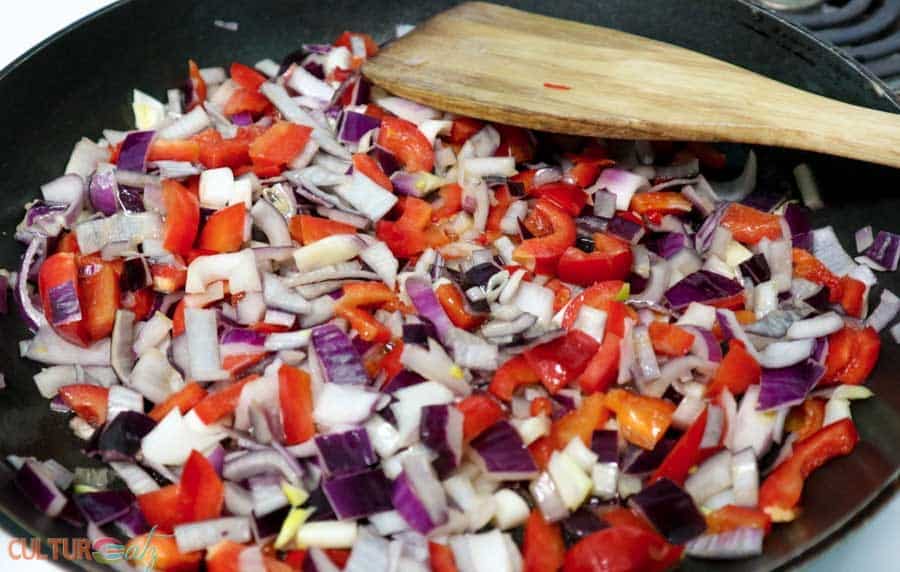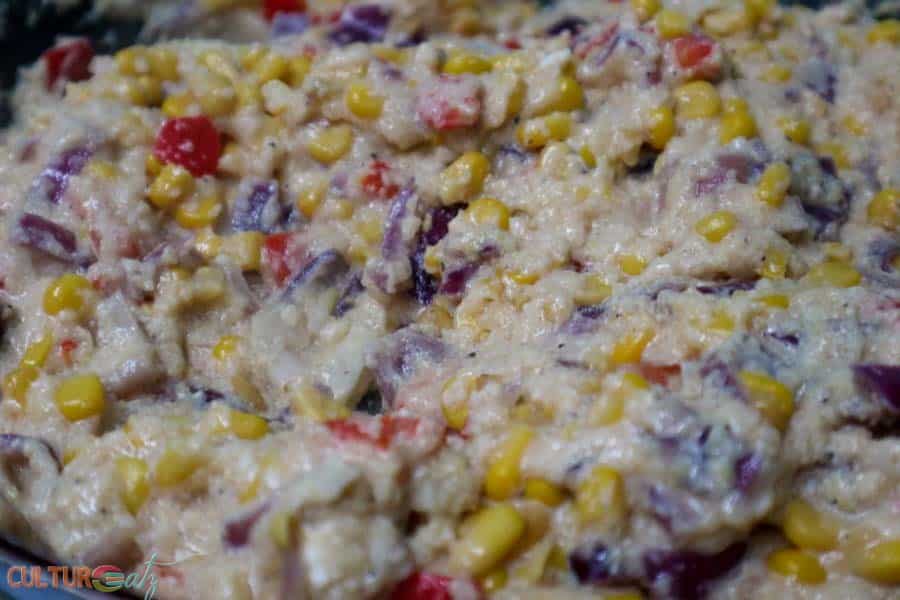 Trinidadian corn pie recipe
This Trinidadian recipe is very easy to make. All you need to do is drain the corn, sauté some veggies, in the meantime prep the cornmeal mixture.
When the onions are translucent, evaporated milk is added and the cornmeal mix. Cook till thickened and finish it off in the oven after adding a bit of cheese.
One note, the recipe I used from The spruce Eats said to use a 9 by 13-inch baking dish. This is a mistake because I got a very flat pie. After further research, a smaller casserole dish would have been better. I have adjusted the cooking time below accordingly.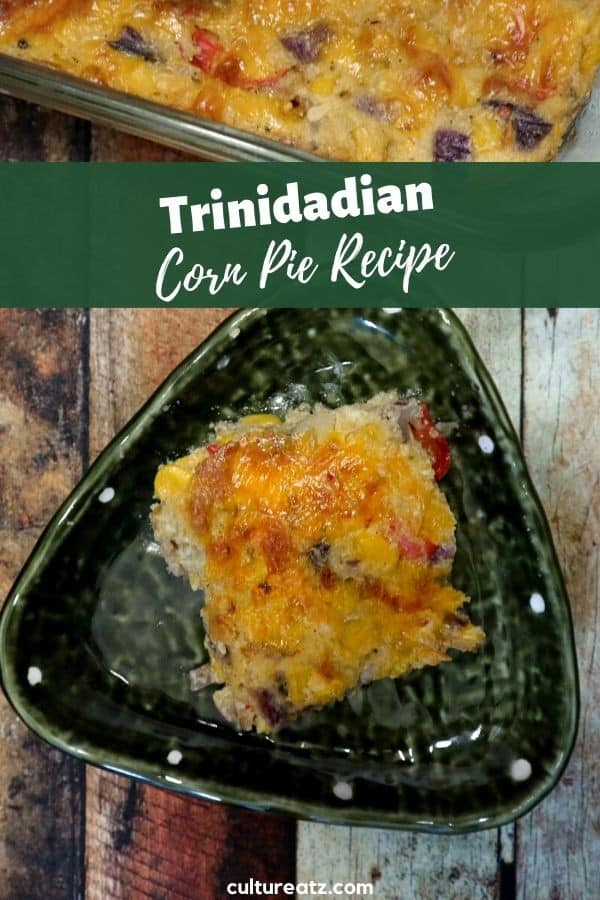 Trinidadian Corn Pie Recipe
Bring this delicality sweet and spicy Trinidadian corn pie recipe casserole to your next pot-luck party and be the tropical hit of the evening.
Ingredients  
1

15-ounce can whole kernel corn

1

large egg

1/2

teaspoon

salt

1/2

teaspoon

ground pepper

1/2

cup

fine cornmeal

1/4

cup

unsalted butter

3/4

cup

onions

diced

3/4

cup

red bell pepper

chopped

Minced hot chili pepper to taste

1

cup

evaporated milk

1

cup

grated sharp cheddar cheese
Instructions 
Pre-heat your oven to 350 F. Grease a casserole baking dish.

Drain well the can of whole corn and reserve the liquid.

Add the reserved liquid into a measuring cup and fill with lukewarm water until you get 1 cup of liquid.

In a large bowl, add the liquid, the egg, salt and pepper, and whisk well.

Add the cornmeal to the bowl, stirring to form a smooth thiin paste.

Melt the butter in a medium saucepan placed over medium heat. Add the onions, bell peppers, and hot peppers, and sauté until the onions are translucent.

Stir in the evaporated milk and bring the mixture to a boil. Add cornmeal mixture and reduce to a low heat. Simmer for 4 minutes, stirring occasionally.

Stir in the drained corn and continue to cook over low heat until the mixture pulls easily away from the sides of the saucepan, about 5 minutes. Remove from the heat and stir in 1/2 cup of the cheese.

Spread evenly the mixture into the baking dish with a spatula. Sprinkle the remaining 1/2 cup of cheese on top.

Bake for 30 to 40 minutes or until the cheese is melted and golden brown. Set aside to rest for at least 30 minutes before serving.
PIN IT HERE for later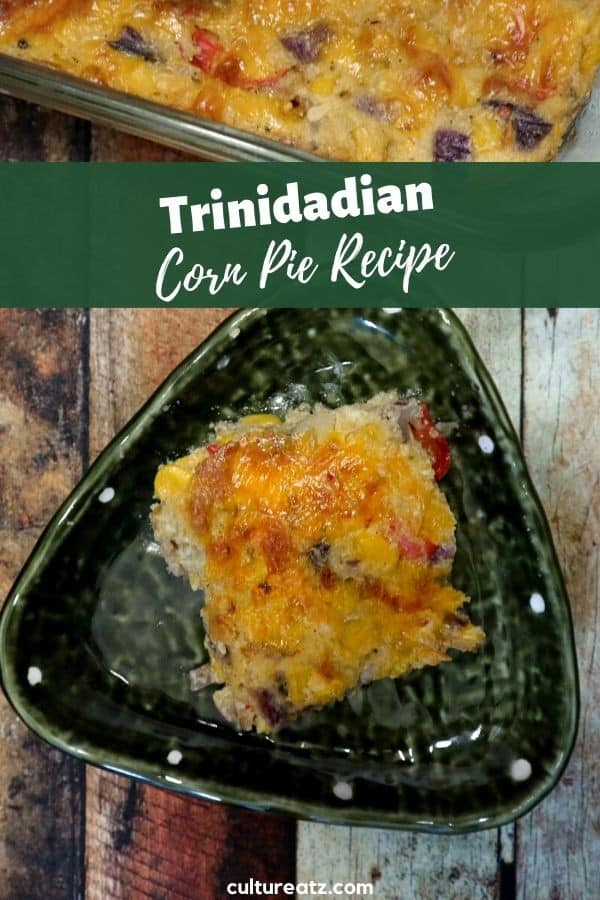 Eat the World Group
Check out all the wonderful Trinidad & Tobago dishes prepared by fellow Eat the World members and share with #eattheworld. Click here to find out how to join and have fun exploring a country a month in the kitchen with us!
Palatable Pastime Chickpea and Potato Curry
Culinary Adventures with Camilla: Chicken Curry, Trini-Style
Pandemonium Noshery: Trini Spiced Macaroni Pie
Sneha's Recipe Doubles Chickpea And Potato Curry With Urad Bara##EattheWorld
Making Miracles: Pelau
Kitchen Frau: Peanut Butter Stuffed Prunes
The Schizo Chef: Phulourie – Split Pea Fritters
A Day in the Life on the Farm: Trinidadian Stir Fry Shrimp
Cultureatz: Trinidadian Corn Pie Recipe
Amy's Cooking Adventures: Trini Macaroni Pie