Here is one of 2 food posts dedicated to the food we enjoyed on our New Year's escapade. This one will cover most of what we ate but the second post will be a restaurant review….and just you wait and see this place ha!
Now if you expected a gourmet blog post on Niagara here, well sorry to say you will be sorely disappointed. As I have mentioned before Niagara Falls has the Falls and then a fake tourist trap town filled with cheesy attractions. Now don't get me wrong….go with the right attitude and you will have a blast. We played a round of glow in the dark mini golf, did a haunted house, went on a moving theater ride, played amusement park type games to win tickets in exchange for trinkets.
Food was tricky though: either you get fast food or you pay an arm an a leg. The middle ground is almost non existent and forget finding a quaint little family run restaurant, it is mostly chains. But we managed pretty well and ate well enough with a few awesome surprises. From the falling apart decor and rickety tables to the nice sophisticated places with modern dining room furniture here is my photo essay on some of what we ate.
First place I MUST mention is Tim Hortons. It is in fact the quintessential road trip food. In Canada this is where you get your coffee and sugar rush. They also serve the cheapest lunch I can think of if you take the chicken salad sandwich combo with coffee and a doughnut…like $5.02 tax in. BUT they are everywhere. They plague the scenery I could not handle seeing one more Tim Horton sign. OK its a chip on my shoulder lol.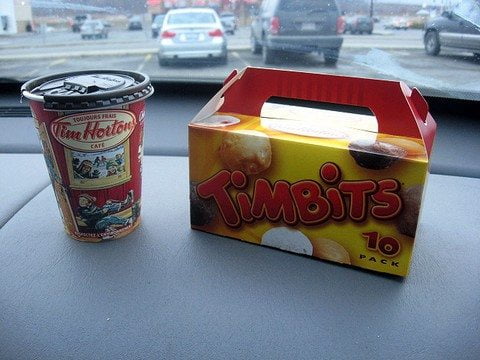 Our first dinner was at Tony Romas. Nice place, super friendly staff, house wine is from the Niagara region. We had the all you can eat Beef short ribs for $15.99, a rather unbeatable price in Niagara for the meal we had. I did find the short ribs dry but they are short ribs so hard to keep moist.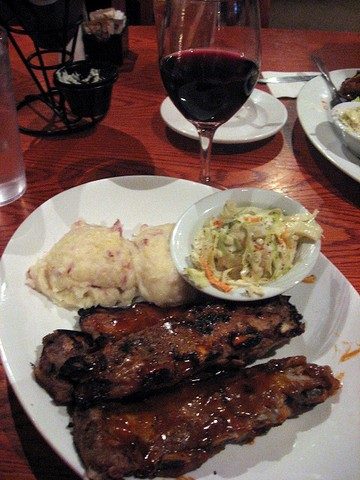 Remember how gaudy I said Niagara Falls can be on my vineyard touring post? We here is quite the ultimate expression of it. Next to Burger King is the Frankenstein Haunted house….and the birth of a perfect marketing ploy. I LOVE it!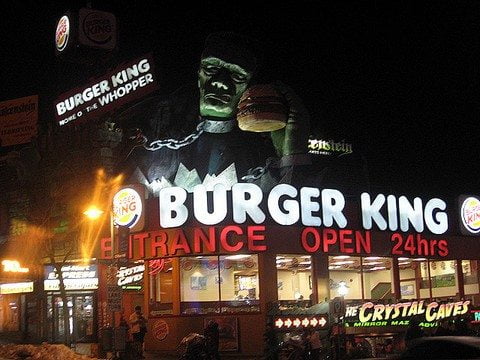 At the Fudge Factory you can watch the guy prepare the fudge before it is packed into molds. Yes (sorry for this bad joke a head of time) he is a fudge packer! We tried a piece of the Bailey's fudge, yumm!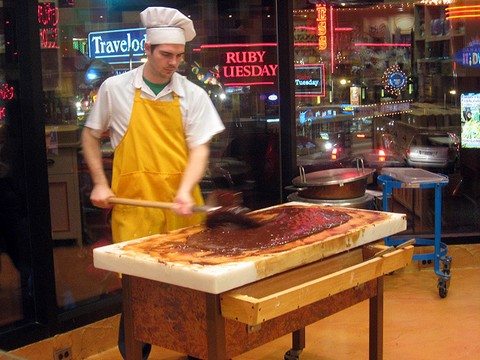 And now for the breakfast of champions! I insisted kindly not to be dragged to a chain place for breakfast. We eventually stopped at the Continental Pancake House. This is an unpretentious family style restaurant where everything is made from scratch. The pancakes are HUGE and fluffy, Stef loved the sausages. We we very pleased and the service was so friendly. Though there is a limited all you can eat breakfast for like 7$ since we ordered à la carte it somehow ended up costing about $40 for breakfast. A bit steep!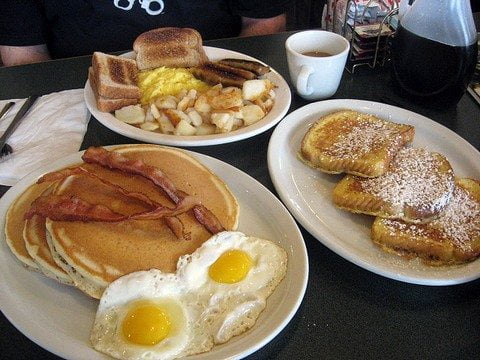 Our second night here was our fancy dinner. I was not told where we were going as it was a surprise. Where did we go? Red Lobster. Wait I know what you are thinking, but remember this is a tourist town and this is a middle ground price restaurant. I mean our main plates were still like $25 each. We are traveling on a budget here. Red Lobsters left Quebec a while back so for us this is a treat. We each had a triple seafood combo plate, coconut shrimp appetizer, and a MASSIVE pina colada for 2. The shrimps were all excellent but my lobster tale, meh, OK.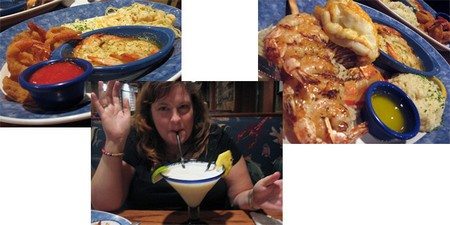 Our last morning in Niagara was a late departure and we decided on coffee and a doughnut and just have lunch later. Today we would drive to Toronto for New Year's Eve to my friend's place. Of wineries were part of the expedition. But back to breakfast. So we ended up stopping at a place called Country Fresh Donuts on the outskirts of town. A really odd ball place apparently specialized in donuts and Asian sop bowls…and popular and run by Asians. Apparently this is a real local gem. And the doughnuts…the BEST EVER. This was a cinnamon twist I shot in the car. So light and so good. I wish we had bought like a dozen.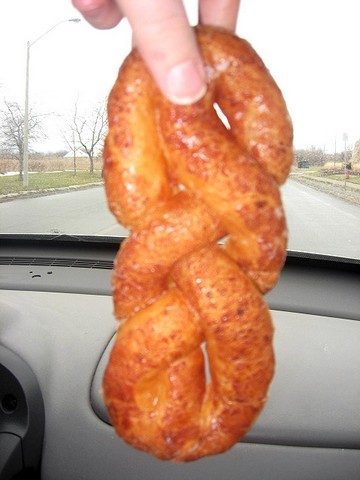 Ah, finally made it to my friend Susan's place were we would welcome the New Year over a home meal. She and her roomie prepared a great cheese themed dinner with homemade macaroni and cheese, a lovely phyllo cup filled with goat cheese, garlic shrimps and a cheese cake. Let me tell you around 3 or 4 am the macaroni and cheese came were back out for second helpings!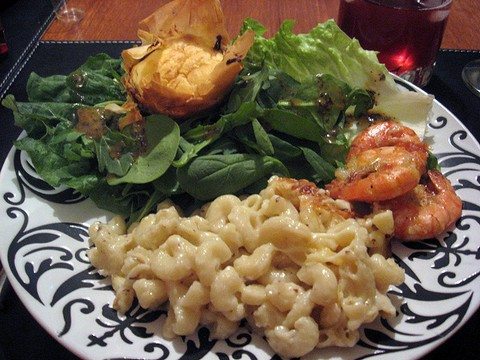 And we had lots to drink! Some bubbly with the meal, some bubbly at midnight, a bit of wine and a few cocktails. The last shot on the right is bubbly with a strawberry and a Lindt Chocolate. Sounds weird but is was good. Want to try a new cocktail? This is my new fave:
RedHeaded Slut (I swear it's the official name)
Mix in a glass 1 ounce of Peach Schnapps, 1 ounce of Jagermeister and top off with cranberry juice.

On our final night we all went for a last dinner before our return home the next day. Toronto's Chinatown was our destination. Our host would not stop talking about Kom Jug Yuen on Spadina as the best place for Chinese with incredible BBQ pork. Very low key decor and simple place. You MUST have the BBQ Pork. This was the best Chinese food I have ever eaten and it cost 60$ with the tip and tax for 5 people.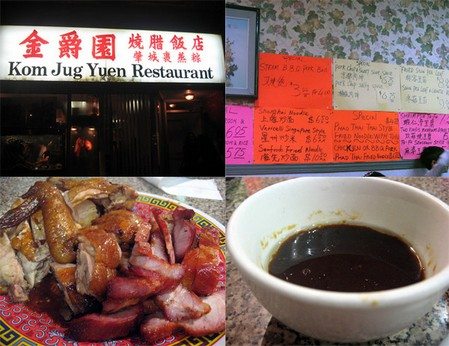 I hope you enjoyed the little tour of some of the food I enjoyed over the holiday trip. I will have one more Toronto food post coming, a restaurant review, that you will not want to miss so come back soon. A hint: this place has been called Toronto's least healthy restaurant.