Kitchen Art Select A Spice Auto Measure Carousel Spice Dispenser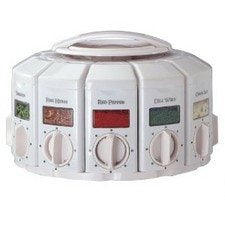 Here's a spice rack that stores, measures and dispenses your spices from a convenient turntable that spins like a carousel! Each spice container (12 in all) features a dial at the bottom that dispenses 1/4 teaspoon with each click – just place your measuring spoon underneath the dial before you begin clicking. At the top of each container are snap-open tops – a wide one for pouring and a small one for shaking.
Each spice container is labeled with the spice's name and even features see-through windows so you can easily identify which one you need and see when your spice is about to run out. Place on your countertop or mount underneath your cabinet. Includes mounting adapter for mounting under the cabinet ,or, for doublestacking two carousels putting 24 spices at your fingertips! Contains 55 commonly used spice labels. Spices not included.
Includes 12 spice dispensers
Patented Auto-Measure dial
Shakes and pours
Mounting base
Safe to use in the dishwasher
Did you make one of my recipes? I would love to see it. Take a photo and tag me on Instagram @cultureatz.
EDITOR'S NOTE: This post may contain affiliate links (disclosure policy). Please support CulturEatz by clicking on the links and purchasing through them so I can keep the kitchen well stocked. It does not alter the price you pay.