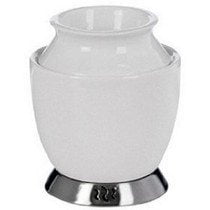 There is nothing more that I hate then a nice warm toast and hard butter to tear apart my bread as I butter it. So when I heard about this gadget I just had to get one (which goes a few years back already).
Trudeau Bianca Butter Keeper – ½ cup – White/Stainless steel
This porcelain butter keeper solves the problem by enabling you to safely store your butter out of the refrigerator, so it stays soft and spreadable.
Before the age of refrigeration butter was often kept in earthenware pots , sometimes covered in water. The modern butter keeper is thought to have first appeared in France in the Middle Ages. What is the secret? The water creates a barrier between the butter and the air. Its the contact with the air that makes the butter go rancid.
Simply fill the base of the butter keeper with a bit of cold water. Pack softened butter into the cup of the lid and invert onto the base of the butter keeper. The water creates a complete seal around the cup to keep the butter fresh. Change the water every other day.
Color/Pattern: White
Capacity: 125 milliliters
Materials: Porcelain with stainless steel base
Care: Dishwasher safe