One thing I love to do when I take a plane is too look at the crazy products sold in the Skymall magazine. And I also see a product or two I MUST HAVE. This weeks Thursday's Thingamajig is one of those must haves…
See my dish rack area is really weird shaped so I need the usual tray to have the 'drip-off' side on the long end, not short. Most are made with this lip on the short end. The one I have now is 10 years old and ugly. This would be perfect for me.
Drymate Kitchen Dry Mat
18″x20″
Color: Bamboo Weave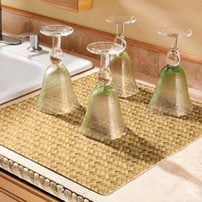 The Drymate absorbs five times its weight in water and helps keep kitchen countertops dry. Keeps puddles from collecting under your dish drainer. The waterproof backing absorbs water from just-washed fruits and vegetables. Fabric fiber is made from more than 50 percent recycled material. Machine washable and dryable. Rolls up compactly for storage if desired.
All Drymate Waterproof Products feature Zorb-Techâ"¢ anti-flow absorbency technology (absorbent, yet waterproof). Soft, stain resistant, felt-like fabric is coated on one side with a clear, durable, special bonded backing that prevents "soak-thru" from above or below. Use them as plant coasters, picnic blankets, tent liners, seat protectors, pet mats, kennel mats, trunk liners or hundreds of other uses. The construction of our mats makes their use very versatile.