For the third year we did our  sugar-only outing. 3 stops were be part of our excursion, all within walking distance to digest in between each sugar rush! This is always a popular event and its a blast. Were were 13 attendees…that I dubbed the Baker's Dozen lol. Indeed I specified the event would take place rain or shine! Well it was mostly rain but it did not dampen our spirits at all. Here is where we went:
1. Suite 88 Chocolatier…for the chocolate lovers. have a hot chocolate, just chocolate, chocolate cake or waffle, etc. This was our first stop on route. As we approached I was informed it is actually a small place and perhaps not enough seating. But I was very happy when we got there that they were very accommodating to use and found room in a salon type decor. Its a beautiful place and the products are presented in a unique way. Chocolates are displayed like jewelery in glass displays but only 1 of each sample. When you pick what you want they are then taken from hidden tray under the counter.
We were all in ecstasy with our choices. I had a waffle with a thick dark chocolate sauce and a ginger hot chocolate. I have to say the two was too rich at once. If you go pick 1 thing only. Others had ice creams, various hot chocolate flavors, chocolates, chocolate biscoti fondue,  shakes. It was truly sublime! We also got a sample chocolate as we arrived: green tea truffle. They have very unusual flavors. and they did not panic when they saw our group arrive and were really efficient. Big points there, Kudos to the staff!
2. La Maison du Macaron… there is no seating but worth the trip!!!!! Some had an in store sampling, most bought a box of 6 to take home. I recently wrote a write up on this place (see here) and one of the owners, Mme Crop, took the time to give a presentation about the Macaron and answered all questions. Keep in mind she is here from France for about 15 months and managed to do most of it in English….a challenge for her that she accomplished very well. Again everyone just loved the Macarons and and were happy to have discovered this hidden gem.
3. The last one was a twist to the usual sugar outings. We went to the Lab cocktail counter. This great bar offers a really fresh list of unseen martinis…but they are also known for serving Absynthe the traditional way….diluted with a slow melting square of…did you guess it?….sugar! Our final step was again a huge hit. Our waiter greeted us and also gave us a nice presentation about the history and consumption of Absynthe. Half the group did try Absynthe and they brought to our table the special device used to add water and also dilute the sugar cube. See the hour glass container? The top is filled with ice and is left to melt. 6 valves can be opened to let the water drip. Place your glass under the valve, cover your glass with an Absynthe spoon 9yes its a special spoon) and place your sugar cube on top. Open the valve to a drip and watch the sugars dissolve. So how was it? Really interesting. Imagine drinking a Pernod (anis flavors) but with a bitter herb finish. The rest of the group tried some of the cocktails.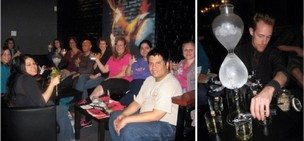 Truly is was the perfect ending to our sugar rush afternoon. I thin we all went home to relax our tummies while burning of the last of the sugar! Can't wait till next year!
Hugs and Biscuits
Evelyne
P.S. Oh yes wanted to introduce you to Nancy, author of the Cookbook Fixation blog (who also wrote a post on this outing). She is a fellow Montreal foodie and blogger and we recently got in touch. She just joined my dinner group and this was here first event! Here is a pic of the two of us. Nancy on the left, me on the right.