This is so exciting, it is my first time participating in the Secret Recipe Club. I came across this monthly club while visiting one of my favorite bloggers. I just had to look into it and joined right away. Basically you are assigned by the organizer a fellow club participant which has a food blog too, from which you pick a recipe of your choice from that blog and make your version of it.
But it is a secret, you cannot reveal whom you picked and what you made until the pre-established posting date….which is today! I can't wait to see who picked me.
I was assigned Suz' blog called Thru The Bugs On My Windshield. When I read the title of her blog I was on the floor laughing and rolling my butt off. Awesome name! It took quite some time to look up all her recipes and to finally settle on one to make. I noticed she is also a fellow Daring Kitchen member and her very first participation in the Daring Cooks just so happen to be the one I co-hosted on patés and bread. But did I really want to revisit a recipe I made? Nah!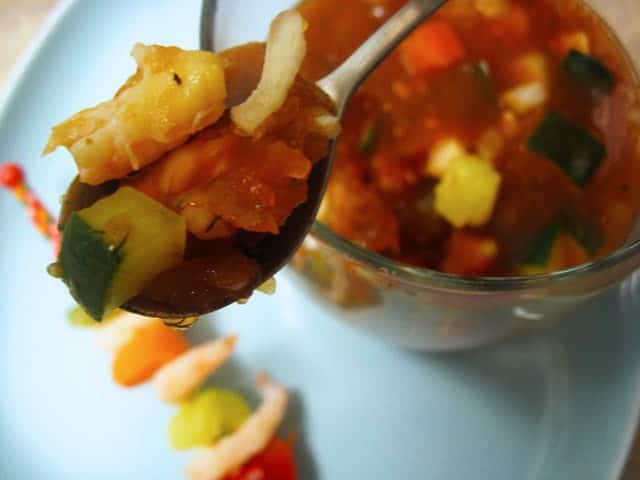 Finally the recipe found me I think. And it certainly was not a complicated project but I was just inspired. Suz had posted a Bloody Mary cocktail recipe on her post entitled It's Mary Time. A cocktail that actually makes you consume a vegetable for your health…yum!
But this was not going to be a simple cocktail recreation, oh no! I was hit hard on the head with an inspirational bottle of vodka and ran with my idea. I thought instead of drinking it, what if it is was solidified and served during the meal. I saw several versions of this concept online but this recipe is truly mine and unique.
***Historical note: the actual recipe was only invented in the 1930s in the USA but there are assumptions as to the name of the cocktail, possibly inspired by two gruesome women in history. The first was Mary of Tudor, Queen Mary I of England. She was a Catholic Queen in a Protestant country and she wished to renew bonds with Rome. She had about 300 Protestants reformers burned at the stake under the Heresy Act, quite inspired by the Spanish Inquisition. She was a hated and feared Queen by her people who nicknamed her Bloody Mary after her death. The second Mary which could have inspired the name was the Hungarian Countess Elizabeth Bathory Nadasdy who was reputed to have bathed in the blood of young virgin girls in order to retain her youth.***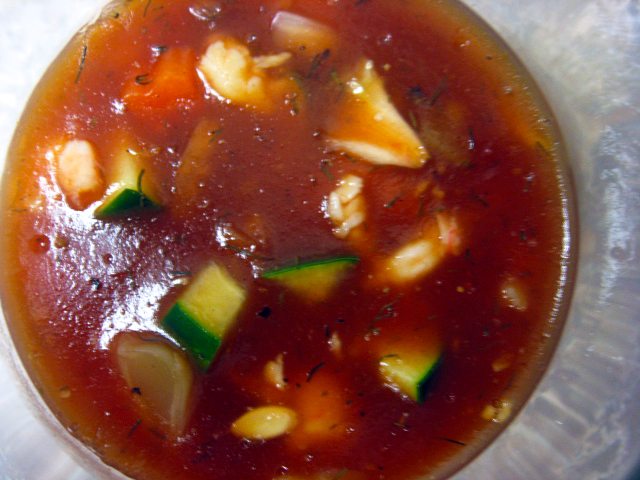 My version would make an ideal first course. The liquids are heated with the gelatin to melt it completely and then you add flavors and some chopped veggies. I also added small baby shrimps. It makes a lovely light appetizer with a good doze of vodka. Cheers to your health!
Ξ Bloody Mary of the Sea Verrine Ξ
1 envelope unflavored gelatin
9 oz tomato juice
1 tbsp fresh lime juice
1 1/2 tsp Worcestershire sauce
1/8 tsp coarse salt and ground pepper, each
1/4 tsp dill weed
1/4 tsp horseradish (I used Wasabi)
Tabasco sauce to taste
5 oz vodka
1/2 c chopped, seeded, peeled cucumber
1/2 c chopped shrimp
1/4 c chopped marinated vegetables
1/4 c chopped onion

– In large saucepan, soften gelatin in tomato juice for 5-10 min.
– Turn on the burner to med-low heat and stir constantly until gelatin dissolves as it just boils lightly. Remove from heat right away.
– Stir in lime juice, all the seasonings and vodka. Refrigerate until partially set (keep an eye on constantly it even if it takes about 1 hour).
– Fold in cucumber, shrimp, marinated vegetables and onion.
– Spoon into 4 wine glasses, verrine, or sherbet dishes.
– Refrigerate until firm, 4 hours or overnight. Garnish with marinated vegetables and a shrimp.
If at any time you want to jell a liquid with some alcohol content, with gelatin or agar agar, keep in mind that no more then 30% of your total volume of liquid should be alcohol based or the jelling process may not happen. This recipe is a the 30% mark. I was totally solid but one verrine I took time eating and after a couple of yours at room temp, during a heat wave, the consistency semi melted.