Last Saturday I hosted a tiny dinner party for two old friends. Even if we do not see each other very often (the 3 of us together dated back about 2 years)Â  we are also not into complicated and elaborate meals. Its more about catching up. So I did not slave int he kitchen at all but I had come across one recipe in a blog I HAD to try.
Tasty Trix wrote about her cooking a meal for Chinese New Year and presented a few recipes. One of them was Chinese Tea Eggs that claim to bring prosperity! Tasty Trix got the recipe from Jaden Hair's recipe for Chinese tea eggs at Steamy Kitchen.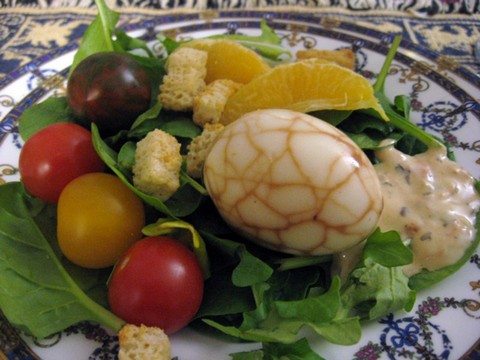 Whether they do bring prosperity or not they are a visual hit with a lacy webbing design and easy to make. Just soft boil some eggs. Once cool you have to break the shell with a spoon…BUT NOT THE UNDER SKIN….then bring to a boil a mixture of teas, soy sauce and spices, simmer for a while and let stand 5 hours to overnight (the longer the better). I was so nervous when I finally peeled them but they turned out fabulous and made for a lovely appetizer plate!
A must for your next dinner party Ohs and Ahs!