I love my friend so much I inflicted Chinese Torture on her! How? By making her taste a bunch of weird Chinese snacks on video! Have a laugh at our expense!
They say when in Rome do as the Romans! Well I was in China so I did as the Chinese when it came to tasting Chinese snacks. The Chinese's idea of how snacks hit the taste buds is very different than the West. Some snacks were really tasty and fun. Others were just plain weird. Many we only found out what they were until we put it in our mouths.
This week I am serving up a recipe for laughter with a 4-part taste testing series.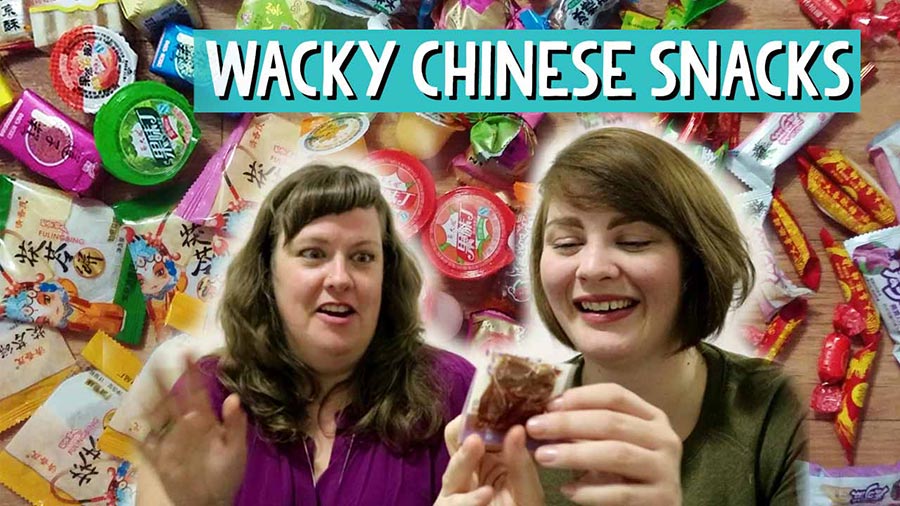 When I planned this trip I hit Youtube pretty hard in search of videos about foreigners living in China so I could be better prepared when it came to the 'culture shock'. I found quite a few and then hunted down a few Youtubers in Beijing. The first person I found left China 3 months before my arrival 🙁 But through that channel I met Lenaaround.
Lingling (her Chinese name) is a Danish girl that has been in China for 5 years and now lives in Beijing. After watching one of her videos I left a comment mentioning I would be in Beijing. Well it did not take long for me to get a response suggesting we could maybe meet. The stars were aligned as we met for dinner during the Lantern Festival and we then hit the streets to a Light Festival display.
Get ready to bust a gut with laughter…at our expense!
So during our first meeting I asked Lingling how she felt about doing a collaboration and I mentioned my desire to make a Chinese Snacks taste testing video.
Now Lingling does not consider herself a foodie and she really does not like weird or spicy stuff. But she was game and we planned our next meeting for the following evening.
First stop: grocery shopping for our snacks. Awesome because going to a Chinese supermarket was on my travel list. There will be a video of that in the near future. Second stop was filming our taste test at her place in Beijing.
We purchase way more Chinese snacks than we had discussed. The plan was 5 each and make a 2 part video series. Well we bought more like 25 snacks!!! Part 1 and 3 are on Lenaaround. Part 2 and 4 are on CultuEatz.
So yeah, Lingling speaks very functional Chinese but she could not read all the labels. Some thing we only found out what the snacks were once we opened the packages and tasted them. What was that we just ate?
As you can see by video 3, the sugar rush, the snack culture shock, and the preservative and taste chemicals are really starting to get to us. Silliness ensues!
Thank you again Lingling for accepting my challenge, I know it was tough for you but I think you had a lot more fun than you expected 😉 And I hope you, my reader, will double over with laughter as you watch us have real reactions as we eat these Chinese snacks without always really knowing what they are ahead of time!
Here is the link to the entire 4 part Chinese Snack Foods playlist on YouTube if you want to save it to your favorites on Youtube so you can watch Lingling and I make funny faces over and over again 😀