I have such a major backlog of food posts you will have to excuse me but I will do a combo here. I recently attended 2 absolutely wonderful foodie events here in Montreal. I feel so privileged to receive such invitations. I'll go in chronological order!
A new program at Lasalle College: Wine and Bar Services Management
Taste buds & Molecules is one of the books that has made the sommelier François Chartier a world foodie phenomena. Chartier presents a revolutionary way of looking at food and wine, showing how to create perfect harmony between the two by pairing complementary and often surprising ingredients. He has collaborated with chef Ferran Adrià from the illustrious Catalan restaurant elBulli, with numerous dishes on the 2009-10 menu inspired by the work of the Canadian sommelier.
During a cocktail-tasting at the International School of Hotel Management and Tourism's  restaurant, Le Fuchsia, LaSalle College's administration announced that the great sommelier François Chartier has signed a 5 year collaborative agreement with LaSalle College regarding the use of his trademarks,  key terms and research projects as the College launches their all new program, "Wine and Bar Services Management".
LaSalle College is the only establishment to offer such a unique training in wine and bar services management where courses in molecular sommellerie, flair bartending and food chemistry are offered. This training has been designed to respond to the needs of the industry where we see more and more connections between molecular gastronomy and molecular sommellerie. To learn more about the new program, get in touch with the College by dialing 514-939-2006 or by visiting www.collegelasalle.com.
This evening included a tasting led by Chartier himself and was followed up with a more intimate Q&A for us food bloggers. Here are some of the lovely bites we had. These were paired with a special green tea, a Porter beer and a wine.
Buona Notte's 19th Anniversary Feast
This supper club has been a beacon phenomenon for 19 years amidst a sea of coming and going competitive neighbors. if you want to eat amazing Italian fare in a luxurious industrial posh setting then look no further. On a week night things are more quiet but on the weekend your fantastic meal is followed up by awesome cocktails, dance music and a dance floor. With its fabulous location, food and atmosphere Buona Notte is the place to possibly catch a glimpse of any stars working or vacationing in the city.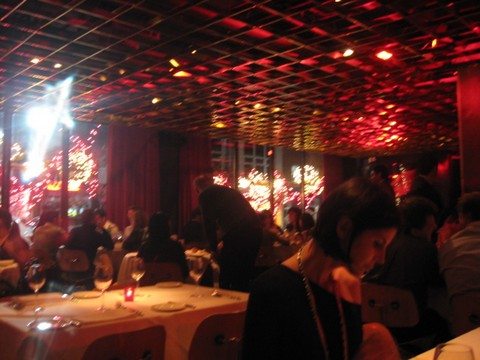 But I have a confession to make. This event was actually my very fist time there. I have passed the outside of this establishment a million times but I just never went. I also heard a few times it was over rated. Well after the feast I had there I can guaranty it is not over rated but fantastic. Let me say a quick thank you to Massimo, Lino, all the staff but most of all Anna who planned the whole event (and wrapped all the Panatones). Thank you all for an amazing night.
About 40 die-hard Montreal foodies were invited to tastes 9 services of the best of the fall-winter 2010  menu. Each service was accompanied by a specially chosen wine as well. Again, 1 cocktail, 8 wines, 9 services which turned into 10 services: 4 appetizers, 1 pasta dish, 1 risotto, 2 main course and 2 desserts. As services went along the portions were getting bigger. OMG, I am still full! The menu is long and all in Italian so please see the picture of it and of the meal. Keep in mind the restaurant is very dark.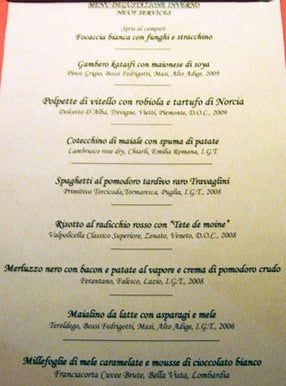 Except for a little confusion of the set up for our table, the service throughout was exceptional. Every dish was presented by one of the owners, every wine was described by the sommelier, waiters were perfect and Anna was always nearby to make sure we were happy. Food wise I loved almost everything. The Polpette de Vitelo (meatloaf) I found bland and I have heard of al dente pasta but my Spaghetti was just not cooked. Exceptional were the Cotecchino (sausage), the Merlozzo (fish) and the Maialino de latte (suckling pig). And our surprise 10th service? Fresh baked Panatone and Zabaglione. It was simply orgasmic. I am not kidding we took a vote at the table if we had to choose between a man and the 10th service, WE ALL CHOSE the 10th service.
And we even had a celebrity citing. OK unless you are a bit older and French Canadian you will have no clue who she is but Soeur Angèle was there and came to chat with us, I even have a picture with her. Who is Soeur Angèle? Born in Veneto, Italy, she immigrated to Quebec in 1955 and became a nun 2 years later. She became a chef and later teached, was on the radio, on TV and published cookbooks. And this young 72 ball of Italian energy partied it up till midnight that night!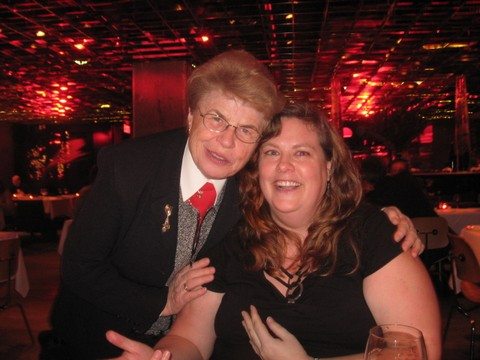 Granted we may have gotten a bit more of the royal treatment then someone off the street but I would recommend this special treat in a heart beat. We all left as well with a few partying gifts: a bottle of imported extra ripe tomatoes and a fresh baked Panatone.
The best Panatone EVER! But they are huge and I live alone so after 7 days of working on the top part I decided I better incorporate the rest in a recipe: Panatone Bread Pudding….oh yes that will do just fine!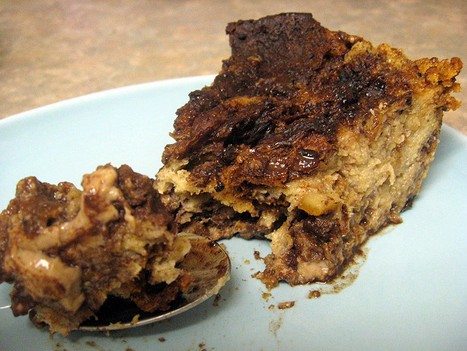 Panatone Bread Pudding
About 6 cups of Panatone
1/2 cup sugar
2 tbsp cocoa
3 cups of milk
3 eggs
1 1/2 tsp vanilla
optional: add 1/3 cup of Baileys, Brandy, Cointreau or what you like if your name is Claudia
Into a greased casserole dish break up enough bread to fill it 2/3 full. Mix sugar and cocoa together, pour the sugar over the bread and toss lightly to coat.  Beat eggs and add to the milk and the vanilla. Pour over the bread, make sure all the bread pieces are covered. Bake at 350 for about 45 minutes. Let it cool 2 hours before serving.