Last week I shared with you the recipe I was asked to prepare for Christmas Eve at my parents. I mentioned the pics included on that post were only the planned results. Now I have the actual pictures of my completed recipes.
Now since we neither had a partridge or a pear tree we substituted with a Inseparable and Christmas tree. My parents are baby sitting a tree and it flew into the Christmas tree ha ha.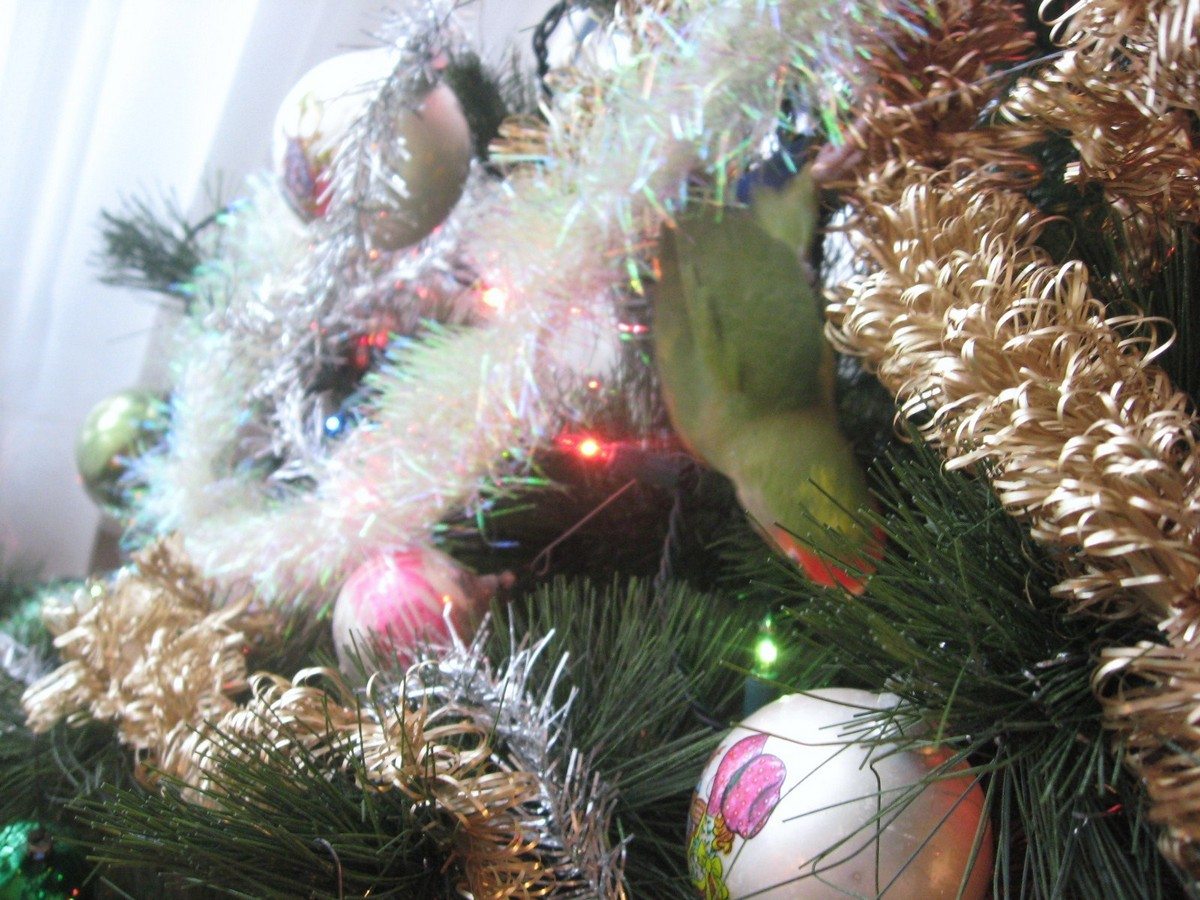 And I did not have an online version of one of my recipes. I wrote it out for you here now. Recipe taken from the December 2009 Coup de Pouce magazine.
Dulche de Leche Mousse and Praline Hazelnut Verrine
Makes 10 to 12 portions.
1 1/4 cup cold water
1 gelatin envelope (15ml)
3/4 cup maple syrup
2 cups hazelnuts
1/3 cup corn syrup
1 cup 35% cream
1 cup dulche de leche, homemade or store bought.
Preparation:
Jelly
In a small cup add 1/4 cup of cold water and sprinkle gelatin on top. Let stand 5 min.
In a pan bring to a boil the remaining water and the maple syrup. Remove from heat.
Add softened gelatin to hot mixture and mix well until the gelatin in all dissolved.
Pour mixture in  8x8in glass dish and refrigerate for 2 hours or until firm.
Praline Hazelnuts
Meanwhile in a large bowl add the hazelnuts. Put  corn syrup in a microwaveable dish . Heat at max intensity for 40 to 45 seconds, until syrups starts to boil. Pour hot syrup over the hazelnuts and mix well.
Spread evenly hazelnuts on a cookie sheet lined with parchment paper. Bake in an oven heated at 325F for 15 min.
Remove from oven and let cool on a wire rack.
Chop hazelnuts in chunks.
Dulche de Leche Mousse
Beat cream with a mixer in a bowl until stiff peaks. In a larger bowl add the dulche de leche. With a spatula delicately fold in half the whipped cream. Do the same with the second half and fold gently until homogeneous.
Keep in fridge until ready to use.
Assembly
With a fork break up the jelly by racking it.
Divide evenly the jelly at the bottom of 10 small glasses (3/4 cup capacity).
Place on top of jelly about 2 tbsp of praline hazelnuts
Cover with about 1/3 cup each glass with the mousse.
Garnish before serving with a few hazelnuts on top.
Wanna make your own Dulche de Leche? Easy, just click here for the recipe.