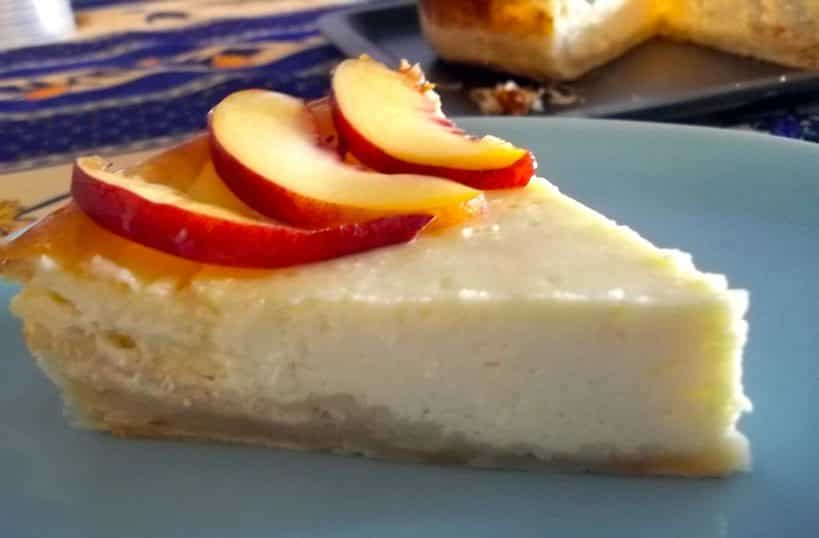 Today is my group's reveal day for the Secret Recipe Club. What is the SRC? Basically you are assigned a fellow participant's blog by the organizer and then you pick a recipe of your choice from that blog and make your version of it. But it is a secret, you cannot reveal whom you picked and what you made until the established posting date and time.
I discovered a real fun new blog, Inquiring Chef, written by Jess. She is temporarily living in Bangkok with her husband. There are quite a few food bloggers set up for a bit in Asia. I have to admit I am jealous, would love to experience that. Jess has moved around quite a bit in her life and has traveled quite a lot. It took some time but she works in Bangkok too and has a closer connection really living with the locals. Did I mention how jealous I am lol? This blog started in Thailand so you will find tons of Thai recipe. So up my alley. But oddly enough I did not choose an ethnic recipe.
I settled on this Yogurt Cheesecake dessert recipe, my contribution to my 2nd annual Cheap Ethnic Eatz food film marathon which took place this past weekend. Cake: nothing to warm up or prepare. I made a full cake recipe instead of small cakes. And I had a chance to test this 'mock' cheesecake on a group. There is NO CHEESE in this cheesecake. I will steal a sentence from her post: "This was one of those recipes that I had to make myself in order to believe that it was even possible", I concur.  Would my guests bite or say something was off?
I served the desserts and those who tried my 'cheesecake' all complimented me, some saying it was better than most cheesecakes because it was light and not heavy. It was a success. Once the cake gone I announced the TRUTH: there was no cheese. they were all in disbelief and several people asked me for the recipe. This is a keeper for sure: tastes like a favorite but much lighter calorie wise.
Ξ Yogurt Cheesecake with Nectarines Ξ
Ingredients
for the crust:
1 stick cold butter, cut into small chunks
1.5 cups flour
1/4 tsp salt
2 Tbsp. sugar
zest of 1 lemon
1 egg yolk
2 Tbsp. cold water
for cheesecake:
2 cups whole milk or 2% Greek yogurt (not non-fat)
2/3 cup sugar
pinch of salt
2 eggs
2 tsp. vanilla extract
1 Tbsp. cornstarch
1-2 peaches, thinly sliced and 1 T honey, for topping
In a large bowl, mix together the flour, sugar, lemon zest and salt. Cut in the butter and blend in with your fingers until mixture resembles cornmeal. Add egg yolk and cold water. Mix until dough comes together to form a shaggy ball (dough may be dry). Cover in plastic wrap and let chill for half an hour. Preheat oven to 375.
Roll out dough to same diameter as the pan. Place dough circle at the bottom of the pan. Place tin foil on top of the dough circle and cover with dried beans or rice to weigh down. Bake for 15 minutes then take off rice/bean/tin foil and prick all over crust with a fork. Return to oven and bake for another 15 minutes, or until golden.
In the mean time, in a blender or food processor, combine the eggs, sugar, yogurt and vanilla. Blend until smooth then add cornstarch and pinch of salt and blend again.
Pour filling into hot crust, lower oven temperature to 350 and bake for 35 minutes. When the cheesecake is done, it will still be jiggly in the center but will have a "done" look to it. The edges of the cake will start to pull away from the sides of the pan.
Let cool then chill for 2-3 hours in the fridge before releasing springform. Arrange the sliced fruit over top of the cooled cheesecake. Melt the honey in a small sauce pot then drizzle on as well.
Back to the 2nd annual Cheap Ethnic Eatz food film marathon, boy did we have a blast. I learned a lot from my 1st year and there were a lot of changes this year. I played for 4 films instead of 6. I did not invite the whole planet. I did not try to raise funds (a stress) for a charity event. This year it was about fun. And we had a lot of fun.
We numbered 19 people in total this year. The price of entry was a dish for the potluck. Yep 19 people crammed in my living room in front of the TV. The first film started at 1:30pm and the last one ended around 11:30pm. It was an open invite so people came and went as they wished but the biggest crowd is always around the dinner time movie where I pick a block buster.
Here are the movies we saw, with my little comment in red:
Waitress – Jenna is a pregnant, unhappily married waitress in the deep south. She bakes phenomenal pies at Joe's diner, listens to old Joe's wisdom, tolerates her sour boss Cal, is friends with Dawn and Becky (her fellow waitresses), and finds a mutual attraction with the new doctor in town. Cute, quirky, adorable, funny, PIE, PIE, PIE – a MUST.
The God of Cookery – A martial arts Food Film!  The most renowned and feared chef in the world loses his title of God of Cookery because of his pompous attitude. Humbled he sets out to reclaim his title. Cantonese with English subtitles. The most absurd, full of nonsense, movie I have ever seen in my life, plan to say WTF over and over again, very entertaining.
Julie and Julia
Julia Child's story of her start in the cooking profession is intertwined with blogger Julie Powell's 2002 challenge to cook all the recipes in Child's first book. It's Julia, un chef-d'oeuvre!
Big Night – A failing Italian restaurant run by two brothers gambles on one special night to try to save the business. My least favorite even if a good movie. Depressing. Scene shots though are fantastic, especially kitchen at the end.