A day of food movies with food, how fun!
I just officially announced and invited my closest foodie/blogger/movie friends to the 2nd annual Cheap Ethnic Eatz food film marathon that will be hosted at my place. It will take place at the end of September 2012 and for sure you will be reading about it, before and after the event. This is a private event with limited space and invitations have been sent out already.
Of course this will be a pot luck event!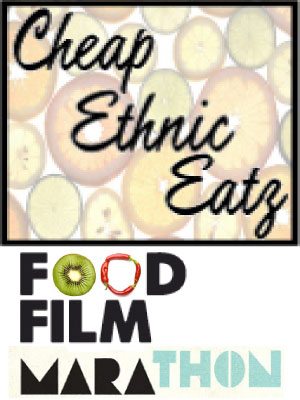 The 2012 Playbill
Waitress – Jenna is a pregnant, unhappily married waitress in the deep south. She bakes phenomenal pies at Joe's diner, listens to old Joe's wisdom, tolerates her sour boss Cal, is friends with Dawn and Becky (her fellow waitresses), and finds a mutual attraction with the new doctor in town.
The God of Cookery – A martial arts Food Film!  The most renowned and feared chef in the world loses his title of God of Cookery because of his pompous attitude. Humbled he sets out to reclaim his title. Cantonese with English subtitles.
Julie and Julia
Julia Child's story of her start in the cooking profession is intertwined with blogger Julie Powell's 2002 challenge to cook all the recipes in Child's first book.
Big Night – A failing Italian restaurant run by two brothers gambles on one special night to try to save the business.
———————-
The idea came to me last year of gathering friends for movies about food. Now let me specify all the movies are about or very centered around food, a restaurant, chefs, etc. Movies names of food that don't focus on food do not make the list. I did some serious research and dug up a lot of food films. I may not get my hand on all of them but here's to hoping I will when their turn will come up on the play bill.
I cannot wait for the event to take place and I already have a line up for another 8 years with films like: Super size me, Willy Wonka and the chocolate Factory, Mostly Martha, Delicatessen, Like Water for Chocolate, Eating Raoul, eat drink man woman, Ramen Girl, Woman on Top, Waitress and so many more. I have documentaries, movies for children, comedies, dramas, thrillers and foreign films. I even have more grown up movies about alcohol, cannibalism and one soft porn (believe it or not)!
So stay tuned for this year's Marathon and the ones coming in future years!