Today is my group's reveal day for the Secret Recipe Club. What is the SRC? Basically you are assigned a fellow participant's blog by the organizer and then you pick a recipe of your choice from that blog and make your version of it. But it is a secret, you cannot reveal whom you picked and what you made until the established posting date and time. This month's secret: Black Asian Rice with Stir Fried Vegetables.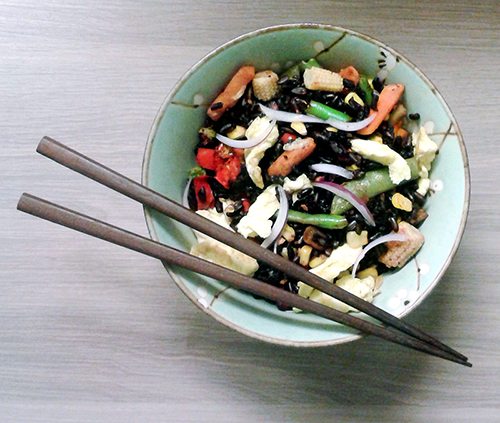 This month I was assigned The Saturday Evening Pot blog, how clever is that name! The blog is written by a lovely couple: the Chef who has a degree in Culinary Arts and the The Lucky Wife who also make wonderful contributions to the blog. The blog is mostly made up of low-allergen recipes as the familly has been trying to pin point possible food sensibilities. But the recipes are still full of tatse. I went with the Black Asian Rice with Stir Fried Vegetables dish. I just so happen to have this rice at home and the dish looked wonderful. With just a few scrambled eggs this is aslo a great Meatless Monday meal.
I posted the recipe as is but I did play around with the veggies I had on hand, like corn, and I added some left over pomegranate seeds for a zesty touch. Once the rice was cooked I rinsed it very well to get the black color out. This was purely for esthetics and not necessary.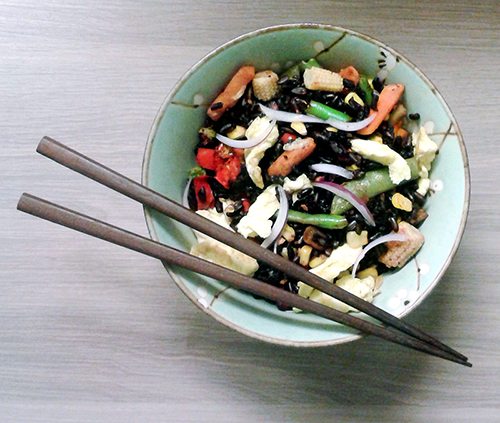 Black Asian Rice with Stir Fried Vegetables
Ingredients  
1

cup

Asian black rice

cooked, drained and cooled

1

medium Vidalia or sweet onion

small-diced

1

medium red bell pepper

small-diced

1

cup

frozen peas

thawed

10

baby carrots

cut in thin coin slices

4

cloves

fresh garlic

minced

2

large eggs

very softly scrambled

2

cups

cabbage

shredded

3-4

tablespoons

olive oil

dash kosher salt
Instructions 
Cook black rice, rinse, drain and cool completely.

Scramble eggs very softly (runny) and set aside.

Prepare all vegetables and set aside.

Heat large non-stick skillet over medium-high heat until hot. Add oil and onions. Saute onions for approximately 1 minute or until soft.

Add bell pepper. Continue to sauté.

After approximately 1-2 minutes, add carrot. Continue to toss vegetables.

Add cabbage and continue tossing.

After another minute, add peas and garlic. Saute for approximately 1 minute.

Once vegetables are semi soft, add chilled, cooked rice to pan. Fold in rice and vegetables mixture continually until rice is heated through.

Add scrambled eggs. Using wooden spoon, chop egg up and fold through rice and vegetable mixture. Season with kosher salt, stir and remove from heat and pan immediately into serving container.
');