Today is my group's reveal day for the Secret Recipe Club. What is the SRC? Basically you are assigned a fellow participant's blog by the organizer and then you pick a recipe of your choice from that blog and make your version of it. But it is a secret, you cannot reveal whom you picked and what you made until the established posting date and time. This month's secret: Aunt Helen's Gingersnaps.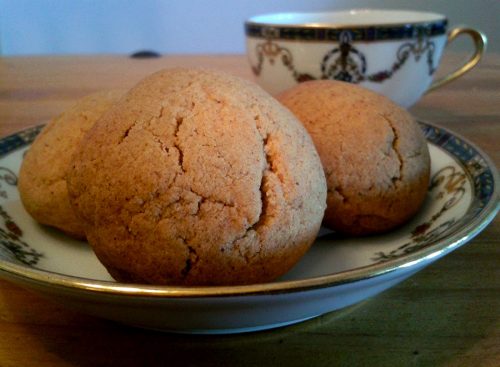 This month my assigned blog was a very sweet one: Sweet as Sugar Cookies written by Lisa. Lucky her, she grew up in Hawaii and Lisa says this was a great way to be introduced to different cuisines. She started baking at a young age too. Now I have seen a lot of baking sites with tons of non-baking recipes. Not the case here: this is really mostly baking recipes. When I looked at the index there was a secti0n dedicated to ginger cookies. That was a first for me. And I LOVE ginger cookies so as much. So as the Red Velvet Cream Cheese Swirl Brownies , Pumpkin Chai Donut Muffins, and Olive Oil Chocolate Chip Cookies recipe were very appealing, I had to pick a ginger cookie.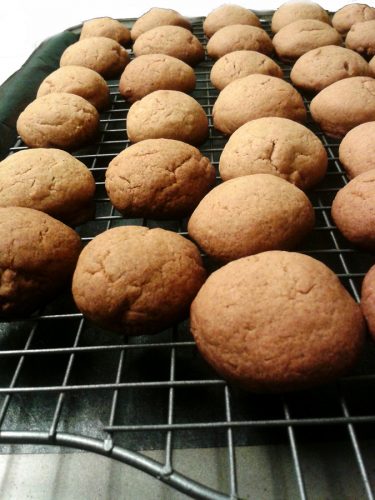 I chose the Aunt Helen's Gingersnaps recipe. And before you ask, no Lisa does not have an Aunt Helen. Apparently the recipe can be found in a book called "Fleece Navidad" where a character, Aunt Helen, makes these cookies. OK so if you look at Lisa's cookies and mine you will see a huge difference. I did a booboo. I assumed it was baking powder but only realized once in the oven that the recipe called for baking soda. Oh well I just cooked a bit longer. A voluntary change was mixing up ground ginger and freshly ground ginger. They were just like delicious bear claws cookies.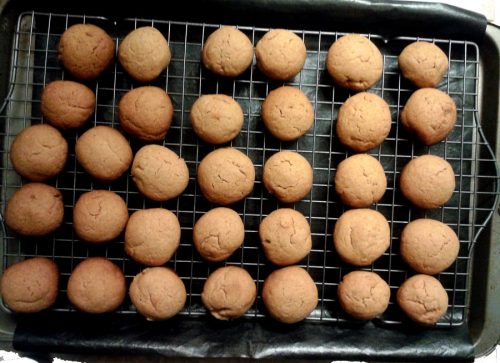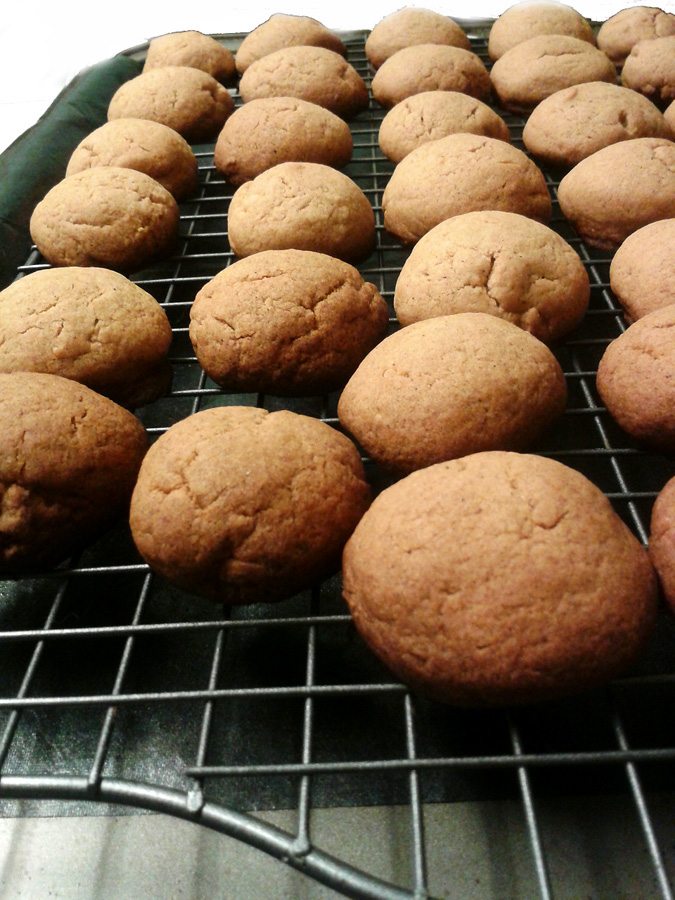 Aunt Helen's Gingersnaps
Ingredients  
2 1/2

c.

all-purpose flour

1

Tbsp.

ground ginger

1

Tbsp.

fresh grated ginger

2

tsp.

cinnamon

2

tsp.

baking powder

1/2

tsp.

salt

1 1/2

sticks unsalted butter

softened

1

c.

packed dark brown sugar

1

large egg

1/4

c.

molasses
Instructions 
Heat oven to 350F. Lightly grease cookie sheets.

Mix flour, ground ginger, cinnamon, baking powder, and salt in a small mixing bowl.

Cream butter and brown sugar together in a medium bowl, mixing well. Add the egg, grated ginger and molasses, and mix until blended. Add in the flour mixture.

Cover bowl with plastic wrap and chill for 15 min.

Roll into 1 1/4-inch balls and place 2 inches apart on prepared cookie sheets. Bake just until puffed and golden - anywhere from 15-20 min.Cool on a wire rack.
Notes
If you like roll balls in sugar before placing on the baking sheet. I skipped this step.
And just wanted to make a quick announcement. In 2 weeks I will be hosting the 3rd annual Cheap Ethnic Eatz Food Film Marathon. A day of food movies with food, how fun! Guests come and go during the marathon and the price of entry is a dish for the potluck. It is great fun. Check out for the follow up post soon.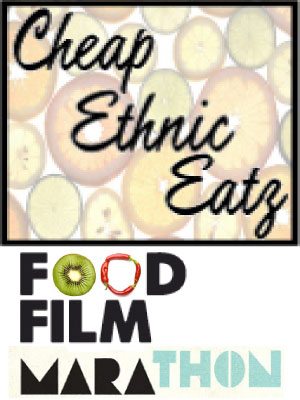 The 2013 Paylbill
Les Émotifs Anonymes – What happens when a man and a woman share a common passion? They fall in love. And this is what happens to Jean-René, the boss of a small chocolate factory, and Angélique, a gifted chocolate maker he has just hired.
Harold and Kumar go to White Castle – An Asian-American office worker and his Indian-American stoner friend embark on a quest to satisfy their desire for White Castle burgers.
Eat Drink Man Moman – A senior chef lives with his three grown daughters; the middle one finds her future plans affected by unexpected events and the life changes of the other household members.
Eating Raoul – A relatively boring Los Angeles couple discover a bizarre, if not murderous way to get funding for opening a restaurant.

');