A day of food movies with food, how fun!
I just officially announced and invited my closest foodie/blogger/movie friends to the 3rd annual Cheap Ethnic Eatz food film marathon that will be hosted at my place. It will take place at the end of September 2013 and for sure you will be reading about it, before and after the event. This is a private event with limited space and invitations have been sent out already.
Of course this will be a pot luck event!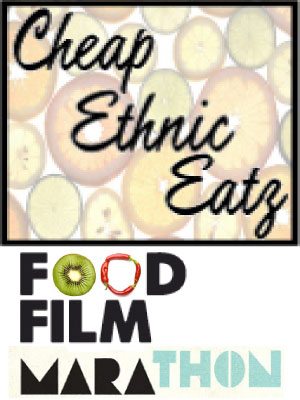 The 2013 Playbill
Les Émotifs Anonymes – What happens when a man and a woman share a common passion? They fall in love. And this is what happens to Jean-René, the boss of a small chocolate factory, and Angélique, a gifted chocolate maker he has just hired.
Harold and Kumar go to White Castle – An Asian-American office worker and his Indian-American stoner friend embark on a quest to satisfy their desire for White Castle burgers.
Eat Drink Man Moman – A senior chef lives with his three grown daughters; the middle one finds her future plans affected by unexpected events and the life changes of the other household members.
Eating Raoul – A relatively boring Los Angeles couple discover a bizarre, if not murderous way to get funding for opening a restaurant.
———————-
The idea came to me 2 year ago to gather friends for movies about food. Now let me specify all the movies are about or very centered around food, a restaurant, chefs, etc. Movies names of food that don't focus on food do not make the list. I did some serious research and dug up a lot of food films. I may not get my hand on all of them but here's to hoping I will when their turn will come up on the play bill.
I cannot wait for the event to take place and I already have a line up for another 8 years with films like: Super size me, Willy Wonka and the chocolate Factory, Mostly Martha, Delicatessen, Like Water for Chocolate, Ramen Girl, Woman on Top and so many more. I have documentaries, movies for children, comedies, dramas, thrillers and foreign films. I even have more grown up movies about alcohol, cannibalism and one soft porn (believe it or not)!
So stay tuned for this year's Marathon and the ones coming in future years!