A common question I get is: "What are some of your favorite products that you have received from the care packages you have received from the Foodie Exchange? Of course here are quite a few:the hickory smoked salt, saffron, the best mint teat ever from England, Pequin chilies, clotted cream fudge, Conney Island mustard, and Italian nougat. The list goes one and on.
But there is one item I received that has really knocked my socks off. Hello, my name is Evelyne and I am Speculoos Spread Addict.
Never in my life would I have believed I would become addicted to a spread used on toasts. I actually like my toasts plain enough with a smidgen of butter normally. But this stuff is so good I cannot get enough of it. Yes I have gone in with just a spoon and straight to the mouth. Never heard of Speculoos? Neither did I until I got a jar. But a little research online quickly convinced me I am not the only one spellbound by this product.
A bit of background on Speculaas from wiki.
Speculaas is a type of shortcrust biscuit, traditionally baked for St Nicholas' Eve in the Netherlands (December 5) and Belgium (December 6). Belgian varieties use no or less of the spices and are sold as speculoos. In recent decades it has become available all year round. They are thin, have a caramel taste, are very crunchy, and slightly browned. Speculaas dough does not rise much. Spices used in speculaas are cinnamon, nutmeg, cloves, ginger, cardamom and white pepper. Most Speculaas versions are made from white flour, brown sugar, butter and spices. The most significant characteristic is that these cookies have some image or figure stamped on the front side before baking while the back is flat.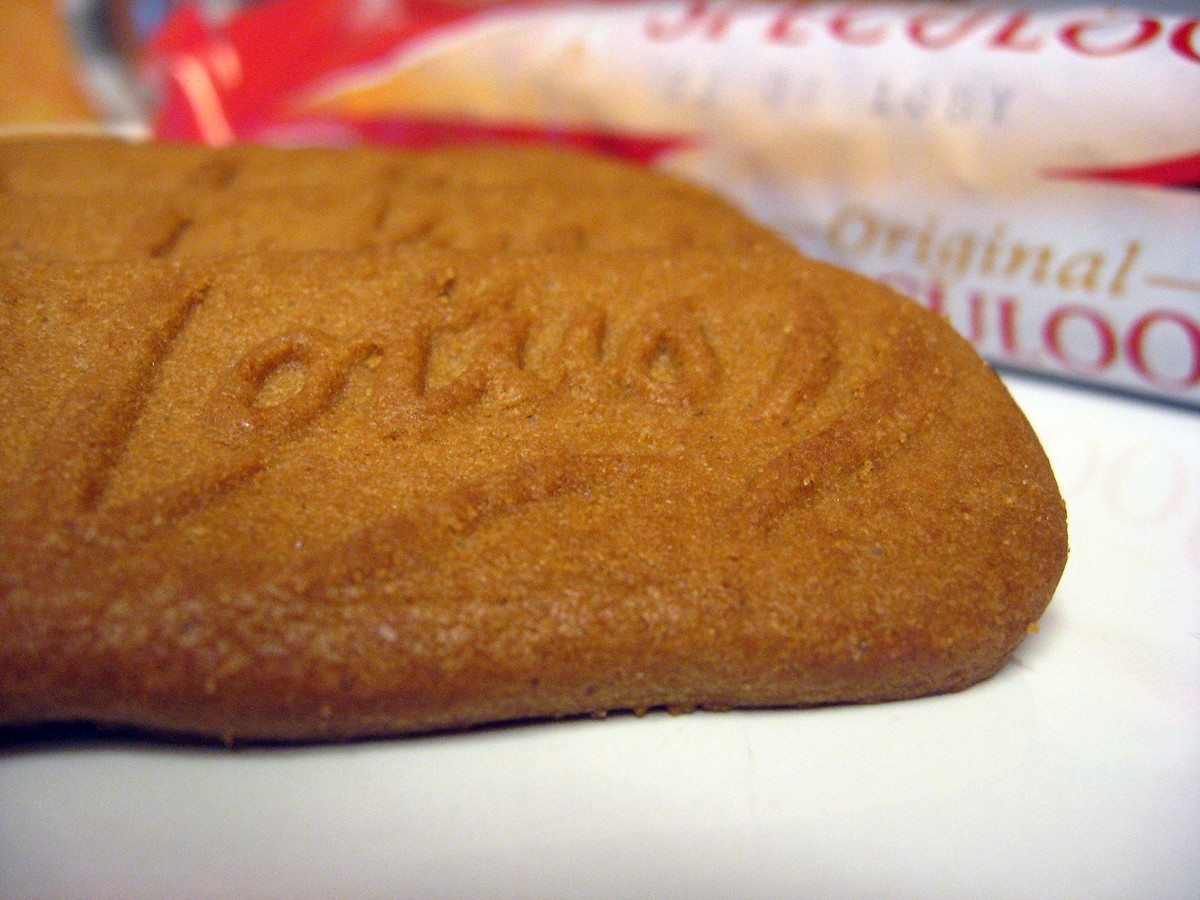 Lotus Bakeries is the company that made the spread I received and if you can read French they have a great recipe pageon their site. They appear to be the most mass-producers of this type of cookie and by-products worldwide. It appears that they do sell cookies in North America under the names Anna's and Biscoff cookies. I did buy some Lotus Speculoos cookies here in Montreal. Valérie of The Chocolate Bunny, who is part Beligum, told me where to find them here. Now I was going to try out one of these recipes below with the cookies but, oups, I ate them all.
Have I got a bunch of great recipes for you to try with speculaas cookies. Can't find them in your store or home town? No worries I will give you a recipe for the cookies themselves. You can Google "speculaas mold" if you want to buy a mold for the traditional stamped figure cookie. Some are amazingly intricate.
Speculass Cookies
There are tons of recipes out there and they tend to vary a lot. I chose this one from Cathy at The Dutch Baker's Daughter to share with you as she is Dutch and her father AND grandfather were bakers. I think it is the most traditional one I have seen.
1 cup unsalted butter, softened
2 teaspoons vanilla
1 cup white sugar
1/1/4 cups dark brown sugar (the darker the better)
2 large eggs
3 1/2 cups flour
2 teaspoons baking soda
Speculaas spice*
1 teaspoon kosher salt
* Speculaas spice: (adapted by me)
4 tsp cinnamon
1 tsp nutmeg
1 tsp ground cloves
1/2 tsp white pepper
1/2 tsp ground ginger
1/2 tsp cardamom
Cream butter, vanilla, and both kinds of sugar until light and fluffy. Add both eggs and blend well.
Whisk all of the dry ingredients together and slowly add to the butter mixture, combining until the dough pulls from the side of the bowl. Divide the dough in half. Wrap each half in plastic wrap and refrigerate for several hours or overnight. Roll out dough to 1/4″ or 1/8″ thick and cut with cookie cutters. Bake at 350 degrees for 10-12 minutes.
Note: This spice combination is more Dutch. As mentioned earlier the Belgium version has little variety or no spice. Lotus Speculoos only list cinnamon in the ingredients. The best is to try your own variations from batch to batch until you find your favorite mix.
So back to the spread I got. Imagine the Nutella equivalent for toasts but it tastes like caramel, cinnamon and other spices. Imagine spreading a spice cookie on your bread. Oh yes, it's as good as it sounds. Now that you have made your cookies you can take some of them and make your own spread!
Check out Seitan is my Motor for a Speculoos Spread recipe as pictured above. Now since I don't think I can find this spread here I am so happy to know I can make my own. What a relief!
Have Cake Will Travel has 2 recipes with Speculoos. The first one I just think is pure irony. Its a recipe for Speculoos Spread Cookies. Bake your cookies to make a spread with to make cookies again with them lol. Love it!
The second recipe is a Speculoos Spread Ice Cream. If you follow my blog you know how fond I am of ice cream and particularly unusual flavors. So this recipe is so right up my alley.
I hope you enjoyed this blog. I never imagined one foodie product would inspire me to write so much. I highly recommend you seek out this product or make your own. You will fall in love with it.