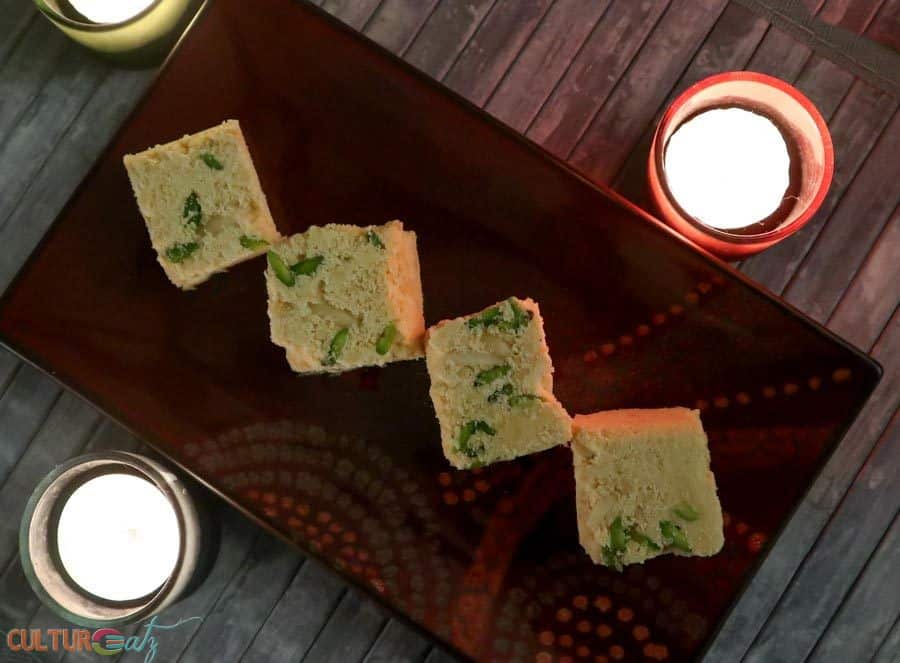 Looking for a new Indian sweet recipe? The Soan Papdi recipe is a beautifully flaky candy, delicately perfumed with rose water and cardamom. A must try!
This week Indians around the world are celebrating Diwali, the very popular Hindu festival of lights. So I thought it more than fitting for the Eat the World Recipe Challenge group to explore Indian cuisine this month. Diwali menus tend to be lots of various snack dishes but I opened up the challenge to any Indian recipe. I decided to make the soan papdi recipe, a sweet I had tried once before that really blew my mind.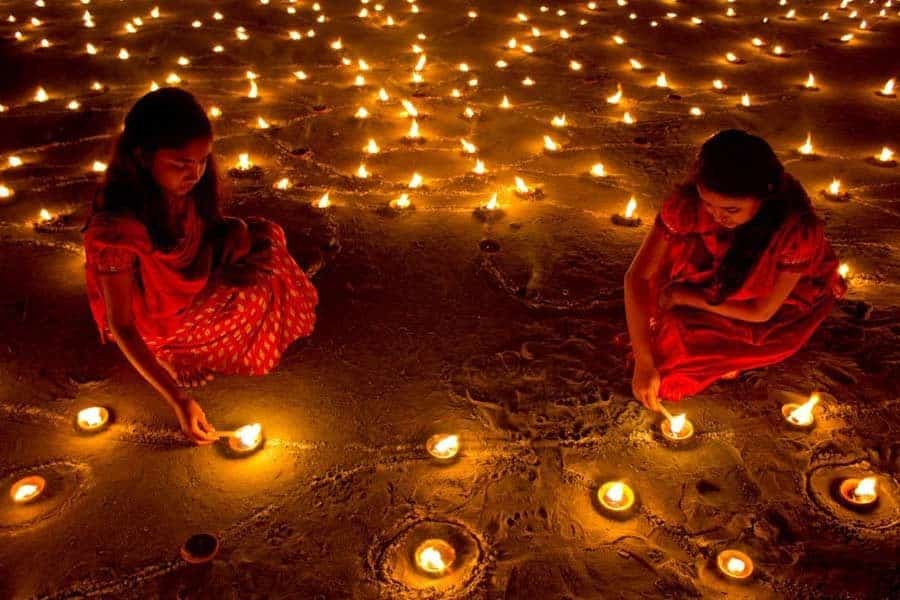 What is Diwali?
Diwali is probably the most popular Hindu festival and it is a festival celebrating the harvest. The festival, which goes on for 5 days, symbolizes the spiritual "victory of light over darkness, good over evil and knowledge over ignorance." People put out candles and light lamps everywhere: in their home, outside, and even floating on water.
Homes will be cleaned, new clothes will be worn, and people get their finances in order. Each of the 5 days has a focus but there is a lot of celebrating, a lot of families and friends are visited, and a lot of food is prepared and devoured.
A huge selection of food will be laid out, both savory and sweet, and they are considered snacks rather than meals. There are hundreds and hundreds of Diwali recipes. I have a lot of savory Indian recipes on the blog but very little sweets. If you are not familiar with Indian desserts, you might be shocked to find out just how many Indian sweet recipes exist, such as: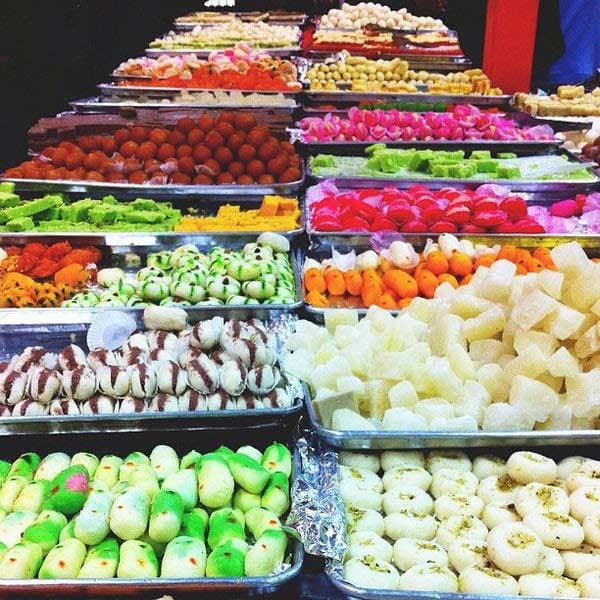 Did you get your FREE PRINTABLE yet?
Surprise! I have prepared a Cheat Sheet that includes 41 Cooking and Baking Ingredient Substitutions that are commonly found in a kitchen. Click here to get your FREE Ingredient Substitutions Cheat Sheet right now!

The Traditional Soan Papdi Recipe
About a year ago, I picked up a box of an Indian sweet I have never heard of before at Bulk Barn. I do that a lot: buy food blindly just to discover something new. It was a box of soan papdi and it was love at first bite. That box did not last long. I loved the light hint of cardamom and rose water, optional if you do not like it.
I looked up recipes right away but, life happens, I never got around to making it. As a common sweet found at Diwali tables, I thought it was time to make this treat. Soan papdi ingredients include sugar, gram flour, flour, ghee, rose water, and cardamom.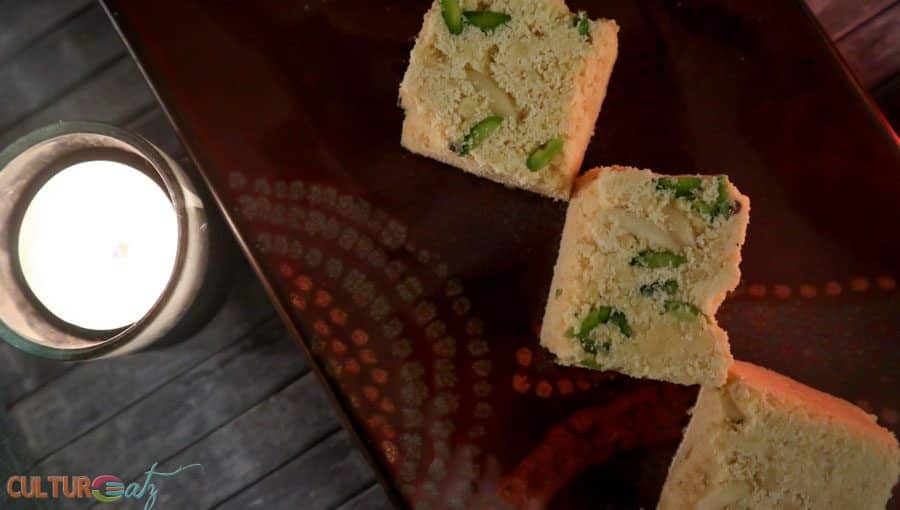 You can find it sold in squares or in India you could find it served as flakes. The real traditional way of making this sweet treat gives a really unique crispy and flaky texture.
This is achieved by cooking your sugar to the soft ball stage and stretching it out like a taffy. But the taffy is constantly dipped in a special flour roux. The texture becomes flaky like strands.
Soan papdi making is an art form. Check out how it is made in India in the video below.
How to Make Soan Papdi at Home
Thankfully, you can get away with making the soan papdi recipe without all the labor. The result may not be as flaky (in my case it turned out more crumbly) but the flavor is the same. There are lots of recipes online but this was one of the more comprehensive ones.
Some say it is the hardest India sweet recipe to make. The key to success is cooking the sugar to the soft ball stage, no more no less. And when you incorporate the roux to the sugar, drag the mixture slowly across the length of the pan, not in a stirring motion.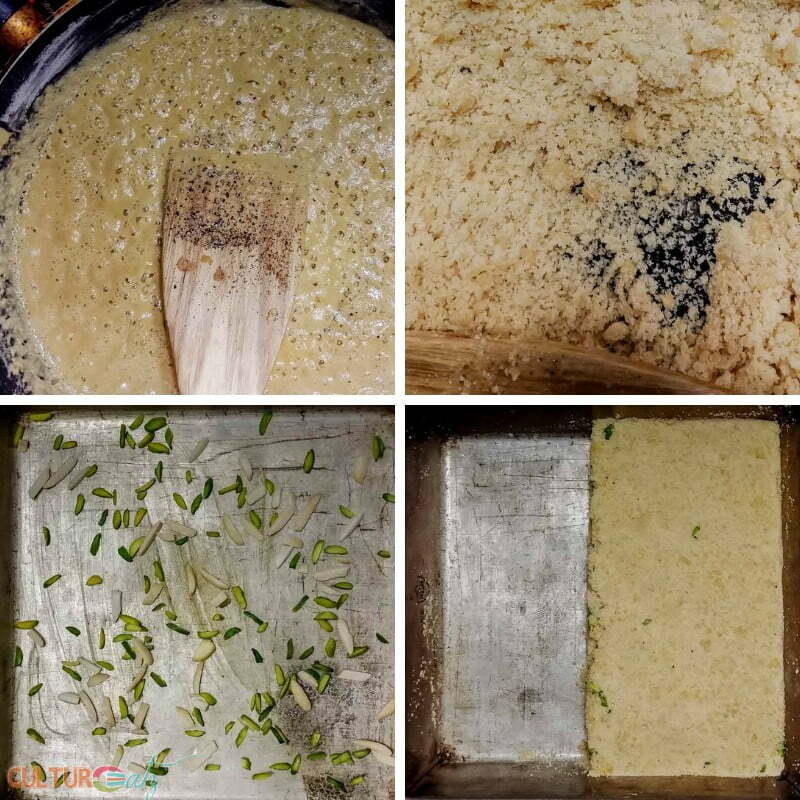 It takes a while to solidify but as you mix the texture will become dry. If you are lucky, it will also be flaky. To turn it into pieces, you have to pack the flakes up to 1 inch thick in a dish, let it rest on the counter a bit, and cut into squares.
Enjoy a few squares with a lovely cup of Darjeeling tea.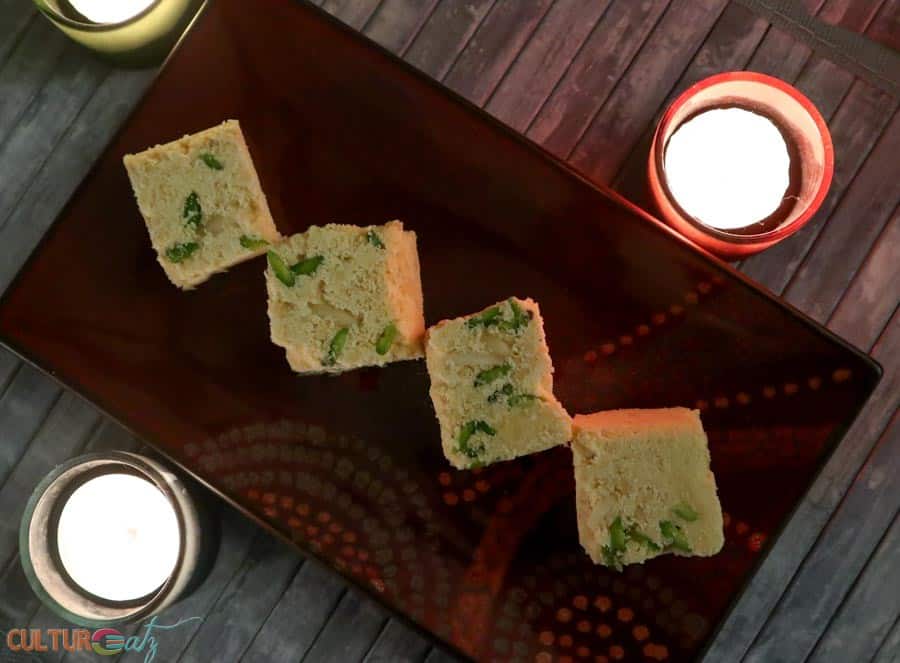 Soan Papdi, an Indian sweet
Looking for a new Indian sweet recipe? The Soan Papdi recipe is a beautifully flaky candy, delicately perfumed with rose water and cardamom. A must try!
Ingredients  
1/2

cup

chickpea flour

gram besan

1/2

cup

flour

1

cup

sugar

1/2

cup

water

1/2

cups

of ghee

few pods of cardamom

2

tablespoon

rose water

optional

almonds and pistachios slivers
Instructions 
On medium heat in a large saucepan melt the ghee.

Add the 2 flours and toast them until they are a light brown. Remove from heat and set aside.

On medium-high heat in a large saucepan, cook sugar and water until 235-240 F (soft ball stage).

Pour sugar syrup in with toasted flours and beat until it forms flakes.

Oil an 8-in square pan with ghee and springkle with almonds and pistachios.

Pour mixture inton the baking dish. With a spatual push and press down 1 inch thickness. It will cover half the pan about.

Leave to rest on the counter for at least half hour and then tut into 15 pieces.
Join our Eat the World Recipe Challenge
Check out all the wonderful Indian dishes, in honor of Diwali, prepared by fellow Eat the World members and share with #eattheworld. Click here to find out how to join and have fun exploring a country a month in the kitchen with us!
Juli: Gulab Jamun
Evelyne: Soan Papdi Indian sweet
Loreto and Nicoletta: Indian-Inspired Cauliflower Kadhai
Syama: Almond Puri
Camilla: Keema Matar
Wendy: Samosas
Amy: Spiced Golden Milk (Turmeric Milk)
Margaret: Upma, Kerala Style – A Southern Indian Savoury Breakfast Dish
PIN IT FOR LATER! https://www.pinterest.ca/pin/266275396704411510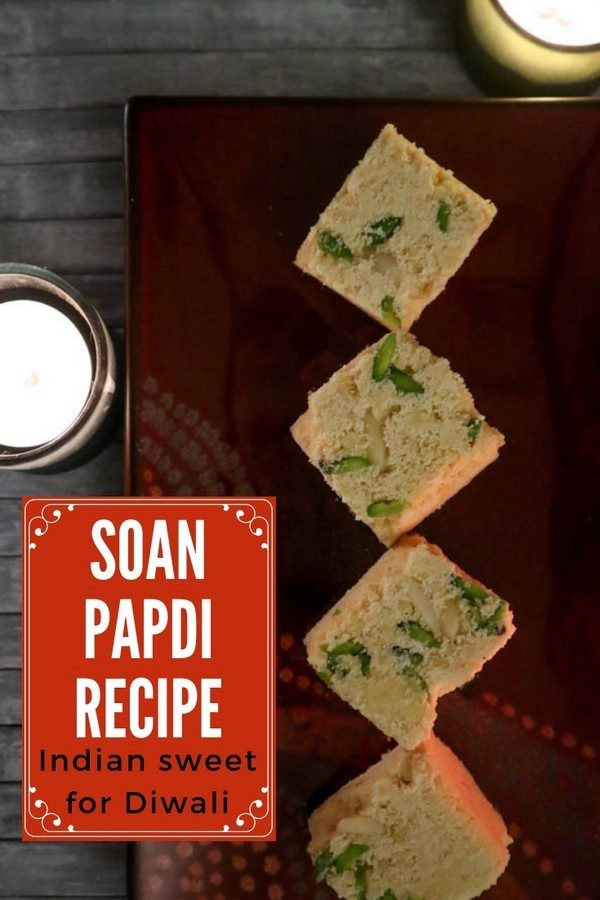 Want more Indian treats? Check these out below: