A Modak is a delicate preparation of coconut and jiggery filled in a tender rice flour covering that is later steamed to produce a delicacy for Lord Ganesha.
I am slow to comment back and I do apologize, I am at the cottage for the week, this and my last post were written by the lake. But I did prepare 2 dishes with here so don't be surprised by the old dishes in the pics ha ha.
As a food blogger, we always want to appear our best and that we are above screwing up a recipe. Well trust me, it may not happen often, but sometimes we fail a recipe miserably. This is one of those times. I think it is just as important and funny to share. Maybe it will help convince my friends terrified to invite me over for a home cooked meal a change of heart lol. My failure recipe is the normally delicious Coconut Modak.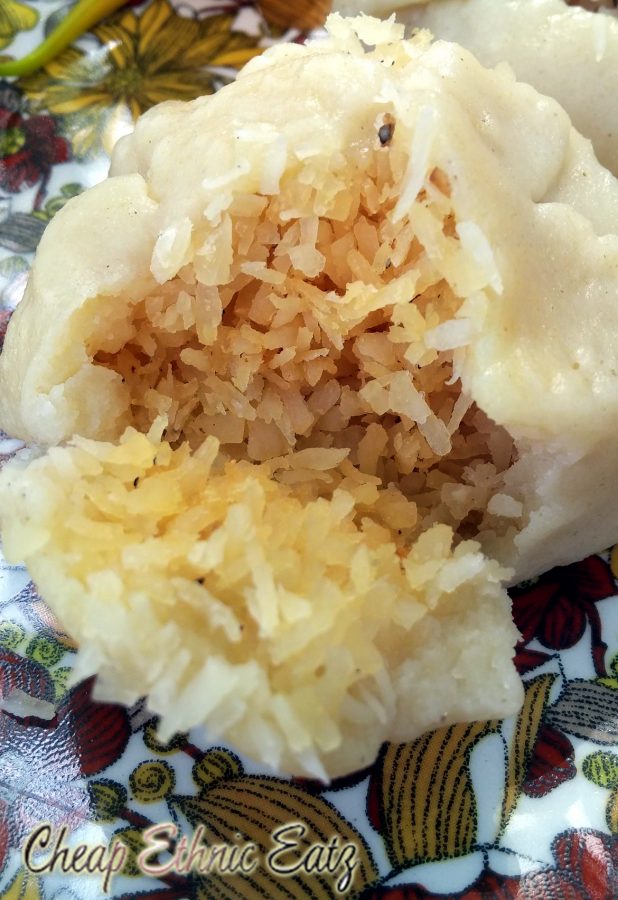 It's time for Daring Bakers of the Daring Kitchen and for the month of September, Rutvika the talented lady behind sizzleanddrizzle.com challenged us to make modaks: a delicate preparation of coconut and jiggery filled in a tender rice flour covering that is later steamed to produce a delicacy that is usually served in the Ganesha festival in India.
I love what Rutvika has to say about the Ganesha Festival:
September is the month when we celebrate the Ganesha festival throughout Maharashtra, a state in western India. Ganesha, the elephant headed God, is worshipped for 10 days with passion and excitement. A holy offering is made to Lord Ganesha in the form of "Modaks" which is then consumed by everyone as "prashad".

Ganesha is the Lord of well being and of good beginnings. During those 10 days, an artistic clay mode of Ganesha is prepared and worshipped every morning and night. On the 10th day, He is immersed back in water to assimilate with the earth. It is a time of great festivities and is amongst my favorite festivals in India.

The legend of Ganesha , the elephant headed God goes this way – Goddess Parvati, the consort of Lord Shiva, created a boy out of the sandalwood paste she used for her bath and breathed life in to him.  Then she asked him to guard her door while she went for a bath. Meanwhile, Lord Shiva who had gone out  hunting came back. Ganesha did not allow him to enter, as he did not know who Shiva was. Enraged, Shiva severed the head of the child. Parvati was very angry and disheartened by this. Lord Shiva promised to find a head for him and bring the boy back to life. His devotees tried to find the head of a dead man, but only found the head of a dead elephant. Shiva fixed it on the body of the boy and brought him back to life, and from that day was called Ganesha.
The recipe source comes from the traditional recipes followed by generations of the people in Maharashtra, a state in western Indian. I did 2 modifications. I did not have jiggery but I recently bought a cool product: Coconut Flower Nectar, sort of refined and more delicate molasses. It worked really well in the filling.
My second substitution may be why my dumplings failed, all I had at home was brown rice flour. I think it is coarser and strong in taste. Perhaps with more AP flour it would have worked but the taste was also more pronounced.
Nonetheless, I am always happy to try a new recipe and I have to remember that we try something completely new we may not always no best for substitutions lol. I have enjoyed many Indian sweet delicacies in my life and the real deal would be sure to please. I did a much better job of learning how to steam a pudding step by step here.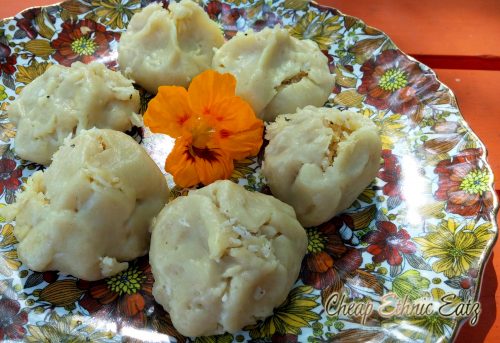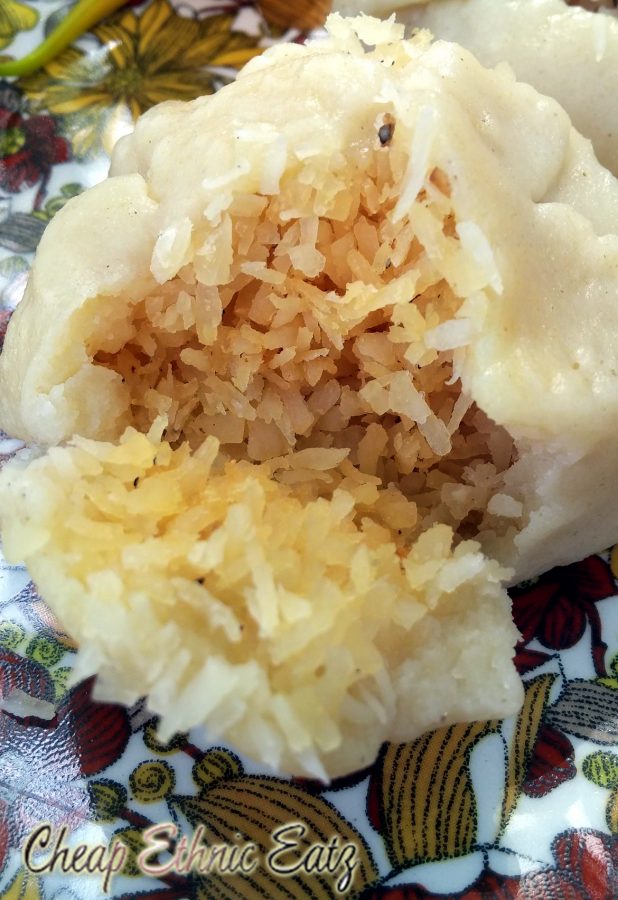 Coconut Modak
Ingredients  
For the filling
200

gm fresh dessicated coconut

100

gm chopped jaggery

I used coconut flower nectar

3

tablespoon

water

¼

teaspoon

cardamom powder
For the covering/shell
1

heaped cup of Basmati rice flour

sifted

1

tablespoon

all purpose flour

¾

cup

water

1/2

teaspoon

salt

35

grams

unsalted butter
Instructions 
Firstly, we make the filling of the modak. Take the fresh dessicated coconut, jaggery and water in a thick bottomed vessel. Put it on medium heat and stir continuously till the jaggery begins to dissolve.

Alternately, you can melt the jaggery in microwave for in bursts of 30 seconds and then add it to the fresh coconut, it will come together faster.

Roast it for a couple of minutes, till the mixture becomes slightly dry.

Add cardamom powder and mix it well.

Take the mixture off heat and spread it on a plate and let it cool down completely while you make the covering.

To make the covering, sift the rice flour and 1 tablespoon all purpose flour with the smallest sieve twice so that it is very smooth. The all purpose flour is used to make the rice flour more sticky.

In a thick bottomed vessel, take the water and add butter and salt to it. Let it come to a boil.

Once water starts to boil, add the flour mixture all at once. Take it off heat and mix it together with a spoon.

Then put the mixture back on heat and sprinkle 2 tablespoons water. Cover and let it steam for 1 minute over low heat.

Take it off heat and let it stay in a corner covered for 10 minutes, It will get softened.

Once it has considerably cooled down, pulse it in a food processor for a minute, take it out and knead with hands to bring it together to form a smooth dough.

Prepare the steamer. Fill a large vessel with water covering the bottom of the steamer. Place steamer on top and keep it ready. We place the modaks on a banana leaf for steaming, but you can use a plain tea towel instead.

Make 12 equal balls of the dough.

With a little water, flatten each ball into a thin disk with your hands or in a non-electric roti maker, about 4 inches in diameter. Then take it into the palm of your hand. Stuff it with some mixture leaving ½ inch on all sides. Start pinching the corners into petals with the use of your index finger and thumb and middle finger on each side. Make several such petals all around the edge of the disk.

Then start getting all the petals together by pressing it closer with your fingers. Seal the top and keep it covered with a damp towel till a few are ready to be steamed.

Immerse each modak in water before placing it in the steamer filled with boiling water. Steam for 15-20 minutes.

Serve hot with a dollop of ghee (clarified butter).
Want more Indian treats? Check these out below: