And now back to our regularly scheduled programming. The holiday season is over and it was a wonderful time surrounded by friends and family. But my clothes is happy it is over! Time for a bit healthier meals, or at least considering it while you are still polishing off the leftovers from all the parties you may have hosted. One dish I was really sorry to not have any leftovers to enjoy was this Slow Cooker Stout and Chicken Stew.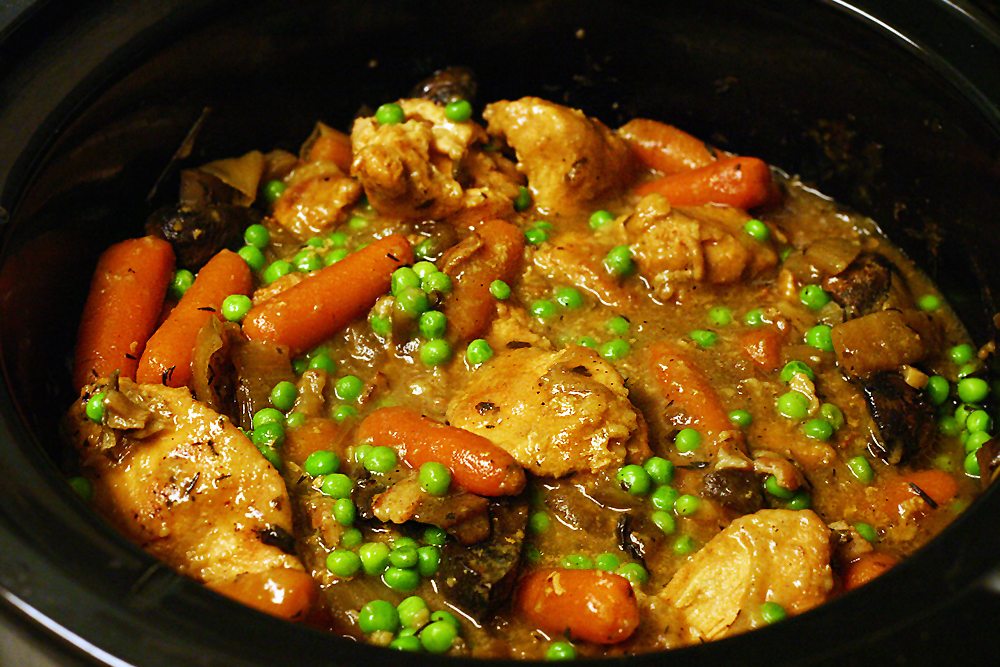 I hosted a pot-luck New year's Eve party this year for 11 of my closest friends. I also decided last minute to go out of town a few days before so I knew I needed a dish that could be prepared after my return but before the party ahead of time, a window of 1 evening as I was working as well. Crock pot was the first thing that came to mind. Just prepare the night before, keep in the fridge over night and turn on the slow cooker for 7 hours in the morning.
Having a can of Guinness already in my fridge I knew this Slow Cooker Stout and Chicken Stew with an Irish twist was the recipe for me. The only thing I modified was the herbs: I increased the thyme a bit and also added a touch of rosemary. You could also cook this stew in 4 hours on High but I personally think it defeats the purpose of slow cooking, but that is just me.
The stew was a big hit that night, as were the many cheeses, foie gras and salad (and whatever I am forgetting). Yet we still had room for the 6 desserts and many multiple delicious alcoholic beverages. It was really a sight and a really fun night.
What did you do to ring in the New year?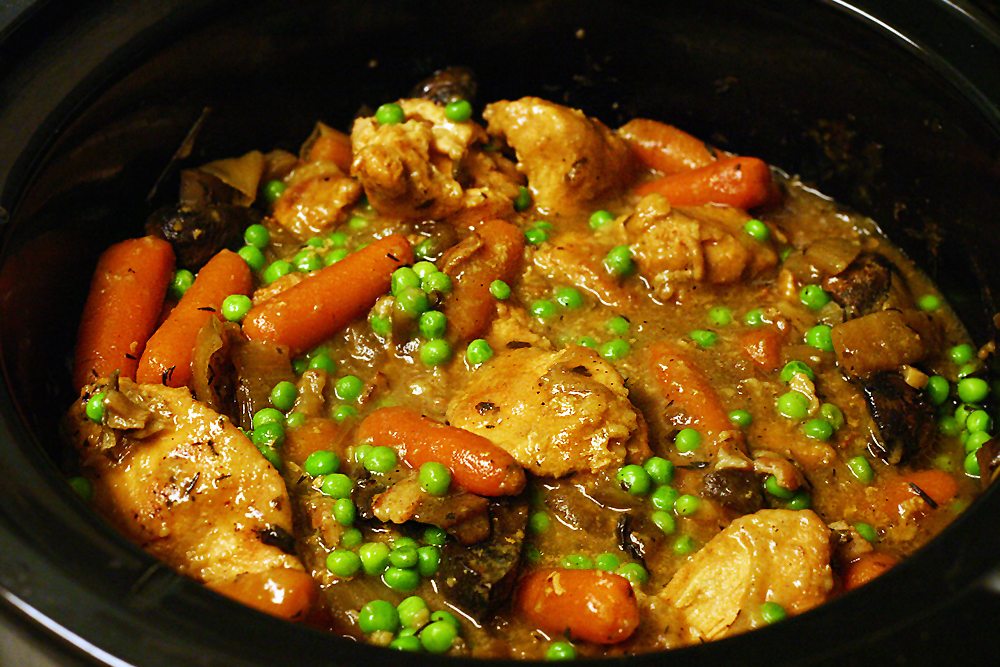 Slow Cooker Stout and Chicken Stew
Ingredients  
6

tablespoons

plus 1/2 cup all-purpose flour

divided

1

teaspoon

salt

divided, plus more to taste

1/2

teaspoon

freshly ground pepper

plus more to taste

2 1/2

pounds

boneless

skinless chicken thighs, trimmed

4

teaspoons

extra-virgin olive oil

divided

3

pieces

bacon

chopped

1 2/3

cups

Guinness beer or other stout

14-ounce can

1

pound

whole baby carrots or large carrots cut into 1-inch pieces

1 8-

ounce

package cremini or button mushrooms

halved if large

2

cups

chopped onion

4

cloves

garlic

minced

2

teaspoons

dried thyme

1/2

teaspoon

rosemary

1

cup

reduced-sodium chicken broth

2

cups

frozen baby peas

thawed
Instructions 
Combine 6 tablespoons flour with 1/2 teaspoon each salt and pepper in a shallow bowl. Dredge chicken thighs in the mixture to coat completely; transfer to a plate.

Heat 2 teaspoons oil in a large skillet over medium-high heat. Add half the chicken and cook until well browned, 2 to 4 minutes per side; transfer to a 5- to 6-quart slow cooker. Reduce heat to medium and repeat with the remaining 2 teaspoons oil and chicken thighs. Arrange the chicken in an even layer in the slow cooker.

Add bacon to the pan and cook, stirring often, for 2 minutes. Sprinkle the remaining 1/2 cup flour over the bacon and cook, stirring constantly, for 2 minutes more. Add stout and use a wooden spoon to scrape up any browned bits from the bottom of the pan. Pour the mixture over the chicken. Add carrots, mushrooms, onion, garlic, thyme and rosemary, spreading in an even layer over the chicken. Pour broth over the top.

Cover and cook until the chicken is falling-apart tender for 7 hours on Low.

Stir in peas, cover and cook until the peas are heated through, 5 to 10 minutes more. Season with the remaining 1/2 teaspoon salt and pepper.