A traditional Syrian refreshment, Sharab Tamr Hendi (Tamarind Drink), is a tart yet refreshing juice, sold by street vendors in cultural garb during the summer and Ramadan.
It's time for the MENA (Middle Eastern & North African) Cooking Group. This monthly group has for goal to help us discover the culture and cuisine of the countries found in these parts of the world. The host of the month will choose two savory and a sweet dish from the country and the members pick one dish to make. This month we are off to a country we have all heard a lot about over the last few years: we will explore beautiful but war torn Syria and we will honor it with a Sharab Tamr Hendi, or Tamarind Drink.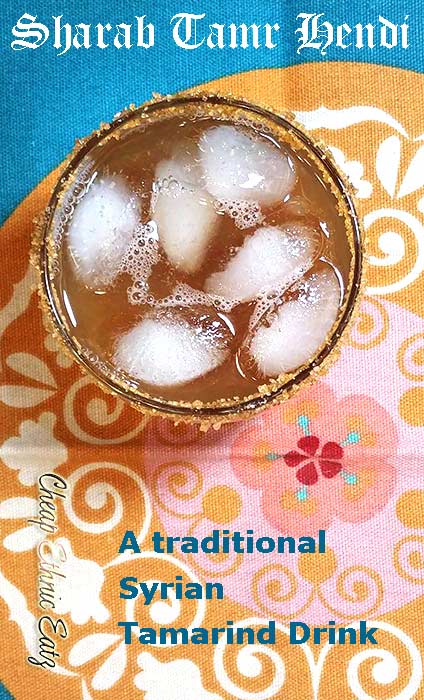 Syria is located in Western Asia, bordered by Lebanon, the Mediterranean Sea, Turkey, Iraq, Jordan, and Israel. The capital Damascus is among the oldest continuously inhabited cities in the world. Syria is populated by a diverse mix of ethnic and religious groups, such as Syrian Arabs, Greeks, Armenians, Assyrians, Kurds, Circassians, Mandeans and Turks. Its history has always been tumultuous, right now it being one of the most dangerous place ever to live in. I am not one to usually delve into political subjects but this time I will make an exception.
Following in the steps of other countries, Syria has been embroiled in an uprising against Assad and the Ba'athist government as part of the Arab Spring. In January 2011, during a protest, a police officer assaulted a man in public and later arrested him. More protests occurred to defend this man. A group of teens protested in the form of graffiti art against the government. These kids were arrested and said to be tortured. All these events, and more, led the country into an ongoing civil war against the Syrian government and other opposition forces. Right now Syria is a country ravaged by human rights violations and massacre. A day does not go by without us seeing on the news stories of more than 5 million Syrian refugees trying to find a better life outside Syria. Those still living there know poor living conditions with little food and clean water. In Canada, we are getting ready right now to welcome 25,000 Syrian refugees within the next few weeks. It's a start.
Syrian cuisine is influenced by the many cultures that have settled over centuries. One will find roots in Islamic, Persian and Turkish cuisine, as well as Levantine cuisines (Lebanese, Palestinian, Jordanian and Iraqi). You will find common dishes like meze (appetizers), kibbeh, kebab, hummus, tabbouleh, fattoush, labneh, shawarma. But also more original ones like Mahshi, fattah, halabi, waraq `inab, mujaddara, shanklish, bastirma and sujuk. Syrians make a huge variety of sweets, like cookies made to accompany their cheeses. A Syrian endemic spice mix called baharat mushakalah is made up of cumin, black pepper, cloves, coriander and many other spices.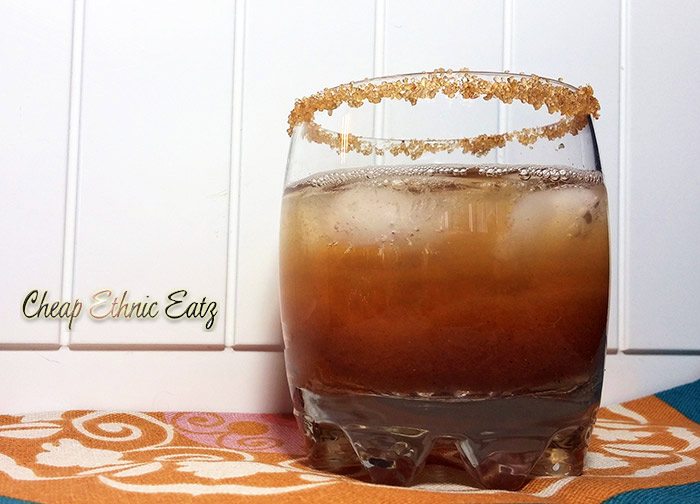 Tamarind is a pod-like fruit known in Arabic as Tamr Henid.  One can use a young unripe fruit – it will have green pulp – in savory dishes or for pickling. At this stage it is very sour. When ripe the flavors mellow but it remains tart in nature. Tamarind can be found in jam, juice,  drink, sorbet, and ice cream recipes, as well as savory dishes and other snacks. Oddly enough, the pulp can be used as a metal polish to.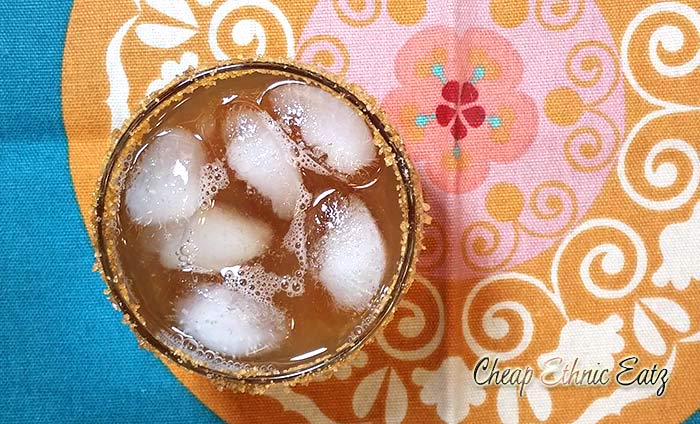 Sharab Tamr Hendi, or Tamarind Drink, is usually sold by street vendors during the summer and also during Ramadan. You will find them walking around the old market places and allies, usually costumed in a traditional outfit. Sharab means a drink prepared with fruit. This tart drink is said to be very refreshing and it claims to have medicinal traits, such as an antibacterial properties.
This tamarind drink recipe was inspired by the one suggested at Orange Blossom Water. I could not find the dried fruit but I did find wet pulp so I adjusted. Thank you to MENA Cooking Club and to our host this month: Joumana.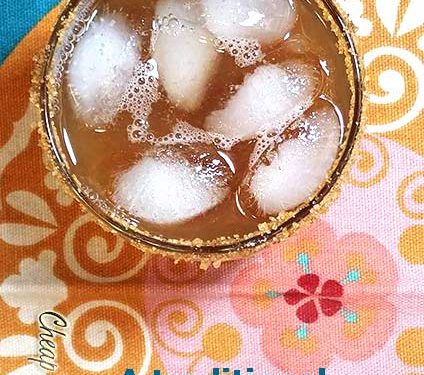 Sharab Tamr Hendi (Tamarind Drink)
Ingredients  
1

cup

tamarind wet pulp

8

cups

water

1/2

cup

sugar

or to taste

1

tbsp

rose water
Instructions 
Break up pulp into smaller pieces. Place the pulp in a saucepan with 2 cups of water and bring it to a boil. Remove from the heat and set aside to cool.

Squeeze the paste with your fingers to loosen it up. Put the mixture in a cheesecloth and tie the ends well. Add cheesecloth to 6 cups of warm water and let it steep for 2 hours.

Squeeze the cheesecloth to extract juice and some pulp.

Stir in sugar and rose water. Chill and serve cold.
<!– start InLinkz script –>

<!– end InLinkz script –>