I am starting to get more and more in the mood to host little dinner parties. Well occasionally so don't expect an invite too soon (talking to my friends that read this lol). Recently we were a nice group of 6 at my place. Only problem is I had 2 vegetarians, 1 sustainable-only meat eater and 3 carnivores. What to make for dinner?
Couscous came to mind as a very versatile dish. And I have no problem with serving a vegetarian only meal but I wanted to have the option to serve meat to those who wanted some. I happen to have a pork roast already cooked in the fridge. For fake meat for the vegetarians I found a baked tofu recipe. It was a hit with all.
I have made many different kinds of couscous in life and they are all unique. This ones is up there on my list now with this roasted vegetable twist. Roasted veggies seem to pack extra flavor and the vegetable selection for a couscous is different. The usual carrots and rutabaga were replaced with belle peppers, eggplant, mushrooms and cherry tomatoes.
I am already craving this dish again!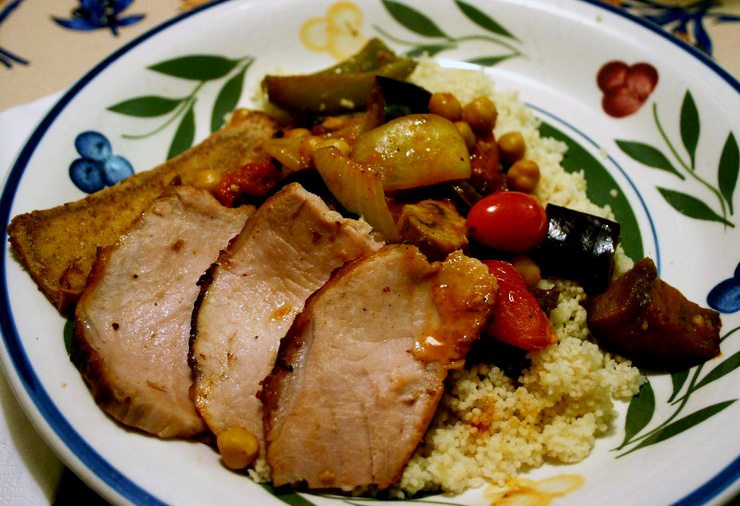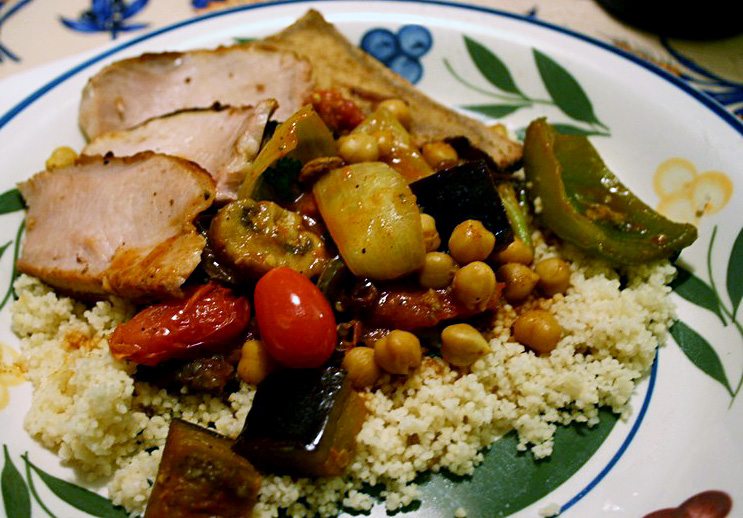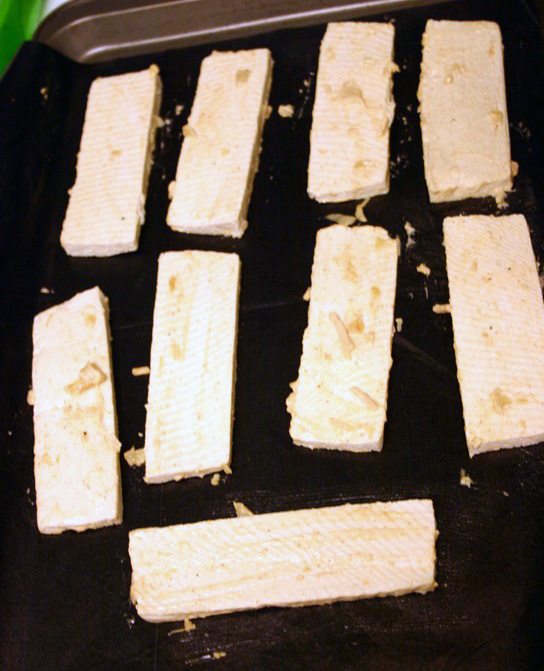 Roasted Vegetable Couscous
Ingredients  
About 6 cups of veggies chopped into bite sized pieces

such as onions, mushrooms, peppers, eggplant, zucchini, and cherry tomatoes

3/4

teaspoon

ground cumin

3/4

teaspoon

ground cinnamon

1/2

teaspoon

ground turmeric

1/4

teaspoon

ground cardamom

1/4

teaspoon

cayenne

3

cups

vegetable stock

1/2

cup

golden raisins

re-hydrated for 30 in hot water and drained

4

tablespoons

tomato paste

1 1/2

tablespoons

grated lemon rind

1/4

teaspoon

salt

1

15 1/2-ounce can chickpeas (garbanzo beans), rinsed and drained

1/2

cup

chopped fresh cilantro

1.5

T

fresh lemon juice

1 1/2

C

couscous
Instructions 
Preheat oven to 375 degrees.

Place your veggies in a medium bowl and drizzle with a little olive oil. Salt and pepper.

Place on baking sheet and roast for about 30 minutes. (If using cherry tomatoes wait and add them to the baking sheet after about 20 minutes)

Put veggies in a large pan. Add to veggies cumin, cinnamon, turmeric, cardamom and cayenne; saute 1-2 minutes. Add stock, and next 5 ingredients; bring to a boil. Reduce heat, and simmer 4 minutes or until mixture thickens. Remove from heat. Stir in cilantro and lemon juice.
Thin slices of pork roast for the carnivores
Ξ Baked Tofu slices Ξ
Slice a block of tofu into 9 slices. Place them on a double layer of paper towels and place another double layer over them. Press firmly with your hands to remove as much moisture as possible. Preheat oven to 425 F. Place a silicone baking mat on a cookie sheet or oil a long, rectangular baking dish. Brush one side of each slice of tofu with a thin layer of sauce and place it on the pan sauce-side down. Spread remaining sauce on the tops and sides of the tofu. Bake for about 25-30 minutes, until tofu is firm and just beginning to brown at the corners.