As the New Year flows in
May you soar ever higher
Reach greater heights
And find happiness in everything you do
Happy New Year to all of you!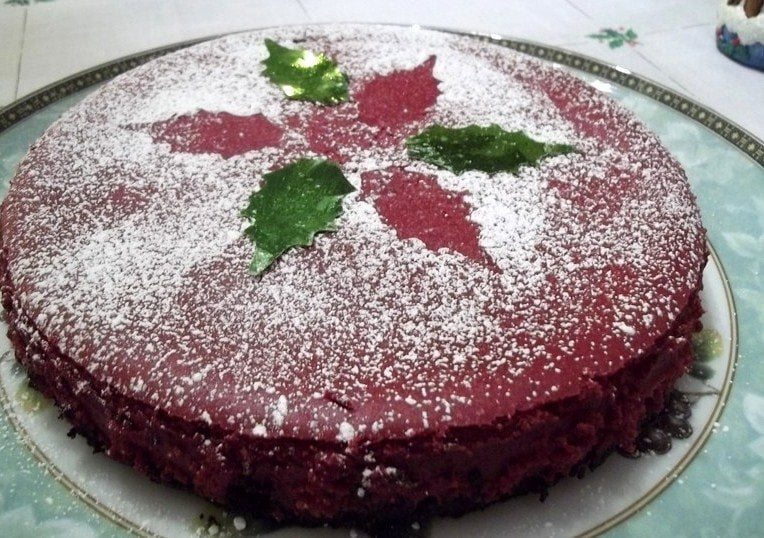 I hope you have been enjoying the holiday season and have spent many happy moments with loved ones.
If you are like me and are always put in charge of the dessert for a celebration, after a few years it can become a daunting challenge. Every year I ask myself how can I top of the cakes of past, impress with more extraordinary pies, makes mouths water like never before.
As I was perusing hundreds of recipes online I finally fell on one I knew would be the winner for this year. I saw this Red Velvet Cheesecake on the blog of The Squishy Monster and I knew I had found my cake! We are all fans of cheesecake and I love anything red velvet. The combination was perfect.
She posted this recipe a bit before the holidays and now this is my New Year post. Ironically we both posted a recipe about drunk Gummy bears! I posted earlier and the Gummy bears are her New Year post. As you said my dear friend: great minds think alike.
I made 2 changes to the recipe: I used 3 tbsp of cocoa instead of 2 because chocolate rules, and I used an 8 inch pan instead of a 6 in one. For decoration all I did was sprinkle of sugar powder just prior to serving. It may be on my top 3 of best cheesecakes ever and it was incredibly moist and not to sweet.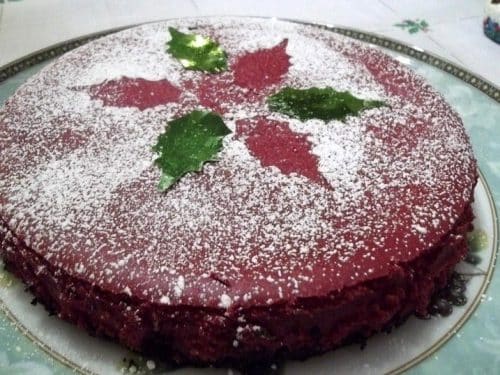 Red Velvet Cheesecake
Ingredients  
2

blocks

8 oz soft room temperature Cream Cheese

1

c

Sugar

1

ts

pure Vanilla

1/4

c

Sour Cream or Buttermilk

2

room temperature Eggs

3

tb

sifted unsweetened Cocoa

1

ts

Vinegar

2

tb

Red Color

1

c

crushed Cookies/Crackers

6

tb

melted Butter
Instructions 
Make sure your cream cheese is very soft and break it apart with your mixer. Blend together with your sugar and vanilla for about 5 minutes until light and fluffy.

Tip in your cream/milk and slowly crack in one egg at a time. Blend well.

Sift your cocoa and sprinkle it in.

Pour in your vinegar and color. Blend well. Make sure not to over beat to prevent incorporating too much air.

For the crust, press together your crumbs and butter onto the bottom of a 8 inch spring form pan. Bake at 350 for 6-8 minutes. Cool completely and pour in your filling.

Wrap your pan in foil and place it in a larger dish/pan. Fill with hot water and allow it to reach half way up its side.

Bake your cheesecake at 350 for 1 hour to 1 hour and 15 minutes. Allow it to cool for at least a couple hours before setting in the fridge overnight.