Summer bounty is the perfecting time for early harvest pickles. Here is a super cute Pink Garlic Dill Pickles made with just an added touch of beet.
The Food N' Flix pick this month was another major flashback from the past with Dirty Dancing.  The biggest food moment of the film is when Baby says to Johnny: "I carried a watermelon." So not the first line you want to say to your heart throb. A watermelon recipe would have been the perfect choice … but my promiscuous twisted mind does not work that way. I went with a pickle reference and I came up with a pretty Pink Garlic Dill Pickles for your summer picnic table.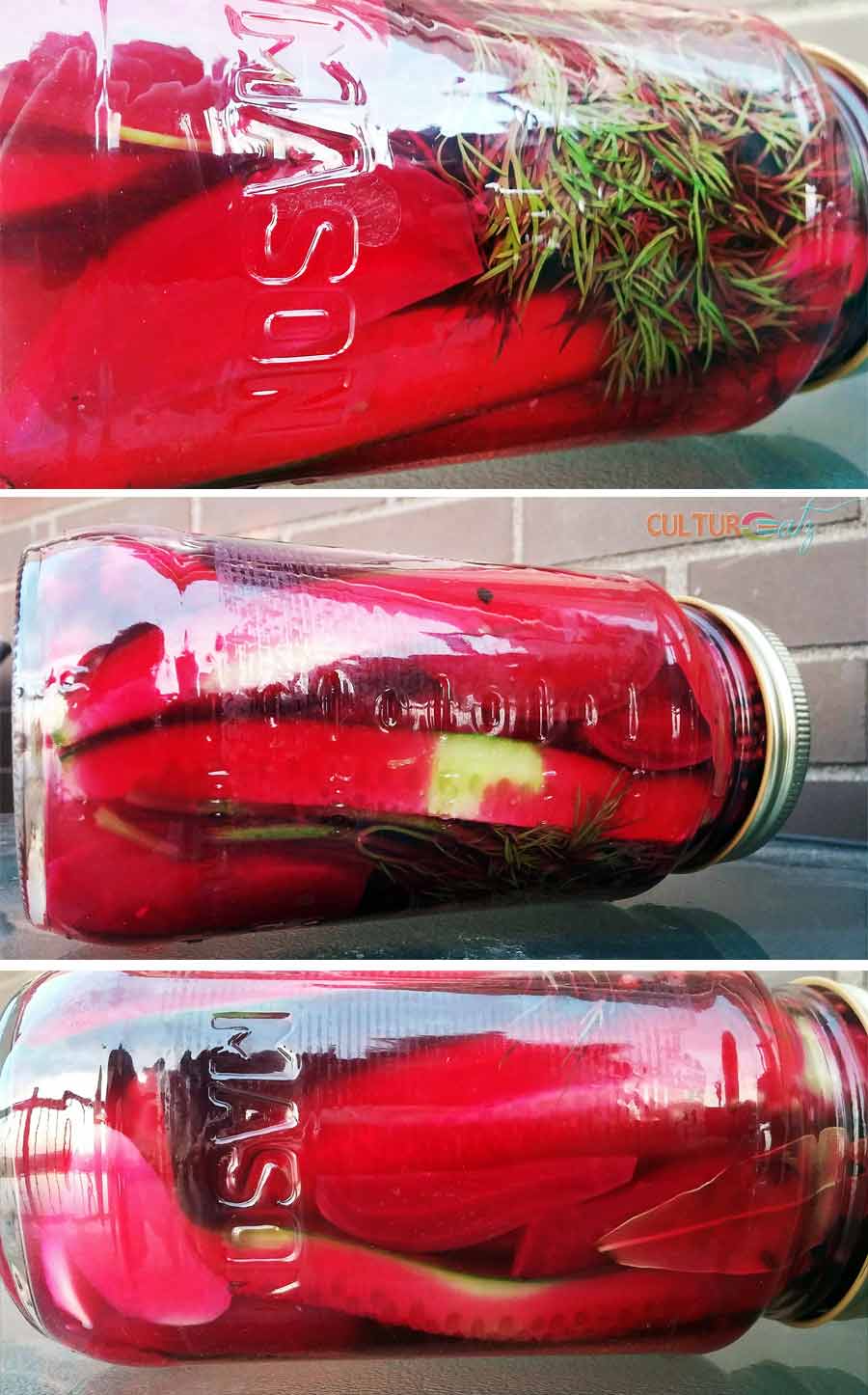 Dancing with Swayze
The epic movie of my youth! Please tell me you have all seen Dirty Dancing? If you have not there are five of you….on the planet. I am sorry but there is no way I am going to go into the description of the plot. If you do not know it, you do not deserve to read this post 😉 Kidding, you can keep on reading. Let's just say it is all about young love ad sexual angst, with some dancing. The story is set in 1963 but it was way ahead of its time in sexual innuendos I think even for when it was filmed in 1987.
Yep, it's the 30th anniversary. Anyone else feeling a bit older? I had a pang of nostalgia seeing the movie EVERYONE was talking about at the time for months and months on end. And seeing the late Patrick Swayze young, alive, and dancing his heart out. Also, Jennifer Grey still has her original nose.
No Kitchen Steamy Scenes
I actually only saw the movie on VHS (remember those) a couple of years after it came out because I was 13 when the film was released and car-less in the suburbs. So I was just a tad too young and not really going to the movies yet. This was only the second time I have seen the movie in my life. It is cute but I am not such a chick flick gal…but it was fun to see it once again.
There is little food in here, really little. You see hints of food in the dinning room, but it is more in the dialogue, such as:
"I carried a watermelon."
"Robbie, Baby wants to send our leftover pot roast to Southeast Asia, so anything you don't finish, wrap up."
"I didn't blow a summer hauling toasted bagels just to bail out some little chick who probably balled every guy in the place."
"Last month, I'm eating Jujubes to keep alive, this month women are stuffing diamonds in my pockets."
Spaghetti arms comment and the grapefruit vs full breakfast scene.
From Sex to Pickles!
I have a feeling everyone will run with the watermelon line for the challenge. And you know I don't like to follow the pack. So my pervert mind stuck with a line Patrick Swayze says: "Just put your pickle on everybody's plate, college boy, and leave the hard stuff to me."
Oh my, that was crude. Did he just compare college boy's junk to a small pickle? And that he has the means to satisfy the ladies properly? Naughty! Yeah so I am going with a pickle recipe! Garlic Dill Pickles!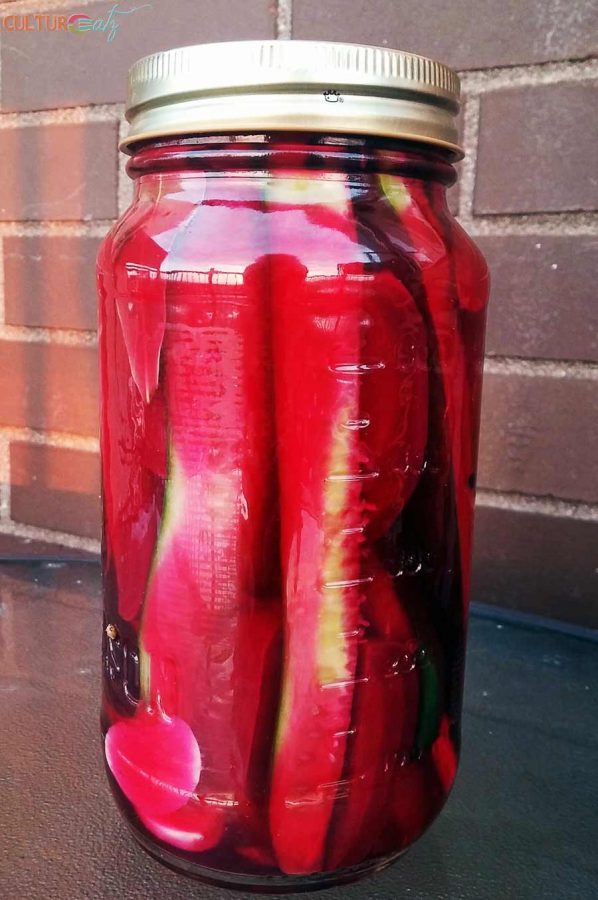 Food 'n Flix is hosted this month by Sarah at Chef Sarah Elizabeth! In this monthly group a host picks a movie of their choice that pertains to food. Everyone watches the movie and then makes a recipe which the film inspired. It can be any recipe you want. Join us!
I was pickled pink, oops I mean tickled pink, with the idea of a pink pickling recipe. I just took a standard dill pickle recipe and added a bit of beet. Voilà I got a gorgeous color out of it.
And did you notice that my Pink Garlic Dill Pickles are the exact same color as a watermelon too? My evil plan worked!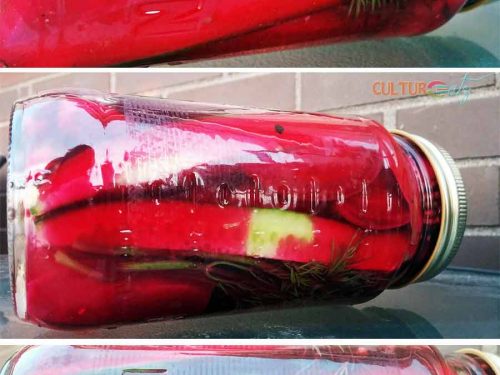 Pink Garlic Dill Pickles
Ingredients  
1

quart

mason jar with lid

4-5

kirby cucumbers

or 3-4 mall cucumbers

3-4

cloves

garlic

1

tablespoon

coriander seeds

1

tablespoon

sugar

2

dried bay leaves

1/2

teaspoon

whole black peppercorns

1½

tablespoons

kosher salt

1/2

cup

raw apple cider vinegar

1/2

cup

white vinegar

1/2

small beet

cooked and cut in 1/2 sticks

5

sprigs fresh dill

water
Instructions 
Clean the mason jar very well and air dry.

Cut the cucumbers into quarters lengthwise and cut the garlic cloves in half.

In an small pan, mix coriander seeds, sugar, bay leaves, peppercorns, kosher salt and the vinegars. Heat on low ans stir until the sugar and salt are dissolved.

Tightly pack the cucumbers, beet sticks, garlic, and sprigs of fresh dill in the mason jar.

Pour the vinegar mixture over the cucumbers. Tap the jar a bit on the counter to release any air bubbles and top off the jar with the water.

Screw the lid on the jar tightly and give it a shake. Keep in the refrigerator for 48 hours before tasting. The pickles will last up to two months in refrigerator.
PIN IT FOR LATER ! https://www.pinterest.com/pin/266275396701766564