If Peter Piper picked a peck of pickled ginger how many pickled gingers did Peter Piper pick?
This is the one English tongue twister that rolls of my tongue with ease. Well with peppers which I switched up for ginger. For this month's Creative Cooking Crew challenge we were challenged to pickle something and then use our pickle in a recipe. Can you guess where I got this idea? Yes when I last ate sushi! I pickled my own ginger and then used it for my version of a Japanese salad: a Cucumber Carrot Ginger Salad.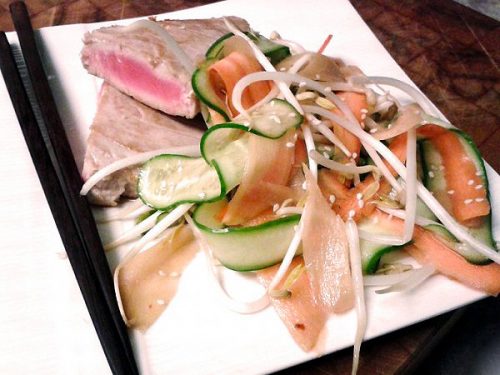 There are tons of recipes for pickled ginger, Gari in Japanese, but I chose this one for ease and for a special trick to get the right color. A real pink hued pickled ginger will be made with young fresh ginger…not always the easiest thing to find. Many companies today use older ginger and put in an artificial dyes. I used a natural dye with a slice of beet. I put less in than the original recipe and I got a lovely soft pink color.
Pickled ginger is not just a condiment, it actually has several purposes. The ginger takes the role of a palate cleanser when served in between dishes or different foods on one plate. But initially pickled ginger was served to protect the digestion from bad fish since it acts as an antiseptic. Finally ginger is also a wonderful digestive aid for a troubled stomach.
[mpprecipe-recipe:421]
Thank you Lazaro Cooks and Foodalogue for this month's fun challenge. Check out what the other members have created on our Pinterest board by clicking on the banner below.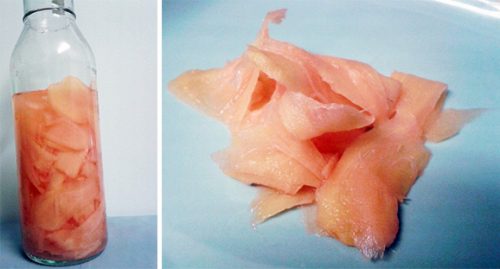 What a delightful and quick salad, very fresh and zesty. I loved the flavorful bite I got from the ginger slices and sambal oelek. Get your vegetable peeler and make pretty strips with small cucumbers and a carrot for a modern and fun look. This salad goes perfectly with chicken, fish or seafood. I served my salad with a nice seared pink tuna steak. A great match.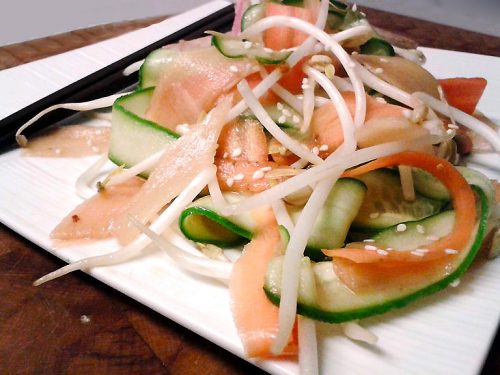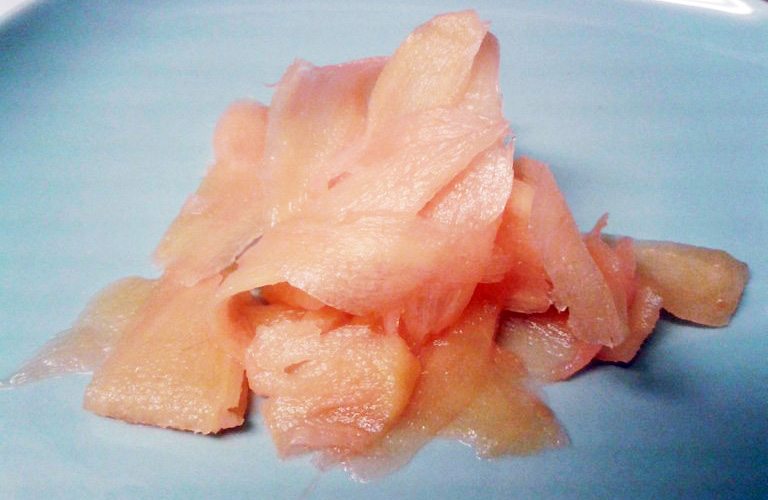 Cucumber Carrot Ginger Salad
Ingredients  
3

small cucumbers

like a Kirby or Lebanese

1

large carrot

1/4

cup

pickled ginger

1

cup

bean sprouts

1 1/2

tbs

soy sauce

1

tbs

rice vinegar

1

tbs

mirin

3/4

tsp

sesame oil

1/4

tsp

sambal oelek

dash of salt

Sesame seeds
Instructions 
Use a vegetable peeler to slice cucumbers and carrot into ribbons. Place in a large bowl with the pickled ginger and bean sprouts.

Combine the vinegar, mirin, soy sauce, sesame oil and chilli in a jug and whisk with a fork until combined. Drizzle over cucumber mixture and toss to combine. Sprinkle with sesame seeds.