I am still here and standing tall as a contestant in the Project Food Blog and ready to roll up my sleeves for round 3. But first I want to send a warm and adoring thank you to everyone who commented, supported and voted for me so far. Mouah !!!
200 contestants remain out of 1,889 original participants. The challenge for the 3rd round is as follow: hold a Luxury Dinner Party for your friends and family (at least four guests). Get creative and host a luxurious dinner party where your guests will discover new tastes and exotic flavors. Voting will begin Monday, October 4th 9 am EST, I hope I can count on YOU to vote here for me.
Now hop on and let me take you on my dinner planing ride: a Jeweled Flavor Pairing Delight!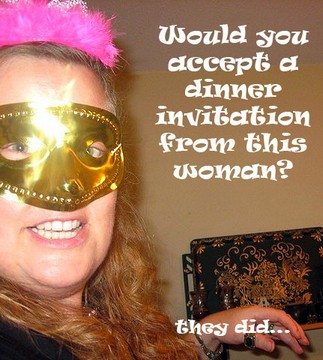 First off sit down, take ten very deep breaths and relax. Have a glass of wine (or two or three).
Is there a theme to your dinner party? A birthday, a celebration, an event, a holiday, maybe a particular person? Just deciding this factor will steer you in a right direction. If it is a Bon Voyage dinner you can cook dishes form the country that will be visited, if you are celebrating a person's birthday and you know they live for chocolate you can plan a menu around this ingredient.  For this dinner I decided on a paired theme: jewelery and molecular gastronomy, specifically food pairing…we'll cover that more later.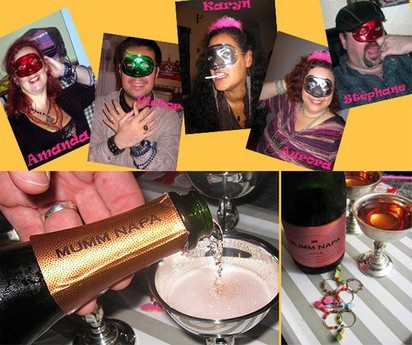 Great you know your theme but now you need people to enjoy this planned feast. Who should be present at your event? If it's a birthday party invite friends and family of the birthday person. Maybe it is an engagement party, then stick to close friends and family that WILL be invited to the wedding. A work event, invite colleagues. Make sure all the guest have a common link. Do not invite your two highly obsessed political friends who follow extreme opposite parties. For my dinner I rounded up some foodie friends: 2 fellow food bloggers, 1 pastry chef and 2 foodies. Now go email, facebook, text, call them about the time, date adn location. Keep a list of attendees.
And also do not be shy to ask for something from your guest POLITELY. You will be spending a great amount of time, energy and money preparing a feast. It is perfectly alright to request something from them. Perhaps they will be asked to bring wine, contribute financially or bring something theme related. I asked my guests for wine and for loud and large jewelery to fit my theme. The ladies brought earring, necklaces and big rings. Aurora went all out and brought bead strings, masks and tiaras. Everyone…even the guys…got into it and jeweled themselves up. Stéphane arrived with a wonderful rosé bubbly for a pre-dinner cocktail.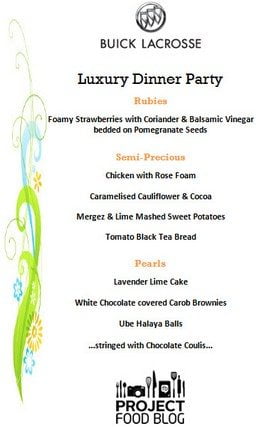 OK you really have the ball rolling now. Time to select which dishes you will serve. Stay within your theme. Perhaps you have a cookbook that fits your theme, a set of written down recipes from family and friends, and of course the Internet. I already new what my dessert was going to look like so I searched online for individual specific recipes. But for my appetizer and main dish I had an unfamiliar concept: food paring. So I researched many websites dedicated to this style of cooking and eventually found all the recipes I needed to complete my meal. I bookmarked all my sites as reference. And WRITE DOWN your menu on paper. I am a list freak so lists bring me comfort.
Next is preparing a shopping list. Here is my little tip. I open a new Word document and I copy paste all the ingredients of each recipe I will make. Then I delete all the ingredients I have at home already. Next I match up same ingredients…maybe you need 2 eggs for you bread and 3 for your cake. I write one line for 5 eggs and delete the extra line. By that end of my exercise I have my shopping list…but do not print it yet.
A note on food allergies/restrictions: ask your guests if they have food allergies, diet restrictions or other. If uncle Bob is fickle about onions well to bad for him but if cousin Vinny will keel over and die from a peanut…do not include peanuts. I recently had a small dinner party with 1 guest who required a dairy and gluten free meal and another guest a vegetarian. That was a challenge! For this specific event only Amanda had a request: meats had to be organic and of a know source. She said she would not eat meat and make do if I could not accommodate or offered to chip in financially. I was happy to oblige her request in exchange for a lovely dessert wine.
Foamy Strawberries with Coriander & Balsamic Vinegar bedded on Pomegranate Seeds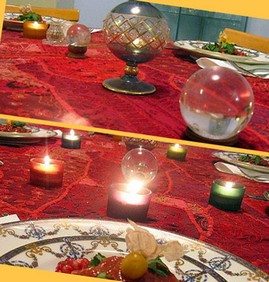 You are almost done with the preparation stage, there is just one more thing: the table and decoration. Do you plan on putting up balloons and streamers? Will you buy themed nick-knacks, have party favors, running low on candles, how about paper napkins, need flowers for the table? If you need to buy anything add this to your grocery list. Now you can print your list and go shopping, I recommend at least 24hrs BEFORE the party.
A note on table decoration: less is more! All my dishes had a round or sphere component. I kept my decor very simple by lining up two crystal balls and a perfume bottle I had. Every place setting also had 1 round tea candle in front of it. I love my everyday table cloth which is a brilliant red tapestry my cousin brought me back from India so I just shook up the crumbs. For tableware I found my grandmother's wedding Limoge porcelain set appropriate, as well as her sterling silver goblets.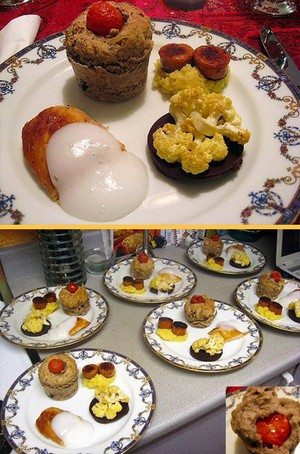 Ready set, COOK! Sit down for 5 min and figure out which recipe will take longer, which one you can whip up in a flash, which ones you can prepare ahead of time and which ones can only be made last minute. Then cook, cook, cook and keep it fun. Food tastes better when it is made with love. I was lucky  could prepare everything beforehand this time and only had a few items to reheat all together on a very low set oven. My only big job to do during the event was the plating. Keep as little as possible for when guests are there. Usually you can set your table as something is cooking in the oven. Ty to get everything done 30 min before the guests arrive so you can relax, pretty yourself up, wipe the batter off face and sit…take ten deep breaths. Oh the door bell rang.
Caramelized Cauliflower & CocoaTomato
Black Tea Bread
Mergez & Lime Mashed Sweet Potatoes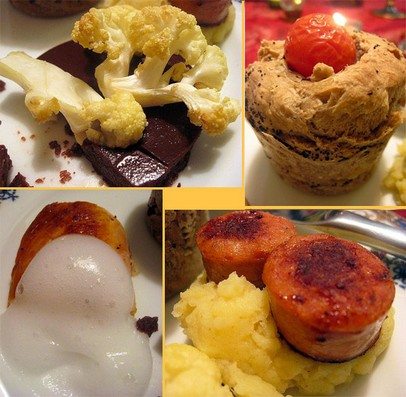 Two of my services revolved around food pairing or also called flavor paring. This could be classified as a branch from molecular gastronomy. The theory here is that about 80% of our tasting experience comes from smell, not taste. Hypothesized conclusion: foods that share volatile molecules might taste good when combined. The concept was taken to the chemistry lab and proved right by François Benzi, scientist, and Heston Blumenthal, chef of The Fat Duck.
The food combinations can seem ridiculous but with a shared volatile molecules they can actually be a perfect match. Examples include white chocolate and caviar, mango and pine extract, and liver and jasmine. I thought this concept would be the ultimate foodie exploration meal. If you want to learn more check out Food Pairing and Khymos. The food pairings explored where:
strawberries and coriander: a hit
cauliflower and cocoa: a bit hit
lime, spicy, meat: a big hit
chicken and rose, a miss
black tea and tomatoes: OK.
Here is one recipe for you to try out:
Caramelized Cauliflower & Cocoa recipe
Cut cauliflower in 1 cm slices. Spread them on aluminum foil. Sprinkle with olive oil and salt. Bake in oven at 200 °C for approx. 30 min (turning the slices after 15 min). For the jelly, bring 100ml of water to the boiling point. Add 1 ts of agar-agar, 1 ts of sugar and 1 TS of cocoa powder. Mix well, pour into a suitably sized container and leave to set. Cut jelly into pieces and serve together with caramelized cauliflower.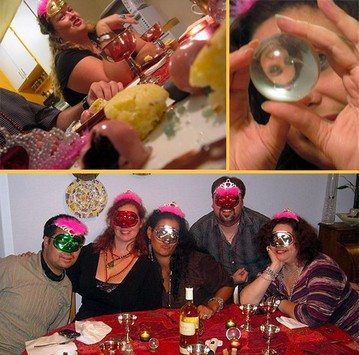 I have revealed all my dinner planning secrets to you, in theory. In practice nothing usually goes as planned. Be ready with a flexible schedule. I got my cooking started pretty late and was in a panic several times. When I saw my bread not turn out perfectly I got discouraged. But after I did my strawberry mousse and loved the taste I became happy again. And by the time the guests arrived I did not have my 30 min of calm but everything was ready. I could relax and have fun.
We played jewelery dress up while sipping our bubbly. I only excused myself briefly for my plating. Everyone was happy to wait a bit for taking pictures. We laughed, made stupid jokes, talked food and had a blast. We even got the guys to put on the tiaras for a picture! Of course 5 bottles of wine helps. Be ready also for your guests to do the unexpected…like set a paper napkin on fire in this case lol. No damage done as we got the napkin in the sink and dowsed fast enough. We laughed it off.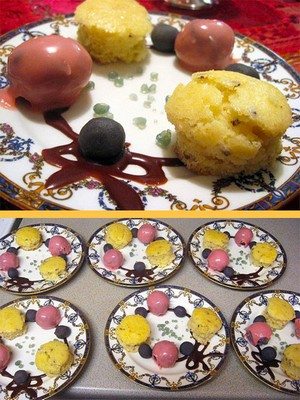 White Chocolate covered Carob Brownies
…stringed with Chocolate Coulis…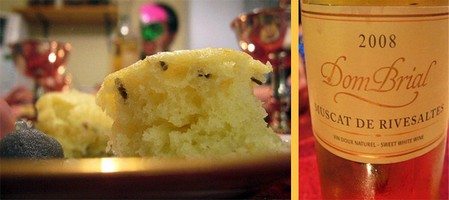 The dessert wine was phenomenal. Here is where the jewelery props comes in. I made up my dessert to look like a colorful pearl necklace. Giving your guests a task before or during the event puts them in the mood and lightens up the atmosphere. Also playing jewelery dress-up during the cocktail broke the ice. Below is a morning shot with our bottles, props and jewelery.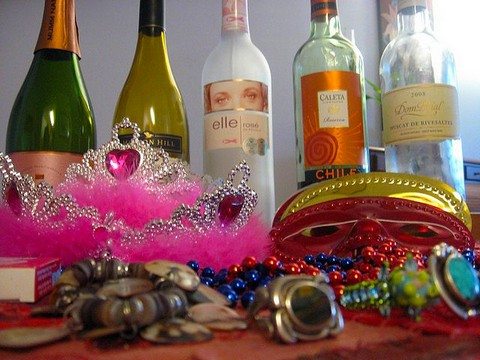 Now you can make the best meal on earth but taste remains subjective. Accept compliments and criticism with a smile and open mind for improvement. I asked my guests to send me a critique of the dinner if they had time…..
Aurora wrote a haiku:
tripping tastefully
through my tastebuds – such goodness
sweet nectar and wine
From Karyn:
…Not only was it interesting with the components, but also a visual treat and a well thought out theme. Evelyne thought of it all, including asking the guests to bring big bling jewelry, to match the theme.
My favorite was definitely the cauliflower and cocoa combination. It is quite surprising how they have an exact connection and you can't really tell which one you are tasting in your mouth at each moment. In second place for me, comes the sausage and sweet potato. The lime and the sausage really to go perfectly well together and pulls out the sweetness in the sausage.
Dessert was a beautiful necklace on our place. The brownie and potato balls were a nice not too sweet finish to our elaborate meal. If I had to pick my least favorite part, it would be the grape balls.. they seemed more tough than they should have been, and Evelyne did mention that she had issues with that recipe.
From Victor:
I really appreciated this unique dining experience and enjoyed these "molecular" ingredients that I heard of it but never tried it. For the appetizer, I love the presentation. The combo with the fruits and coriander gives an interesting and delicious taste.
For the main, I do feel that the components in the dish are seen as individual components instead of a harmony. I would say that the potato-merguez combo is what I like the most. I enjoyed the potatoes with a kick of spiciness and sourness along with the merguez to calm the heat down. As for the bread, I don't really taste any black tea but I enjoyed the taste of bread with cherry tomatoes. As for the rose foam, I have to admit that I didn't really like the taste.

Finally, the dessert is where I felt a large harmony and balance of all components with lovely chocolate ribbon to show it off. The dessert was not TOO sweet which is good for me as I'm not a sweet person. This dessert would not be enjoyable without the lime-lavender cake. I like to take a bite of a sweet component and balance off the sweetness with a neutral component. This dessert is a great hit and could be served in a 5-star restaurant.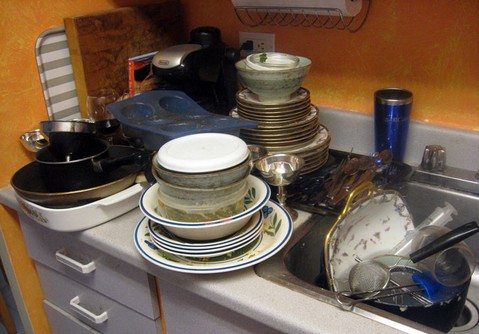 All said and done it was an amazing evening in fabulous company and I think an overall success food wise. Now all I need is a dish washer slave! Ugh, my least favorite part of a dinner.
Voting is open, I hope I can count on YOU to vote here for me.
Organized by Foodbuzz, "the Project Food Blog is the first-ever interactive competition where thousands of Foodbuzz Featured Publishers are competing in a series of culinary blogging challenges for the chance to advance and a shot at the ultimate prize: $10,000 and a special feature on Foodbuzz.com for one year".