Reminder: please cast you vote for me to be the next food blog star! Just click this link to my official entry. Thank you! Voting end Sep 23rd 6opm PST, hurry!
I have a wonderful particular group of friends which is made up mostly of culturally curious characters. We always end up doing fun and different things. The last was a free cruise in the Old Port. Yes free! One company this summer had a free 45 min cruise on Fridays from 5h45 to 6h30. Great cocktails but very expensive (to make up for the free part).
When we left the boat we all had a rumble in our tummy. O suggested a place we had all heard about from him several times: a great place in Chinatown that serves a great 3 service duck meal for super cheap. It was a unanimous YES so all 10 of us marched towards Chinatown.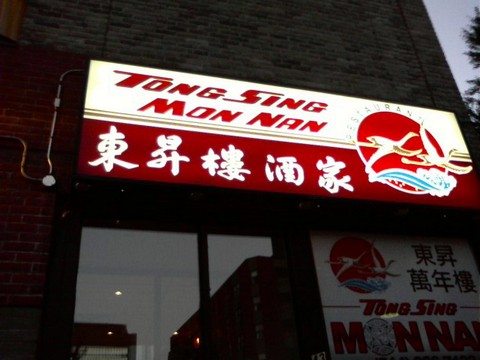 The restaurant Mon Nam is on the quiet end of Chinatown, it would be easy to never see it. Mon Nam is totally bland from the outside and decoration wise from the inside. Looks like any other Chinese restaurant. I perused the menu quickly even if we were not ordering from it. You'll find all the usual dishes plus a few unexpected ones. But we were here for duck! O took care of ordering for everyone. Once again, just cell phone pics, sorry.
1st service: Duck Soup
A nice flavorful light broth served with chunks of tofu and duck bones with a little bit (a tad) to nibble off.
2nd service: Peking Duck Crepes
A huge plate of sliced Peking duck with a nice crispy skin was brought to the table. Then came the Mandarin crepes with the Hoisin sauce dish, green onions and shredded pickled carrots. You make your own stuffed pancake and try to eat them with your fingers without making a mess.
3rd service: Duck noodles
I did not get a pic of the noodles. A very brown dish that does not looks special. Oh but the taste, very good and a bit sweet.
The service is quick and nice enough. The price for 3 duck services…with tax and tip…12,50$ per person. I know, sounds impossible but true! Totally recommend it. Ask for the duck 3 course service.
Mon Nan Village
43, Rue de la Gauchetiere corner St-Laurent
Montreal, Québec, H2X 1P4
Tel. 514.866.7123