Well this is a very exciting day and this is the first post of the year involving not one monthly group but two! I will also be at work this morning after some time off, boo to that! Oh well the holidays are over and real life has to sink back in. Great food will make everything nice.
So as I mentioned before, today we have a combined entry for two groups I belong too….
The first is my group's reveal day for the Secret Recipe Club. What is the SRC? Basically you are assigned a fellow participant's blog by the organizer and then you pick a recipe of your choice from that blog and make your version of it. But it is a secret, you cannot reveal whom you picked and what you made until the established posting date and time.
The second is a brand new re branding you could say. The old 5 Star Makeover is now the Creative Cooking Crew which is hosted by Lazaro Cooks and Foodalogue. One of the former leaders decided to take a bow for personal reasons so we thought it was a great chance to give this fabulous group a makeover.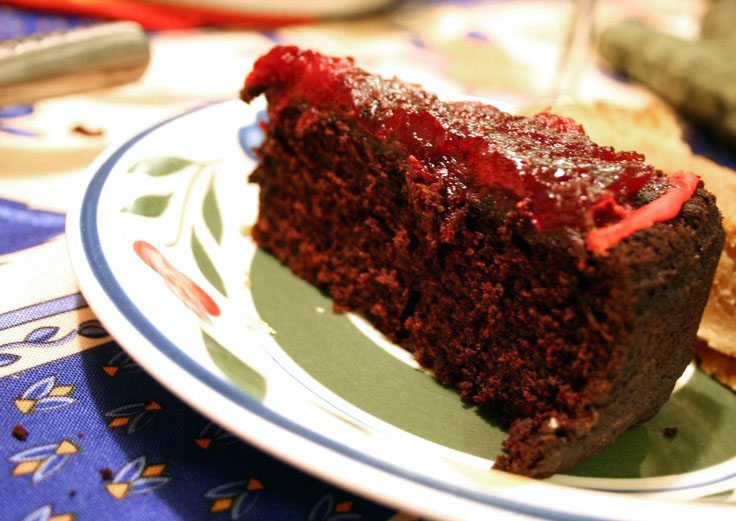 For SRC this month I was assigned the blog by Barbara called Barbara Bakes. So many tempting recipes as Barbara is a big baker of delicious goods. It is always a debate as to which recipe to showcase. Well 3 days ago I was hosting a small dinner party at home so I concentrated on her dessert recipe index. I really liked the sound on the Old-Fashioned Chocolate Cake with Maraschino Cherry Filling one but I am not into 2 tiered cakes anymore so I adapted the recipe to make 1 layer. I also kept the idea of the fruit topping but I am not over my cranberry obsession so I swapped them instead of cherries.
And imagine my surprise when I realized this cake had zero eggs or dairy! It is actually a vegan cake. And wouldn't you know it this month's theme for the Creative Cooking Crew is Vegan. This group is very gourmet, especially in presentation. Now I may bake well but my cake decoration skills are pathetic. See I tried to do a red and green border with icing and I can't even keep my lines straight lol. Well I hope the fact that I present an actually great tasting cake that is vegan will be gourmet enough. I would not have guessed otherwise. The secret is the bubbling reaction between the baking soda and vinegar.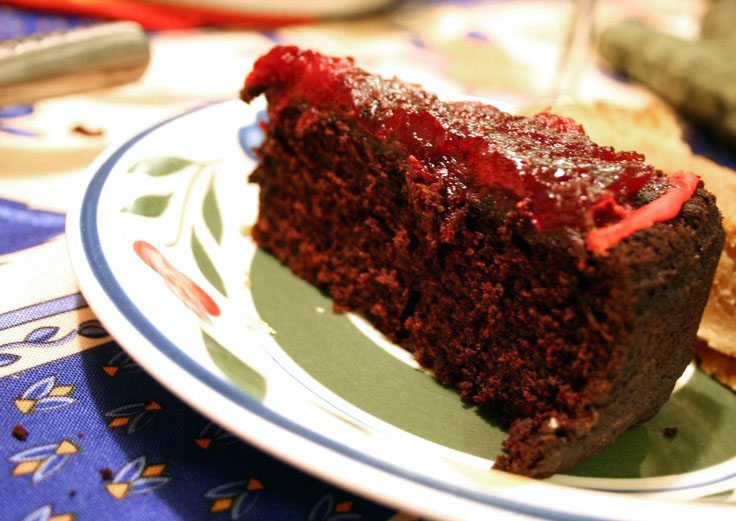 Old Fashioned Chocolate Cake with Cranberry Topping
Ingredients  
1/2

cup

all-purpose flour

1

cup

sugar

1/3

cup

unsweetened cocoa powder

1

teaspoon

baking soda

1/2

teaspoon

salt

1 1/4

cup

hot water

1/3

cup

vegetable oil

1

tablespoon

distilled white vinegar

1/2

tablespoon

instant coffee granules

1/2

tablespoon

vanilla extract

2

cups

fresh cranberries

3/4

cup

sugar

1/8

cup

balsamic vinegar

1/8

teaspoon

cinnamon
Instructions 
Preheat oven to 350º with rack in the center. Spray an 8inch round cake pan with non-stick spray.

Whisk together flour, sugar, cocoa, baking soda, and salt in a large mixing bowl.

Combine water, oil, vinegar, instant coffee, and vanilla in a large measuring cup.

Add to the dry ingredients and whisk just until combined, a few lumps are OK and the mix will be dense.

Poor into pan, then bake until a toothpick inserted in the center comes out clean, 35-45 minutes. Cool cakes on a rack for 15 minutes, then invert onto the rack. Leave cakes upside down (this flattens domed cakes) to cool completely.

In the mean time in a small saucepan combine all topping ingredients and cook over medium-high heat, until cranberries start to release their juice and the liquid thickens and becomes syrupy, 6-7 minutes; cool until needed.