This is the perfect time of the year to be recipe hunting. I will have 2 family gatherings and I will have to bring a dish to each event. I have my favorite finds bookmarked in a special folder. This month's Love Bloghop is focusing on Nuts. A perfect choice for a holiday treat.
I came across these Deluxe Nut Bars and I knew I had a winner. Bars are a great recipe to prepare for a holiday gatherings because you can make them ahead of time, freeze them if you have too, and they are so much easier to carry then a cake!
I made one single change to this recipe. I added a layer of chocolate between the base and the nuts, really good move if I do say so myself. And I am giving you the full recipe for a big pan but I made half the recipe and baked the bars in a small loaf pan. Keep that in mind as you look at the picture.
So I have a confession to make. I honestly cannot remember the last time I made dessert bars. I use to make them all the time as a teen when I started baking. But I had no desire to make bars for the last years. It was not exotic enough I guess. Well after making these I remembered another reason why I stopped making them. They are to good, so deliciously sweet and filled with calories! Is there a food or recipe you have not prepared in a long time, and why?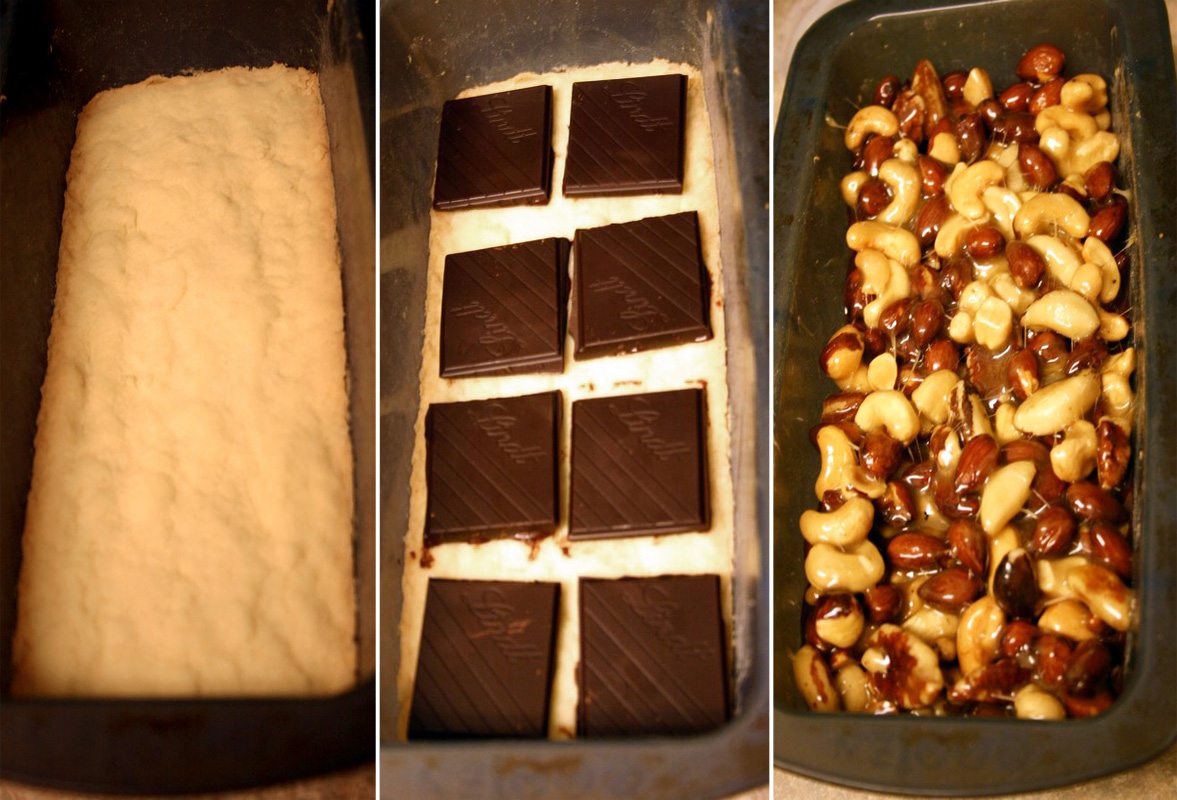 Deluxe Nut Bars
Ingredients  
2

cups

all-purpose flour

500 mL

1

?3 cup granulated sugar

75 mL

1

?4 tsp salt

1 mL

1

cup

unsalted butter

cut into pieces (250 mL)

3.5

oz

100 gr 70% cocoa fine chocolate bar

2

?3 cup light

golden corn syrup (150 mL)

1

?2 cup packed light brown sugar

125 mL

1

?3 cup unsalted butter

cut into pieces (75 mL)

3

tbsp

whipping

35 percent cream (45 mL)

4

cups

mixed nuts
Instructions 
Preheat oven to 350 degrees F (180 degrees C). Line a 13x9-inch baking pan with foil and grease with butter.

In a bowl, whisk together flour, granulated sugar and salt until well combined. Using a pastry blender, a fork or your fingers, cut in butter until evenly combined. Mixture will resemble coarse crumbs and start to come together. Using the back of a spoon or your fingers, press crust evenly into bottom of prepared pan.

Bake in preheated 350 degree oven for 18 to 20 minutes or until lightly golden.

Break the chocolate bars into squares and cover the crust. When the squares have melted push down on them a bit to spread the chocolate. Let cool completely on a wire rack.

In a large saucepan, over medium heat, heat corn syrup and brown sugar, stirring constantly until brown sugar is completely dissolved. Bring to a boil. Boil for 2 minutes without stirring. Add butter and cream. Boil and stir for 1 minute. Remove pan from heat and stir in the nuts. Spread nut filling evenly over cooled crust.

Bake for 20 minutes. Let cool completely in baking pan on a wire rack.

Using foil, lift cooled bars from pan and place on a cutting board. Cut into small bars.
December is #nutlove month!
Please join in on the #nutlove fun by linking up any nut recipe from the month of December 2012. Don't forget to link back to this post, so that your readers know to come stop by the #nutlove event! The twitter hashtag is #nutlove :). Here are my fellow co-hosts…
Badger Girl Learns to Cook ~ Kimberly
Cheap Ethnic Eatz ~ Evelyne
Rico sin Azúcar ~ Helena
Teaspoon of Spice ~ Serena
The Girl in the Little Red Kitchen ~ Susan Palmer
The Spicy RD ~ EA Stewart
Vegan Yack Attack ~ Jackie S
Baking and Cooking, a Tale of Two Loves– Becky
No One Likes Crumbley Cookies ~ T.R.
Pippis in the Kitchen Again ~Sheila