Finally! My long promised post of the Raclette dinner party! A few weekends ago I had a little dinner party at my place with my 7 closest friends, making us a total number of 8. Eight was the crucial number. My friends came over for a Swiss Raclette dinner and the Raclette machine we used had 8 trays, one each. If you do not know what a Raclette is, imagine cut up potatoes, veggies, sausages, etc placed on a little tray which is covered with a slice of semi-firm cow's milk cheese and then placed under a heat source to make the cheese melt. It is a really fun thing to do and the wine flows very easily.
So you can have a very traditional classic Swiss Raclette…or you can do like me and choose lots of stuff making it very nontraditional. I used a lot of different cheeses instead and prepared a variety of foods to add to each tray. I'll go through my list below with you all. A lovely salad is great to serve as well. For dessert we had a Cherry Clafoutis which I blogged about already. Sorry the pics are not the best. Still learning how to use my new dslr and action shots or food shots on a shaking table will take a bit more time to learn.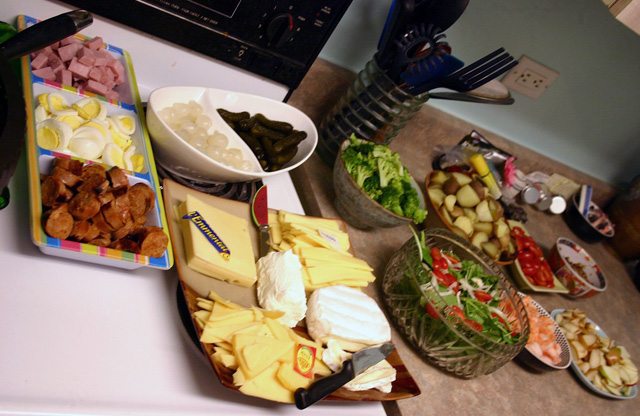 Meats, seafood, protein: plan 150gr (5oz) per person
sausage lile mild Mergez
hard boiled eggs
shrimp
ham
Cheeses: plan 200gr (7oz) per person
Edam
Gouda
Emmental
Goat cheese
Asiago
Brie
Veggies and more:
tomatoes
broccoli, blanched
mushroom, pan fried a little bit
potatoes, boiled
pickle onions and gherkins
apples and pears
Notice I have no actual Raclette cheese…believe it or not I could not find any at my usual store. Grrr!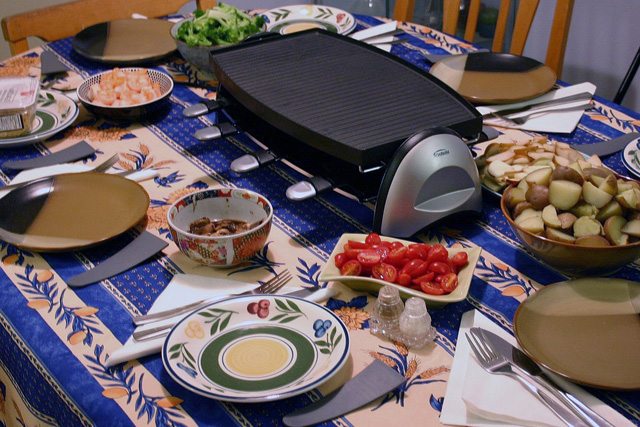 This is the Raclette contraption. Set it in the middle of the table and place the food dishes around the table. Dessert plates are perfect, not a big main course plate.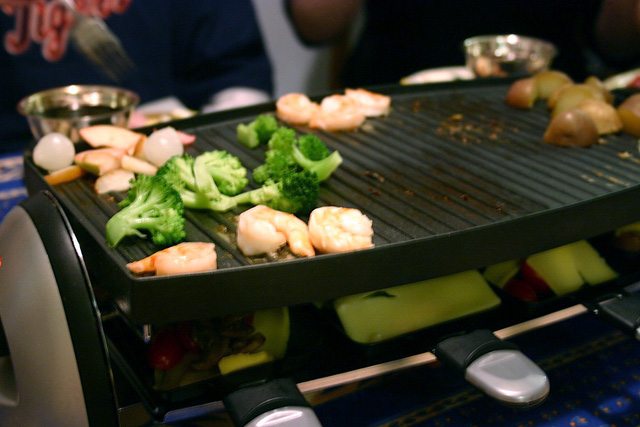 The grill on top is used to cook meats like sausages and roast veggies a bit if you like. I had everything partially precooked to speed things up. Below the grill you can see the little trays prepared with cheese slices on top…have the melted already? So hungry.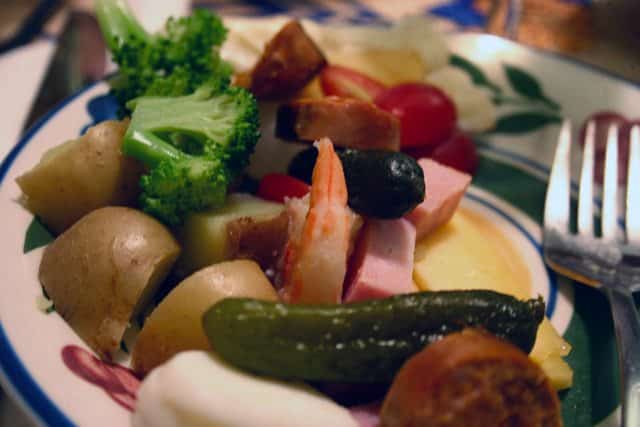 To make your tray: load up your plate with a little bit of the food dishes you like. Place in the tray in the food combo you desire, add your cheese on top.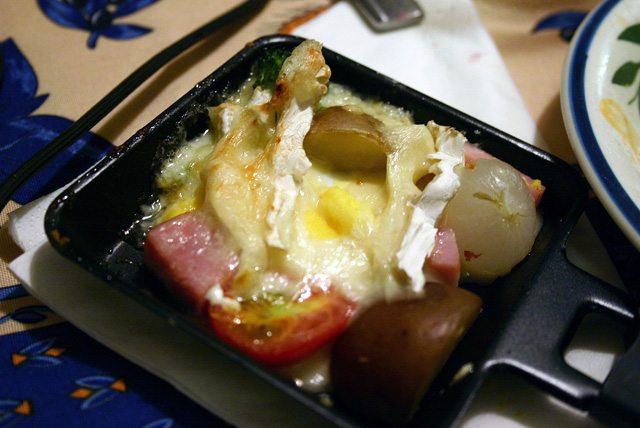 Here is what your ready tray will look like with the cheese melted. Slide it onto your plate and enjoy! Then make another tray and so forth. I think here I used ham, tomatoes, potatoes, pickled onion and brie cheese.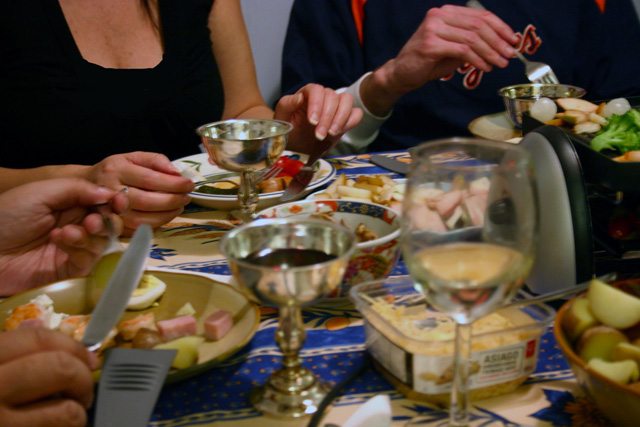 This is a great concept for a dinner party. As the host you can prepare everything ahead of time so you are free to enjoy the party without stress. Your guest will enjoy participating and this is a great way to make a meal last longer and have more fun. Plan half a bottle of wine per person. I did a little research and I found two excellent wines that pair well with a Raclette.
– For a white selection go with a light bodied, dry white wine with ample acidity, crisp and fresh. Look for a Pinot Gris, Chardonnay or a Fendant . I chose a Lurton Pinot Gris Valle de Uco 2011.
– For the red try a light bodied, spicy and fruity wine with a low tannin: just make sure that is was not Oak barreled. Look for a Merlot, Pinot Noir or Syrah. I served a Tommasi Valpolicella Classico 2010.