Last Saturday I took out the Cheap Ethnic Eatz group to the  Château Ramezay Museum which currently has an exposition devoted to the eating habits of our settlers and the culinary influences that shaped todays Quebec cuisine.
Funny enough this was my 2nd visit here, the 1st was only 3 weeks ago. Yes a museum in my hometown I had never visited. The first visit was a bit rushed. This time I got to explore more. And because it was a quiet day and we were a group we got a priavte tour with a volunteer history buff.
Our tour was focused on the permanent exposition, not the food exposition. We did that part on our own after. But let me tell you, if you go take the tour. It was awesome and I learned so much I never even knew about Montreal, Quebec and its history. The tour is free and our guide was so passionate about history it was really fascinating. Everyone enjoyed it. Our guide also spent a lot of time explaining the traditional kitchen of the settlers. The museum was the house of the first Governor so we were in the actual kitchen used at the time.
The Let's Eat exposition was quite interesting as well but maybe not up to my expectations. There are 5 rooms in total to visit. My favorites were the 1st, 2nd and last rooms. The fiorst two talked about daily eating habits, historical influences on the ingredients and habits. Room 3 and 4 are filled with artefacts but the descriptions were lacking in detail. The last room is more today's kitchen and today's traditional Quebec dishes like baked beans, shepard's pies, tourtière, etc. of course theye is a table with about 4 cookbooks which you can purchase in the gift store if you are so inclined.
I think the one thing that struck me the most was a small book on display that explained how to prepare a pig. I am not talking recipe here. I am talking detailed instructions on how to prepare the carcass. But back then it was important to know. I also got plenty of future blog material…oh I took notes he he. One I already wrote in my water pop quizz.
LET'S EAT! The Traditional Food of Québec
Steak, corn, potatoes… While digging in a traditional shepherd's pie, have you ever noticed that these three ingredients recall the different cultures which forged the first eating habits in Québec? Indeed, corn can be attributed to the First Nations, and beef, to the French colonists, while potatoes remind us of the British presence. From November 10, 2009, to September 6, 2010, the Château Ramezay Museum invites you to its appetizing new exhibition, "Let's Eat!"
"Let's Eat!" explores different facets of the culinary culture in Québec, from the arrival of the first colonists to the modern days. Not only will this exhibit reveal what was served in 17th-century plate-bowls or 19th-century china saucers, but it will also show food preservation methods, meal preparation, the impact of agricultural techniques on food, dining etiquette and customs, foodstuff importations, as well as the more recent contributions of newcomers to the Québécois culinary repertoire.
More than one hundred artefacts will show the evolution of consumption habits, from the cider press and the toothpick case, to the ginger beer bottle, the chocolate maker, and even Schwartz's own smoked meat knife!
Château Ramezay Museum
280, rue Notre-Dame Est
Montréal (Québec)
CANADA, H2Y 1C5
Telephone : 514 861-3708
A typical hearth in a house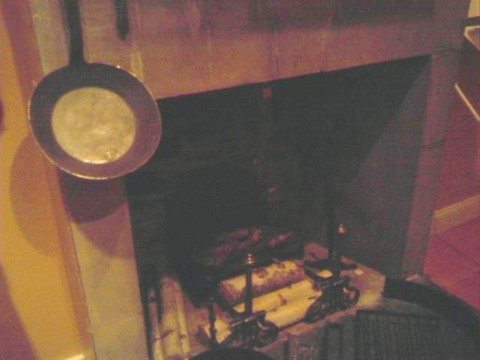 Various cooking implements for the rich only.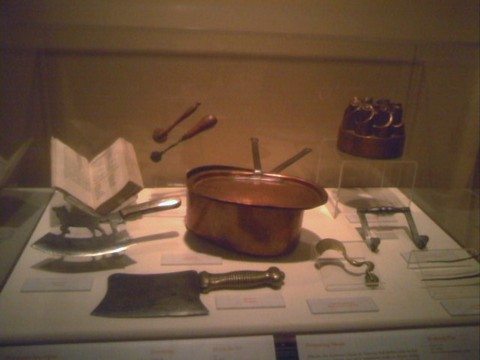 If you had these you had a cook to preparing all your meals.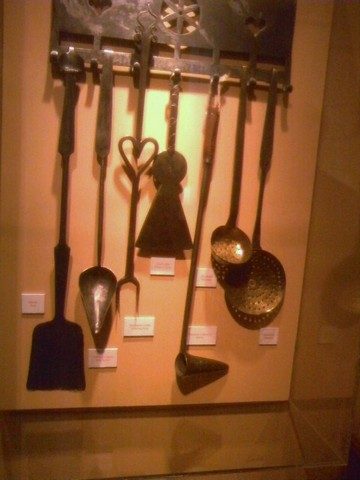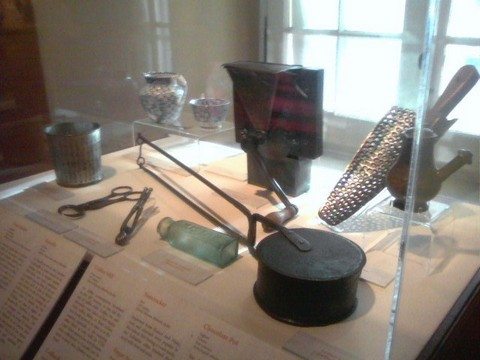 A wood bruning stove reminiscent of early 20th century.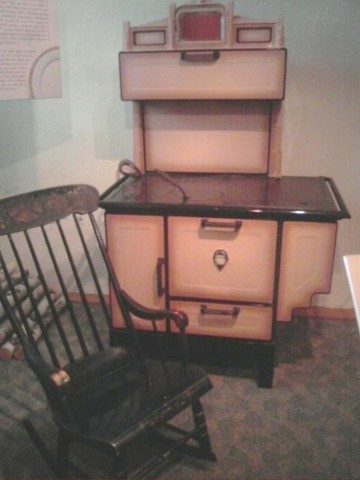 Tourtière and Paté Chinois…2 of the 10 traditional Quebec dishes explained.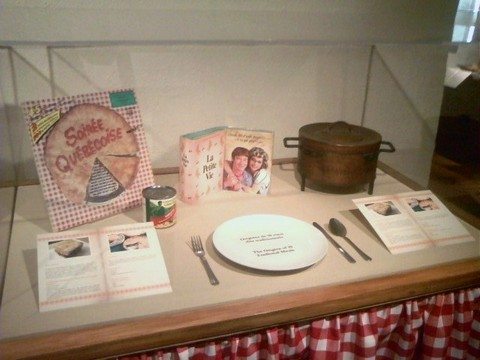 We were 7 and out of them 4 were new members. It was a really great group. Afterwards 5 of us went out for a coffe and dessert. What a pleasant Saturday afternoon!
A MUST outing for the Montreal Foodie at the Château Ramezay Museum