I have been crazy busy the last few days. May 2nd was my birthday so on the Friday I went out with friends to a Polish restaurant, Saturday was a day out of the city with friends and Sunday party with my parents. Plus I had a house guest for the weekend (and the one before). But the celebrations do not end there, oh no! I have a birthday dinner Tue, Wed, Thu and Fri still.
So not much time to blog (even if I have like 8 drafts in the works!) and cook, bare with me! in the mean time enjoy this recipe. I made it a couple of weeks ago and it was really AWESOME. I added tofu. If you like meat you could add chicken or beef or pork. Its a very versatile recipe and very good. The recipe is a creation of Yotam Ottolenghi. Make sure to click the link as there are many recipes for free from his new cookbook Plenty.
Multi-vegetable paella
3 tbsp olive oil
½ Spanish onion, finely chopped
1 small red and 1 small yellow pepper, cut into strips
½ fennel bulb, cut into strips
2 garlic cloves, crushed
2 bay leaves
¼ tsp smoked paprika
½ tsp ground turmeric
¼ tsp cayenne pepper
150g Calasparra (or other paella) rice
100ml good-quality medium sherry
1 tsp saffron threads
450ml boiling vegetable stock
Salt
200g shelled broad beans (fresh or frozen)
12 mini plum tomatoes, halved
5 small grilled artichokes in oil (from a jar), drained and quartered
15 pitted Kalamata olives, crushed
2 tbsp roughly chopped parsley
4 lemon wedges
Heat the oil in a paella pan or a large shallow frying pan, then gently fry the onion for five minutes. Add the peppers and fennel, and fry on a medium heat for six minutes, until soft and golden. Add the garlic and cook for a further minute. Add the bay, paprika, turmeric and cayenne, stir, then add the rice and stir thoroughly for two minutes before adding the sherry and saffron. Boil down for a minute, then add the stock and a third of a teaspoon of salt. Turn the heat as low as it will go and simmer very gently for about 20 minutes, until most of the liquid has been absorbed by the rice. Do not cover the pan or stir the rice during this time.
Meanwhile, put the broad beans in a bowl, cover with plenty of boiling water, leave for a minute, drain and set aside to cool. Once cool enough to handle, squeeze each bean gently to remove its papery skin.
Remove the paella pan from the heat. Taste, add more salt if needed, but without stirring the rice much. Scatter the tomatoes, artichokes and broad beans over the rice, cover the pan tightly with foil and leave to rest for 10 minutes. Take off the foil. Scatter the olives and parsley over the top of the paella and serve with lemon wedges.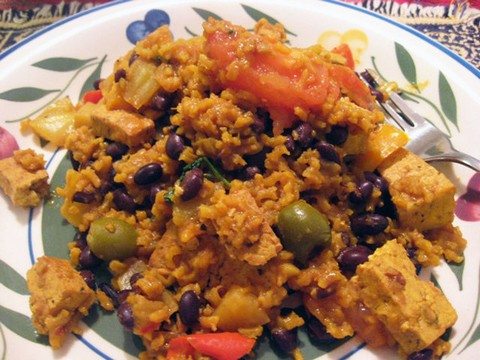 About Yotam Ottolenghi
Yotam Ottolenghi's path to the world of cooking and baking has been anything but straightforward. Having completed a Masters degree in philosophy and literature whilst working on the news desk of an Israeli daily, he made a radical shift on coming to London in 1997. He started as an assistant pastry chef at the Capital and then worked at Kensington Place, Launceston Place, Maison Blanc and Baker and Spice, before starting his own eponymous group of restaurants/food shops, with branches in Notting Hill, Islington, Belgravia and Kensington.